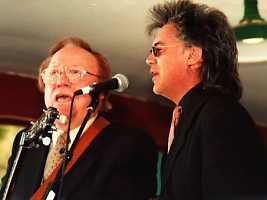 What an absolutely beautiful setting. Norris, Tennessee is a very small town of about 1,300 people. That figure swells to about 10 times that number during their Fall Homecoming in October. Folks come in from just about every state in the union to enjoy a weekend of wonderful old-time, bluegrass and gospel music.
The music community seems small indeed. wHITEwATER'S Greg Davis played guitar for Ramona (Mrs. Grandpa) Jones and family. Tennessee Mafia Jug Band members LeRoy Troy entertained the crowd solo while Kent (Superman) Blanton performed with Charlie Collins. Honorary member Charlie Cushman also performed with Charlie Collins. Mac Wiseman was so enjoyable. Who can ever tire of John Hartford singing "Gentle On My Mind"? I love the group Cluster Pluckers and enjoyed seeing Sonia Isaacs perform with her family. There aren't enough words to describe Wailin Wood's harmonica playing.

This year, the headliner was the great Earl Scruggs. Earl brought his friends and family and they put on a fabulous show. This show was reminicent of the Great American Folk Boom concert at the Ryman Auditorium in May. Same cast, same songs: Glen Duncan on fiddle, Jerry Douglas on dobro, Earl's son Gary Scruggs on bass, Brad Davis on guitar, Marty Stuart on guitar and mandolin and Earl on banjo and guitar.
While the early morning was foggy and cool, it warmed up nicely by the 2 p.m. show and the sun started to shine in our eyes. It was announced that PBS was filming the show for their series "American Roots Music," scheduled to air in the fall of 2001.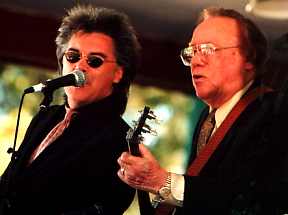 Earl and the boys opened with "My Saro Jane." Museum founder-director John Rice Irwin interrupted the gang, mentioning "This is being filmed, as you know, for PBS" and letting us know that we may find ourselves on television. Marty quips, "Your mike works better than Earl's. You must run this place." John said, "I play a few instruments myself and I didn't want to show you all up in your best style." Marty asks, "Well, do you know 'Salty Dog Blues'?" John says, "I've heard of it." Marty says, "That's what we're about to do." Earl's banjo pickin' is so incredible. Gary Scruggs introduced Glen, Brad and Marty. Marty introduced Gary and Earl. Next song performed was "Earl's Breakdown." Gary sang lead on the Bob Dylan-penned "You Ain't Going Nowhere."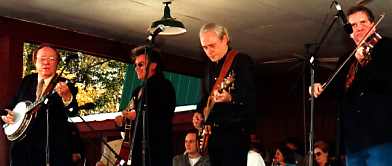 Marty says, "Thank you very much. We'd like to ask Earl Scruggs and Glen Duncan to come and put it back where it belongs right now with the fiddle and the banjo. An old tune called 'Sally Goodin' It goes just like this." Marty sang lead on "My Long Journey Home." They featured Jerry Douglas' fantastic dobro playing on "Fireball." Marty says, "He adds a lot to the show, don't he? Our good buddy, Jerry Douglas." Marty sang "In The Pines" with Earl and Glen singing harmony. Next, Gary sang "Little Maggie."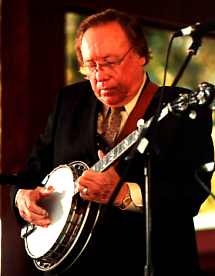 Marty and Earl picked the Grammy-nominated "John Henry, Steel Drivin' Man." "Black Mountain Blues" was next. It featured some HOT guitar pickin' from Marty. Gary sang "Long Black Veil." Marty says, "When we all get to heaven and find out that God plays the guitar, I think we're going to find out that he plays a lot like Maybelle Carter and Earl Scruggs. Somebody told me that Janette Carter was here today. I hope she is. If Janette's here, we'll do this for her. She lives barely in Virginia and almost in Tennessee up in Poor Valley and she promotes old-time music in a great way and any of you out there have never been to Janette's place, you gotta check it out. But in the meantime if you got the Flatt & Scruggs songbook, turn to page 23 and we're gonna do this song for you. It's called 'Paul & Silas'."
The highlight was the a cappella version of "Precious Memories" with Earl, Glen, Marty and Jerry. "Foggy Mountain Breakdown" (a song Earl wrote in 1948 and later became the theme of the movie Bonnie and Clyde) closed the show.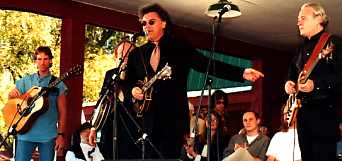 At one point, Marty was looking down at the setlist and made a comment to the rest of the guys. Since the show had started late, I'm assuming they skipped a few songs and moved on down the playlist, so we didn't get the hour and 20 minutes of Earl that we were supposed to. The crowd did call them back for an encore and they performed Marty's "Cry, Cry, Cry" bluegrass style. They closed with an instrumental. There was little chatter, but we were all there for the music anyway. It looked like they had fun up there on stage.
Earl was going to sign autographs and the line was LONG! Mario and I had a long trip home, so we left immediately after the show. Enjoyed seeing fellow fan club members Mary Runyan, LaDonna Cable and Serena Wimmer.
I only wish I'd had more time to enjoy the sites of the Musueum. General admission shows mean you get there early, find a seat and sit there for hours waiting to see Marty. But, in the end, it's always worth the wait. Now, enjoy these other pictures from the show.
---
| | |
| --- | --- |
| | |
| Earl, Marty, Gary Scruggs & Glen Duncan | Brad Davis, Earl, Marty, Glen & Gary |
| Jerry Douglas shines on "Fireball" | |
| | Doesn't Marty look fine? |
| Marty's singing "In The Pines" | |
| | Especially in a suit |
| Brad, Earl, Marty, Jerry, Gary & Glen | |
| | And when he looks at the camera! |
| | |
| Brad and Marty watch Earl's fingers fly | Gary, Earl & Marty |

Review by Sherry Mattioli
Photos by Mario Mattioli