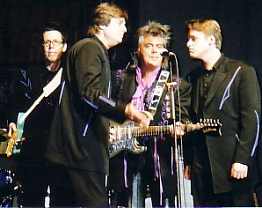 We arrived early at the Municipal Auditorium in Nashville for a great Marty show to benefit the Nashville Firefighters Association. Anita Cochran was also on the bill. We arrived early and and people were lined up on one end of the doors outside (there were three sets of doors to go in). I didn't see anyone else I knew at all at that time. So Jim and Jamie kind sauntered over to the middle set of doors to be first when those opened and I kind stayed in the first line to talk to the people around me there. So that was fun, I got to talk to people.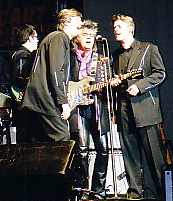 We went in and in the front row ahead of us, I met some fans and I also saw Judy Trickett in the first row with her friend, Jerry. Lucky for us, there were two seats in the front row left, so Jamie and I went up to those seats to be with the other Marty fans while Jim stayed in the second row behind us chatting with a guy and his wife about Harleys the whole time. That's my Jim, he'll chat away with whoever's in earshot so I didn't have to worry much about him, LOL! So it appeared that just about the whole front row were fan clubbers, almost.
Anita Cochran was first. She played for about 45 minutes and entertained the crowd, although they were quiet. They were really waiting for Marty.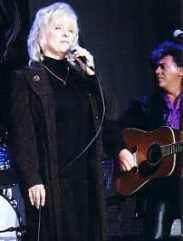 Marty and his Fabulous Superlatives came on, finally. It was a great show. Songs they did included "Back to the Country," "This One's Gonna Hurt You," "The Whiskey Ain't Workin Anymore," "Tempted," A Satisfied Mind," "Too Much Month...," "Farmer's Blues," "Long Black Veil," and "Rock Island Line," among others. The Superlatives got in the act, too. Brian Glenn sang his own song. Kenny Vaughan sang "Country Music's Got a Hold on Me." Finally, Harry Stinson sang "Stop Doggin' Me Around." So this time, the entire band was involved in showing off their singing talents!
Marty then announced that Connie was in the house and introduced her to the stage. She sang two gospel songs, "Amazing Grace" and "Once A Day." Then the Superlatives sang with Marty another gospel song. They finished up with "Hillbilly Rock" and encored with "Dragging the Line," which the crowd really loved. They were all on their feet and dancing in the open space between the stage and the seats for the encore. That was nice to see. JudyT and my Jamie had a great ending to the concert--JudyT got Marty's towel, and Marty's guitar pick fell right at Jamie's feet! I don't know who was zooming up to heaven faster at that point, Jamie or Judy!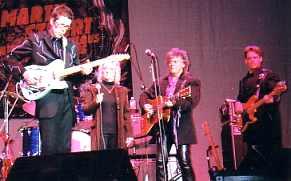 Afterwards it was announced that Marty and the band would do a meet and greet at the merchandise table. About 200 people stayed behind for that and Marty, the band, and Connie stayed at the table until each person went through the line. It was well after 11 p.m. when we left and the line was still in progress, so kudos to Marty to stay for the thing that means so much to the fans.
All in all, it was a great show. It was louder and more "rock and roll" than I had seen in previous shows, which I loved because I'm rock and roll girl at heart. It was lively and spirited evening for all. The crowd just loved Marty's pure energy, and so did I!
---
| | |
| --- | --- |
| | Brian and Jamie |
Review and photos by Diane Gilmore, Springfield, TN