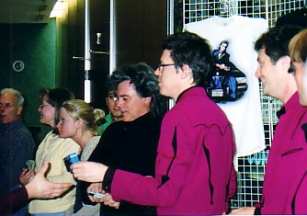 My family and I had a great time in Muncie, IN last weekend, seeing a Marty show among a crowd of college kids. It was a comical journey getting there. First, I forgot about the time change to EST, which got us into Indianapolis at the 5 o'clock rush (with every car on the road seemingly wanting to get off at our exit) and made us an hour late getting into Muncie. On top of that, I figured it would take just 5 hours or so to get up that way. Wrong–maybe doing my usual 80 mph with my fuzzbuster in working order, but pulling a camper along with a 1-ton dually made it more like turtle time. Then we got lost in a residential neighborhood near the university (can you just see it, 40 feet of rig floating by quiet little dead-end streets???) but we finally found the campus grounds, adequate parking, and a great little shuttle system that takes people to the auditorium for shows. The university was gorgeous, with quaint old buildings and clean streets.
Most of the crowd had come to see Montgomery Gentry, and the 3,500-seat auditorium soon filled up with the usual assortment of young adults with a smattering of parents and kids thrown in, too. Merchandise staffer Jim Hill did his usual pre-show warmup with his traditional carnival-like shtick that seems to get more delightfully corny every time I hear it. That guy's got a real knack of using a zany sense of humor to can get a crowd laughing itself silly over things like 3-day-old hot dogs and oversized cowboy hats, but still manage to lure them like lemmings to the merchandise table after every show. Leno should be so lucky to have such a front man.
After a short performance by a local country/rock band, it was "on with the show" with Marty and the Superlatives out of the chute with a neat, tight groove of power pop and energy that longtime fans are used to but I believe took the kids by surprise. Launching into "Back to the Country," Marty and company then threw down pretty much their conventional set of classics and new tracks, with some gospel thrown in. A few exceptions to the norm: Marty did not do "Farmer's Blues" or "Rock Island Line"; Brian Glenn did not perform a solo; and the gospel portion was shortened to just one song. But a blazing solo of Marty's mandolin skills halfway through remained, as well as the boys showcasing Harry Stinson's empowered pipes with a particularly fine rendition of "Slow Train" near the end, one of my personal favorites.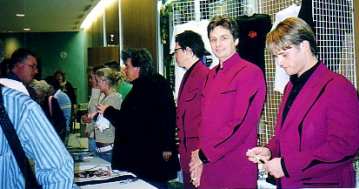 Marty is a charismatic character to start with and this night was no exception. He adapted easily to this younger crowd, chatting easily with them about things they could relate to. He made a joke about his past DUI arrest which kind of endeared the kids to him; after all, what young person doesn't relish hearing combat stories about getting busted or doing something "naughty"? They were pretty impressed with Marty's down-home mandolin picking during his solo set, too, making even the most stubborn kid in the crowd clap along.
The set finished with a rousing version of "Hillbilly Rock" and encore "Draggin' the Line." It was just unfortunate that the auditorium staff put a damper on the encore by forcing the crowd back from the aisles and front because the kids were really getting into it. Marty didn't let them down, however–after the song was over, he walked to the edge of the stage to shake hands and reach out to touch those who managed to get around the security before leaving.
Afterwards Marty and the band stood at the merchandise table talking to people and signing autographs, which is always a big hit with concert goers.
All in all, the east central Indiana youth had a healthy country dose of Marty and his Superlatives, and they had a great time in the process. With his versatile skills, fan-friendly personality at all levels, and stubborn resistance to be pigeon-holed into any industry flavor-of-the-month mold, Marty will never be relegated to being the geriatric human jukebox by nostalgic audiences that many veteran artists fall into. A fine show for this university crowd, indeed.
Review and photos by Diane Gilmore, Springfield, TN