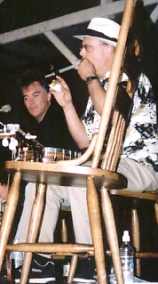 I guess I should start by saying this is the most miles I have driven to see a Marty show, with the exception of driving to Nashville each year for fan fair. But that is vacation not a single show. We drove 955 miles round trip. But it was worth it. Mountain View, Arkansas is in the Ozark Mountains. It is a beautiful place. But let me tell you, those curves and downhill inclines are hard to drive in the dark. There were lots of little yellow signs with curvy lines and arrows on them and some I had never seen before. We arrived in Mountain View around 2:30 in the wee hours of the morning. We checked into our hotel and went straight to bed.
The next day we ventured to our destination, The Ozark Folk Center. It is the neatest place. There are all kinds of things to do from candle making, pottery, silversmith and so much more. Check out their website at www.ozarkfolkcenter.com. After we arrived, the lady driving the shuttle bus up the hill (this hill makes the one at the Nashville Fairgrounds look like a little ant hill), told us that Marty had arrived about 7:30 that morning and that he would be at the story telling session at 2:15 p.m. So, we got some lunch and visited with a lot of nice people showing us how they make all kinds of things. Our daughters like making the candles best.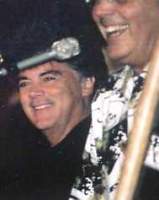 Finally, we went into the theater for the story telling. This event was a tribute to Grandpa Jones. His wife Ramona and their three children were there. Also, invited to this were Marty and David Holt. David Holt is great. He is so funny and very talented. He has been on Hee Haw and most recently was in O' Brother Where Art Thou. He was the one playing the banjo at the front of the group when they were parading Babyface Nelson down the street. He is a folk singer and story teller. He is great. You can find out more about him at www.davidholt.com. Check it out. Anyway, they all told stories of Grandpa Jones. Some of the stories were really funny. I wish I could have recorded them.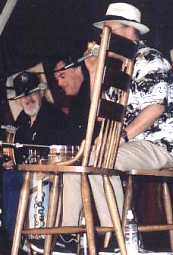 They also played and sang parts of old songs. Grandpa Jones' son, Mark, is very talented with his daddy's banjo. He played a couple songs with Marty. Marty sang a little of "Dark as a Dungeon" with Ramona Jones singing with him. It was really nice. David Holt played a jaw harp (my daughter purchased a jaw harp and tape from him) and had Marty play what was called a "stump fiddle". It is a piece of wood with bottle caps nailed into where they rattle. You then tap it on the floor and hit it with another piece of wood. Marty laughed and said, "Hey, this is a fiddle I can play." He was actually good at it. They played "Turkey in the Straw." David did the singing. It was very entertaining.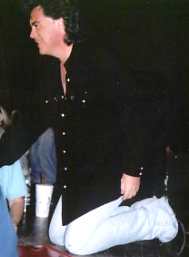 After the story telling, Marty came to the edge of the stage to shake hands and signed some autographs. We went to speak with him. I got a hug since it was our 11th anniversary. Well, I've been in the Fan Club for 11 years. Laura let him sign his name all over the front of my Marty Stuart denim shirt. Kaitlyn had him sign the hat she was wearing. Laura and Kaitlyn got their pictures made with him. They were very happy.
After that, we left the building and went back to the front door to wait for the doors to open for the concert. Since it was general admission and only the first 1,100 people could get in, we got in line at 4:00 p.m. It was a good thing too. We were 6, 7, 8,and 9 at the front of the line. After that, people came to line up. It was sold out. When they opened the doors at 6:00, we made our way down front. Or should I say we were on the front row and center. My seat was right in front of Marty. We had great seats.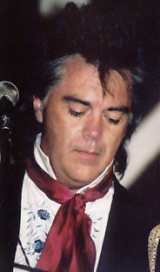 Ramona Jones and family and friends performed first. They were great. Ramona's daughter played a hammered dulcimer and sang. She has a beautiful voice and her husband played the autoharp and sang. There were a couple familiar faces in their group. One was Randy Childers (Marty's former guitar tech). He played the upright bass. The other was Greg Davis. He is Brad Davis' brother. I got to meet him. He was very nice. We also talked with Randy for about 30 minutes.
Finally, it came time for Marty had his band. (They really need a name)
Marty did a show that I have not seen him do before. The whole show was acoustic. It was fantastic. He really should do an album with this kind of music. I absolutely loved it. And you could tell that he really enjoyed it and had good time. Marty, Kenny and Harry played acoustic guitars. Brian played his bass guitar and Tim Crouch played the fiddle. Also, Mark Jones came back out and played his banjo with them. Marty also played his mandolin. It was wonderful. I love to hear him play it.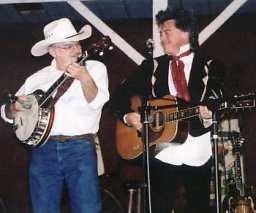 Marty and the guys started out with a song titled "John Henry". (Not the steel driving man song; this one was different.) Marty then sang a song he said was a Waylon Jennings folk song. I think the title was "Long Time Gone." Not to be confused with the Dixie Chicks song. It's not the same. I had never heard this one. After that he went into "Rock Island Line." This song gets better every time he sings it. He was really funny. Actually, Marty was funny and laughing all the time. He and the guys seemed to be having a lot of fun. It really showed that they liked what they were doing. Next came an instrumental, "Sally Goodin." This featured Tim Crouch on the fiddle.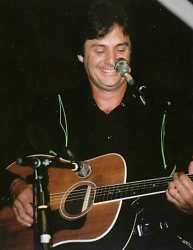 Marty then got quiet, picked up his guitar, and started playing "Look Away Dixie Land" and then shifted to my personal favorite "Long Black Veil". It gave me chills. Harry and Brian harmonized so well with him. Only one problem, right in the middle of the song when Marty was playing his guitar solo, someone's cell phone rang. It was one of those long annoying rings. You should have seen Marty's face. It was priceless. Marty then introduced Harry Stinson and he sang a song that he wrote and it was recorded by Ricky Skaggs. It was called "Let It Be You". He harmonizes with Marty really well. After that they did "Coal Mine Blues" and "Soldiers Joy" with Mark Jones. Marty then went into "High on a Mountain Top." Again, I got chills. Harry and Brian sang Pam Tillis' part. The really do sound good with Marty.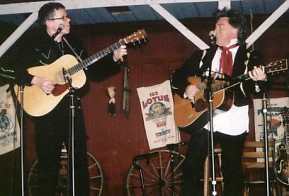 This is where it gets a little funny. Marty asks if anyone was raised in the country. He was having a little trouble through the show sitting on his stool. He kept sliding off of it. He said he couldn't get a grip. He should have worn the leather pants so he would have stuck to the seat. So he stood the rest of the show. After that he asked if anyone had peed off of their back porch. The lights went on and everyone was laughing and we were all shaking our heads no. He pointed right at me and said, "Lady, you're a liar." It was so funny.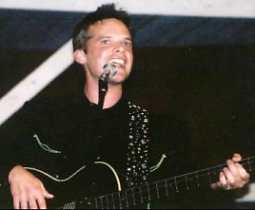 He then started singing "Now That's Country." Next he sang a song called "Homesick." He was talking about how being out on the road you get homesick and lonely and how some times you just want a home-cooked meal. It was quiet when he said that so I said,"I'll cook you one." He replied by saying, "Can you do biscuits?" I said, " Yes, I can and fried chicken." He said, "Fried chicken, all right." He then sang the song, "Homesick."
Next, he introduced Kenny. Kenny sang "Walk Like That." Everyone loved it. It is so funny when he sings that. Marty and the others sang back up. The next song I have never heard and I'm not sure on the exact title. I think it went "The Coo Coo, She is a Pretty Bird." I really liked it.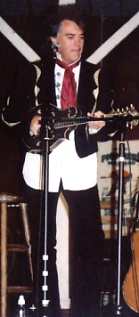 Next he introduced Brian. He sang an old Stanley Brother's song called "I'm Ready." He has a nice voice too. The next song was a really cool version of "Peace in the Valley." I had never heard it sung this way. Harry sang the lead part and Marty and the others sang back up and harmony. It was beautiful. They then said "thank you" and left the stage. The place went wild with applause wanting them to come back. They did. Marty closed the show with "Streamline." And that's when it was over. It was such a great show. It was so awesome to hear an all acoustic show like that. They are truly gifted musicians.
They never announced a meet and greet so Laura put on her cute face and asked John Van Orman (the music director of the Ozark Folk center) if Marty was going to meet with his fan club. He told her he would check. He thought Marty was gong to be where the Jones family was selling merchandise, but he didn't show. So, Mr. Van Orman went out to the bus and a little bit later came to Laura and said come with me. He took us out to the bus to meet Marty. Laura and Kaitlyn were so excited about that. We all got hugs and autographs. I told Marty I really would make him a home cooked meal. My daughter embarrassed me by saying "But she can't make gravy." Marty just laughed. After we got our hugs and autographs we headed for the car. As we were getting ready to leave we noticed the bus coming down the hill. So, we followed in behind it. Marty's bus turned left and we had to turn right. It was a great day and night. Marty is the best.
Review and photos by Beverly Kerr, Rush Springs, OK