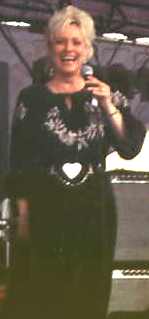 We drove the 45 minutes up to Moraine ready for a Marty Party! Pulling up to the small Wax Park, I knew this was gonna be a great show! The crowd was small and we got a spot to the right of the stage. Then I spied two seats in the 4th row and we were on the move!

First to come out was Connie Smith. She was beautiful in her black southwest style shirt and long skirt. She sang her big hits "Once A Day" and "Cincinnati, Ohio", which I loved hearing! Marty came out also dressed in black and they sang a duet of "After The Fire Is Gone". It was beginning to sprinkle a little rain and Marty commented "Constance, it's raining!" He said Connie would pray and God would answer! Next she sang "How Great Thou Art" and the skies opened up and enormous drops of rain drenched the crowd!
Having no umbrella, we made tracks to the car and waited out the rain. When it ended, we went back and out came the man of the hour MARTY STUART!!!!
He looked fantastic in a cool short jacket, long shirt, black leather pants and a pink scarf tied around his neck. His black and gray hair was pushed up high and he looked like he was ready to have a good time.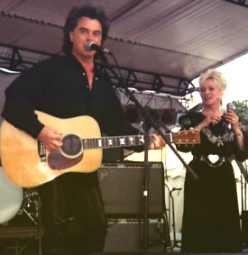 He and his new band, not named so far, played hit after hit. I was especially happy to hear "Honky Tonk Crowd". "Hillbilly Rock", "Tempted" and "Burn Me Down" were crowd fav's too! He highlighted the band and they each played and sang a song. Seeing a new band was hard to get used to but they were very good. Marty sang a couple new songs that, of course, were awesome!

He got the crowd rocking with "The Whisky Ain't Workin' " and "Now That's Country". It was great to hear him do "Me, Hank & Jumpin' Jack Flash" right into "High On A Mountain Top". And of course, everyone loves "Long Black Veil".

Marty did two encores, the first one included "Hobo's Prayer". The crowd was really into the show and Marty had a great time entertaining the audience. I can't remember all the songs but I know there were more because I danced all night!

On the way home, we were hungry and stopped to eat. Where you ask? The Waffle House, of course!!
Harry Stinson, Kenny Vaughan, Marty, and Brian Glenn
Review and Photos by Sue Remmy, Cincinnati, OH