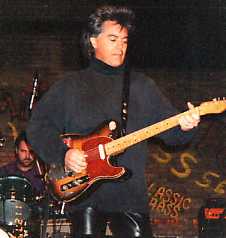 The day dawned cool and crisp and our trip was uneventful. It wasn't as wild and crazy as our usual road trips due to the fact we knew this was to be the ''final" show. We were both pretty bummed but determined to enjoy ourselves none the less. Jamie kept looking at me and saying "Snap out of it!" We found the venue....no problem, very small town. It was an old school building with the rooms converted into shops selling antiques, crafts and well......junk! We looked around a little and heard some pretty good pickin' going on so we peeped in the door and there was our man front and center! He saw us and waved. We went outside and saw Glenda, Clarence, some friends of theirs we met in Sparks Dave and Marcie (?) Margie, Ellie and Pat. We talked to them a while then Jamie and I walked over to the swings and "played" a while. Now those of you that have read my reviews before know that when my ship comes in I will be at the airport! Sure enough Marty walks out and goes over to Glenda and Clarence's van and talks to them about 20 minutes, and where am I? Swingin'!! Sometimes I don't know about me.
Then Mike came and got him, Glenda walked out with him and gave him a paper sack, ( I bet it had biscuits in it!) and someone took their picture. I asked Glenda earlier what she was gonna do with herself this year and she never missed a beat. She said, "I'm going to Nashville!" What a great gal! The shows were at 6 and 9 so we went in to find our seats. We saw Jimmy setting up and stopped to talk to him a minute. I got the new white Tee shirt. He laughed and said you've got everything else!
We found our seats........wasn't hard. Someone said it held 490, small but intimate. There were two house bands, Heart Land -- they did current country songs, and Blue Knight -- they were bluegrass. One fellow used to be with the Country Gentlemen and another toured with Lester Flatt when he and Marty were both 14. He said he met Marty when he was about this tall (held his hand waist high) and he still is about that tall! Nancy Middleton came on next. Jamie says she reminds her of Kelly Willis. The crowd was restless and wanted Marty and begin to yell "Bring out Marty...where's Marty?" She said, "We're gonna do two more songs and we've got a surprise for you." Marty walked out and played one song with her........ a Charlie Rich tune. He hugged her and waved and said "I'll be back."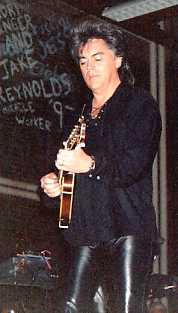 The emcee came out and made a few announcements and said what a great guy Marty was and how he had walked all over town that afternoon talking to the locals and shaking hands and making their day. Finally! Show time! It is now 20 past 8 we were ready!! Marty came out in black leather lace up pants and black lace-up shirt with "the" long black coat with purple lining. The boys had on black jeans and Tee's and their sparkly jackets. LOOKING GOOD! He opened with "I'm Still Here," then asked if there were any country girls in the house and did "Country Girls." He said, "I never do this next song without thinkin' of Travis. He's something..that boy just ain't right!" He did "Whiskey."
Then he said "The sound I heard that tore my head off was from my ex-father-in-law." He did "Blue Train," then "Tempted," and "Dark as a Dungeon," and "Burn Me Down." He said, "It's Saturday night. How 'bout a honky tonk song" and did "Red, Red Wine." He said, "I walked all over this town today. It took me 4 minutes! It's a great town 'cause its got a train track. I grew up by a train track and used to go down and see all the strange people there. I met one with strange hair, strange clothes who had been to Arkansas and Alabama. I asked what he was and he said 'a hobo' so I said 'that's what I want to be'... I got strange hair, strange clothes, and I've been to Arkansas and Alabama.....I made it...I'm a hobo!" He did "Hobo's Prayer" and the dreaded "Hillbilly Rock." No encore.
It was a little past 9 and the second show folks were wanting in so it was cut short. Needless to say we were NOT happy. Getting to the meet and greet proved not an easy task as it was held back by the merchandise table and people were coming out of the show and people were coming in to the show. Jamie and I walked around and through the back of the stage and ended up were Mike was letting in contest winners. He said if we stood by the doors he would have him out in a few minutes. There were glass panels beside the door and an older lady and her friend came up and asked me if she could stand there and take his picture through the glass. I said "sure." (Remember old folks and dogs?.)
Mike came out and wanted to see passes. The lady said, "Oh we don't have any." And Mike says, "But you want to go anyway right? Okay you caught me in a good mood." So I, not wanting to be at the airport again says, "Well Mike how good a mood you in?" He says "Why?" I say, "Since this is the last show can we get a picture?" He grins and says "okay!" He turns to the line and says, "Okay folks since this is the last show of the year, we will allow pictures." He goes back in and in a few minutes Marty looks out the glass and grins that grin. The older lady just squealed. She was thrilled. Been there done that!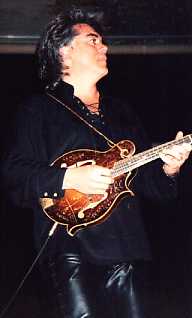 Our turn. I gave my camera to Mike and got that all important "hug." I told him to have a good time off. He said, "I will, thanks, but I'll be back." I said, "I know and I'll be the first to buy a ticket!" He said, "I know you will." He signed my book. I told him I loved it. He said, "well good" and he signed the plaque with the platinum disk. Mike took our picture. I told Marty I loved him and he said, "I love you too." Got another ''hug" and was on my way. Mike says, "Hey, you want your camera?" I was in the ozone. The next show had started but we went over to talk to Jimmy. Jamie took our picture. I asked him what he was going to do and he said he was going to take some time off and write songs. He sent one to George Strait and he has it on hold so that would be wonderful for him if that happens!
We walked back to our seats and passed these two guys talking and one says "No way. They get to do 3 songs each and that's it, Marty needs more time this show." We think "cool!" We go back to our seats (front row center) and someone is sitting in them so we ask the usher to move them and he goes gets someone else who says, "Well we can give you these seats in the third row." Now I hate to get nasty but this is the "last" show. I did pay for those seats, and I am depressed, so back up buddy do not mess with me when it comes to Marty! We were soon sitting in our seats. We were seated in time to see him do the song with Nancy.
The set started out the same as the first show. This time Travis "Was never gonna amount to nothing." A lady yelled out " Why don't you come down here?" He said " Why don't I just jump down there and you catch me?" She said "yes!" He said, "Oh you'd let me go when you see me up close!" He said, "You know I've got the best fans in the world. They travel all over and wear out three cars. Glenda and Clarence how many shows you been to?" Glenda says "338." Marty says "And the cookie girls?" Margie says "116." Marty says "I ain't even been to116 of my shows!" Then he says, "Glenda, what do you want to hear?" She says "Till I Found You." He says "Okay this is to the the best fans in the world." It was awesome!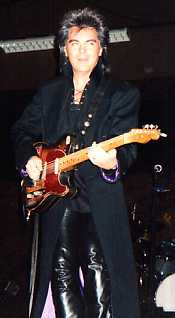 He did "Oh, What a Silent Night" and the crowd was spellbound. It seemed to me a longer version and the crowd was just eating up his phenomenal mandolin ability. He just burnt it up! He raised the mandolin above his head and "That's all I got!" It was enough. It was unbelievable. It always amazes me. He did "Now That's Country" and the dreaded "Hillbilly Rock." He walked to the edge of the stage and shook hands and was gone. Now the crowd was on their feet and was not going to have none of that so he came back and said, "I get a lot of requests for this," and he did "Long Black Veil." That's when it hit me. This is it! I won't see him do this again until who knows when. Tears came and he walked over and stood in front of us and played. It was so bittersweet. Then he did "The Pilgrim." He raised his hands above his head and said, "Thanks for coming. I love this place. Hope your Holidays are wonderful. I'm going home to see Connie! Goodnight." He walked the stage again, squeezed my hand, hugged Clarence, and was gone.

We were numb. It was by far the best show I have ever seen him do. It was an hour and a half of pure emotion. He gave it all he had and then some. After we could finally move, we walked out to the bus and met Kim and Lisa. The others were there as well. Cindy was in tears as was Margie and Ellie. I, being the strong one ...(right!) told them all to snap out of it. That he deserved this break and he would be back. We talked a while and I got the scoop on what some of them will be doing.

The bus was not there. It is on loan to Ricky Martin. Ken was with it and is driving Ricky's family around. The bus they had was Cher's. Spike got a really good job with a record label, Sony I think but not sure. Mike is going to be Nancy Middleton's road manger. Gary is going to do demos out of his recording studio. Brad is going to continue with Whitewater and work construction with his brother. Steve and Gregg have formed a landscape business called "A Perfect World" and are going to look for a gig together.

All in all it was a a great evening and a perfect way to end a wild ride. Even though I am saddened to think of a year without a Marty fix, I think of all the wonderful times I've had, the places I've seen, how gracious Marty has always been to me, and the fantastic friends I have made. Marty has made all that possible. The shows only last a few hours but the memories will last a lifetime.

Review and photos by Sheila Walters, Waynesville, OH