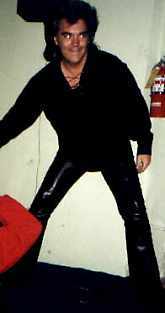 Lisa, Shaina and I got to Milton around 4:00 p.m. and we pulled up in front and immediately saw Margie, Ellie and Pat J. coming out the front doors so we talked to them for a couple minutes and found out a little about the place. We parked and went in to browse a little. Marty was already there. We went in and got tickets to the second show and looked around for a little while. They have different rooms with antiques (etc) in them. There was also a restaurant. While we were looking around, we looked into the auditorium and there was Marty on stage. I waved at him and then we went on. We hadn't yet decided where we were staying so we thought we better take care of that first so off we went. We saw Glenda and Clarence in the parking lot as we were leaving.
When we got back, there were people all around. It was a small but nice place. We had center right/second row seats for the first show. I hope I got some good pics. The guys were in RARE form. They all looked great. The show times were stated as 6 p.m. and 9 p.m. so when Marty still wasn't on stage around 8, I think some people got restless (and rude). Marty played a song with Nancy Middleton and then he was on. There were two opening acts before her. They were all great.
At some point we met Cindy and Sheila and Jamie and Lisa/AL and Donna and Dale (that fixed our tire in Burgettstown). We had asked around and tried to find Renae but didn't find her. While we were in line, we saw a girl with two kids and now I realize that was Renae and her kids. We had asked around before the first show but I didn't realize she was going to the second show. I didn't realize she was bringing her kids or that is how we would have known her. I remember the little boy because I have one about that size.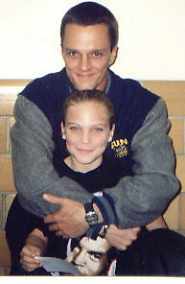 We were all so happy that we would be able to have our pics taken with Marty. It was great! When I get close to Marty, I can't think of what to say either. I told him that I would miss him but he said he will be back. That is good to know. I wish I would have told him to enjoy himself or something like that. But...... He put on a terrific show and the second show was even better! He had to have been tired but it never showed. It looked like he was enjoying himself as much as we were. The end of the second show was the bummer...........because we all knew it was "over". We stayed around to talk to Steve, Brad, Gary and Gregg a little.(outside). It was cold but we didn't care. We got to chat more with the fans we had just met and Dale and Donna and Margie, Ellie and Pat. We never really got much of a chance to talk to Glenda and Clarence tho. Now we have the Fan Club Party to look forward to!
[Steve and Shaina]
Review by Kim Moore, Barnesville, OH