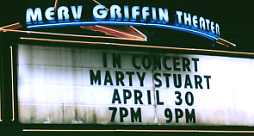 Mario and I left Nashville about noon to head to Metropolis, IL to see Marty and the Rock and Roll Cowboys perform two shows. When we arrived, we located the theater and the two buses were parked on the side. Mario wanted to check out the casino, so we watched people lose their money for about an hour and decided to head back over to the theater and hang out. On the way there, we spotted Margie and Ellie from Massachusetts.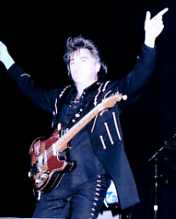 Marty, Mike and Jimmy headed over to the casino to eat and we were standing in the parking lot of the theater when they returned. Marty stopped to say "hi" and chatted for a minute and then it was off to soundcheck. We stood by the buses and the air conditioners and could hear bits of the music they were playing. Wasn't long before it was 6:15 and time to get in line.
Tami Krato and her mom (from Missouri) and Cindy Allred (from Alabama) joined us. It is really a lot of fun talking with the other Marty fans. These gals are SO nice!
Our seats were in the 9th row, but the room is so small that the view wasn't bad, except they had an aisle dividing the first 7 rows from the 8th row and people walked back and forth all throughout the show. Linda Porter-Smith (from Illinois) arrived. She had made the trek to Metropolis to get the tickets for all of us. Our friend Jill Meister (from Kentucky) showed up too. It was so nice to be among friends.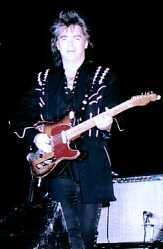 As some of the 1999 reviews have stated, when "Marty Stuart Visits The Moon" starts playing, you know the curtain will be going up soon. When it did, there were Marty and the Rock and Roll Cowboys dressed in their "video" garb (outfits they wore for the filming of "Red, Red Wine and Cheatin' Songs." They are some HOT looking duds and dudes.
They opened with "High On A Mountain Top" and went into "Doin' My Time." Marty forgot some of the words. He then asked how many fan club members were there. There were quite a few and he asked us to give him a "Weeeeellllllllllllllll" and we sang along to "The Whiskey Ain't Workin'." He talked about Travis and their being dubbed "modern country music outlaws" like Waylon and Willie. He said it just meant they had good publicists. Marty told the story (again) of watching the Macy's Thanksgiving Day Parade and said he saw the Bullwinkle balloon which made him think of Travis. So he called ole Travis up and asked what he was doing and Travis said "watching Barney and changing diapers."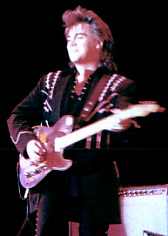 Marty then talked about Johnny Cash, who wrote a song in the 50's about a train that went from Memphis to New Orleans. He said it was a train that really went nowhere--sort of a mystery or ghost train. You just gave the man a ticket and rode. He then performed "Blue Train" that featured Gary on steel guitar. "Tempted" was next.
Marty then took the mandolin and started playing. He sang "Dark As A Dungeon" and threw so much emotion into this song. He stopped playing the mandolin and used hand motions. It was different seeing Marty get INTO a song like this. Next, he performed "Burn Me down" and he was quite feisty on this song......dancing and moving and jerking all over the stage.
He mentioned it has been three years since he's had any new music out but that the new album would be out in June and hoped we'd buy it. He said they had filmed the video for the first single and they performed "Red, Red Wine and Cheatin' Songs." It sounds SO good live!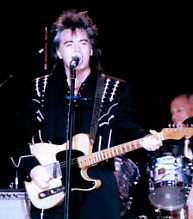 Marty has always been one to tell stories about songs, but at this show, he launched into one of the stories behind the new album, The Pilgrim. This album chronicles actual events.
Marty said there was a man in Philadelphia, MS known as Cross-eyed Norman. He was a strange man that fascinated Marty. Marty said he'd sit next to him in church just to watch him. "I knew he was crazy. I knew one day he was going to blow." There was a beauty queen named Rita who married Norman. Nobody could believe that she'd marry Cross-eyed Norman. Well, Norman was a jealous, possessive man and, after two years, Rita started flirting with a guy who worked with her at the hospital. She took her wedding ring off and she never told him she was married.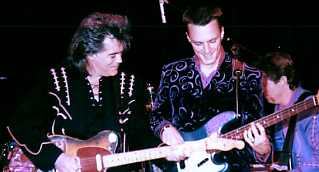 One night Norman came home and Rita wasn't there. Norman writes a letter and sets off to find her. He goes to her mom's house and finally to the hospital where he finds Rita and this man in the breakroom. Norman starts berating Rita and Rita's new beau starts to stand up for her. That's when Rita has to confess that she's married......Norman is her husband.
The man tells Norman that he had no idea Rita was married and said he would stop seeing her. Norman says that he just wanted to meet the man who "tore up his home." Norman went over to Rita and said, "and just to show you how much I love you," he put a gun to his head and fired, killing himself.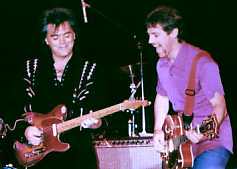 To escape the small-town scandal, this other man went to Memphis, became a drunk and a hobo. He would ride the trains up and down the line. He wanted to ride west and drown himself in the Pacific Ocean. But before he did that, he wanted to hear Rita's voice just one more time. So he called her on the phone and Rita tells him she'd been looking for him and that she loved him and wanted to be with him. Now, they're married. And for him, Marty wrote "Hobo's Prayer."
A long story, yes; an incredible story, yes; a true story, yes; a tragic story, indeed! As Marty performed the song, the words took on a whole new meaning now that we knew the story behind the song.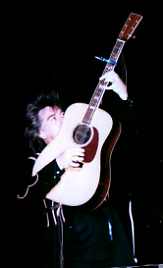 When I talked with Marty in the parking lot earlier, I asked him if he'd perform "Til I Gain Control Again" (written by Rodney Crowell). Rodney is my favorite songwriter and I was dying to hear how Marty did with this song. I was SO impressed!!! So many great performers have sung this song including Emmylou Harris, Crystal Gayle and Willie Nelson. It is a beautiful song and Marty performs it magnificently.
Marty then launched into "Rocket Ship." He really moves all over the stage performing this number. "Hillbilly Rock" was next and that always means the end of the show! He did come back and do an encore with the song that kicks off the new album, "Sometimes The Pleasure's Worth The Pain," which sounds a lot like "Tempted" to me. It is a GREAT song and could easily be a single. Marty dedicated the song to Mike Copelin's mother, who was in the audience, for her role in raising Mike.
Time for the meet and greet. The line went the width of the stage. Marty had less than an hour but nobody was rushed through the line. I whispered to Marty that it was Jill Meister's birthday hoping he would say something to her. Not only did he wish her a "Happy Birthday," but he signed a card to her and at the end of the second show, shook her hand and said, "I hope you have a Happy Birthday." That's just how sweet Marty is.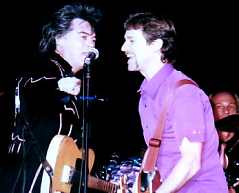 Marty did inform me, however, that he fully expected to win the Grammy Award for "Same Old Train." He said "that's why I dressed so cool." (I had posted on this website and in my April newsletter that Marty was probably shocked at winning the Grammy. He read it in my newsletter--which he said he loved.)
For the second show, Mario and Tami moved up to the first row to take pictures. The song list for the second show was identical except he performed "Long Black Veil" instead of "Til I Gain Control Again." I think this is the best I've ever seen him perform the song. He's started putting such emphasis on the words that he makes you FEEL the song.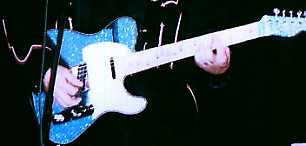 Marty used his new signature Fender guitar on "Burn Me Down" for the second show. Steve played the new bass at both shows. The blue glitter (or metallic) really catches the lights. For the encore of the second show, Marty returned to the stage wearing a long black coat with fringed arms. It had a few rhinestones that sparkled in the lights.
After the show, we went out back to the buses to chat with the band and spend some more time with our fellow Marty fans. It had been nearly 10 months since Mario and I had seen a full-fledged Marty concert. I didn't realize just how much I missed not only seeing Marty and the Cowboys, but visiting with the fans.
Review by Sherry Mattioli
Photos by Mario Mattioli