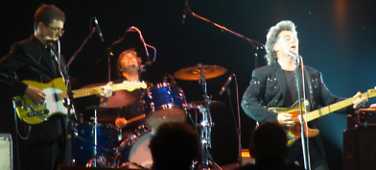 Country music singer Marty Stuart graced the stage with an hour-long set at New River's concert site, Friday night.
The concert is part of the ongoing "Spirit of America" tour in which Stuart is volunteering his time to play at various military installations throughout the United States.
"These boys are out there putting their life on the line for us," remarked Stuart. "The least we could do is stand on the sidelines and act as cheerleaders."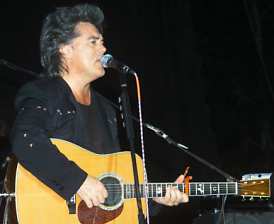 Stuart and his band played signature songs such as "Hillbilly Rock," "The Whiskey Ain't Workin' " and "Tempted" while mixing in other classic songs such as Merle Haggard's patriotic "Fightin' Side of Me."
"We heard at the last minute that Marty was going to be playing but we couldn't miss the show," said Kate Ells of Wilmington, N.C. "So we just got in the car and hurried up to see him - now we're glad we did."
Stuart joked with the audience by telling them the night's show would be his final - because he wanted to join the Marines. Laughter ensued with several audience members wondering if he would dare cut his famous hair.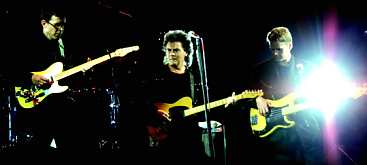 All jokes aside, Stuart earnestly wanted to send his thanks to the Marines and Sailors of New River for the job they do.
"We're proud of you and we're behind you," Stuart said. "Our prayers are with all of them and their families. We know you leave a lot of people behind when you go out there to fight."
Stuart, born Sept. 30, 1958, in Philadelphia, Mississippi, began his career at an early age playing guitar in a bluegrass band called The Sullivans. By the time he was 14 he was offered, and accepted, a full-time position with Lester Flatt and the Nashville Grass. In his solo career, Stuart has gone on to record four gold albums and countless hit singles in a time spanning more than two decades.
Written by Lance Cpl. Andy Anderson