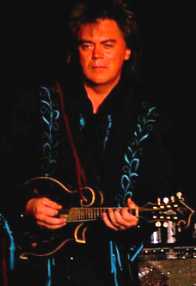 Laughlin, Nevada is a great party town. What could be better than to be staying at Don Laughlin's Riverside Resort to see Marty Stuart and the Fabulous Superlatives. Steve and I met Bob and Kristin Garcia there. They had arrived on Wednesday because they didn't want to miss any of the great shows! With my lemon drop martini in hand, I was ready for the Marty Party! Jim Hill started off the show with his usual goofing around. He is really great with his marketing techniques for the merchandise table. Marty opened with 'Back to the Country' I can't remember every song and the order he played them, but he just got hotter and hotter with each song they played. He did "Long Black Veil" which is mine and Kristin's favorite song. Every time he plays that song, I get goose bumps.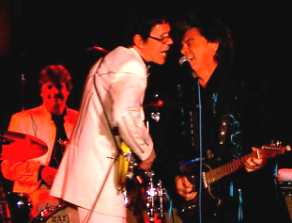 The band was dressed in white and Marty was in black. Marty did a solo on his mandolin that was just on fire. I just love it when he plays that thing! He played all the songs I know, while I was singing along in my really bad, out of key voice and loving every minute of it. He also played some songs that I had not heard before. Maybe they will be on a new CD? At one point he told us he was homesick and then he introduced Connie. She was in the audience and she stood up...the last night of their performances Connie sang with Marty (Bob told me that). I, of course, missed that because we only saw the Saturday show.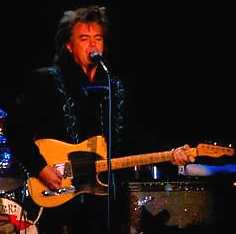 All to soon he was playing "Hillbilly Rock" and I knew the end was near. They did come out and play two more songs. I can't remember the first one, but the last song was "Draggin' the Line". It was then time for the meet and greet. I brought a book for him to sign...NASHVILLE: The Pilgrim's of Guitar Town...there was a picture of Marty and Connie which both of them signed for me. There was also a picture of Harry in it and he signed it too. Here's the cherry on the sundae, Bob took my picture with Marty. I have wanted this for ten years and now I finally got one! We all had a superlative time!!! On the way back to our rooms we rode up the elevator with Harry and the poor guy was sick. With his six pack of Sprite in hand, he said he was going to bed. We all went on to the coffee shop for dinner where we then ran into Marty and Connie. They sat at the table across from us. What a cute couple they make! Marty Stuart and the Fabulous Superlatives are going to be back there next March, so hopefully, we can go see them again!!!

Review by Patricia Dalton, Laguna Niguel, CA
Photos by Steve Webber

Click here to view more pictures from the Laughlin shows.