Eddie Stubbs introduced the night with his big voice from WSM-AM and it was all broadcasted live!! He introduced the first act.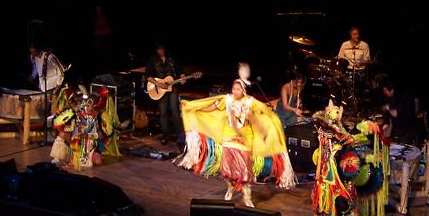 We had heard that Brulé and the American Indian Rock Opera were coming, but we could never have been so totally surprised. In traditional dress, the dancers amazed everyone with their swift movement (hard to catch on camera at times unless I changed my settings). They danced with hoops, feathers, and full dress of the traditional American Indian. It was amazing. They said they were very appreciative to have the chance to come and perform at the Ryman Auditorium from South Dakota. The drums they used were made of leather skins and were beautiful and the drummers also played maraca's as they beat the drums to the music. You can check them out at http://www.brulerecords.com and the website is great too!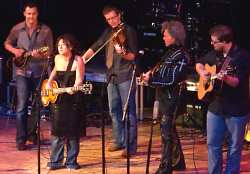 Eddie also mentioned The Marty Stuart Show on RFD-TV Saturday night and Marty's website, and told about the MusiCares charity and how it helps musicians, the Country Music Hall of Fame Acquisitions Fund and Helped Keep Music in the Schools. He then introduced Marty and the Fabulous Superlatives for "Hillbilly Rock. "
Marty and Eddie hammed it up a bit while the set was stage to introduce the Greencards, an Australian and British group who had a good "lead girl singer." They led with "Bury Me Beneath the Willow Tree" and, of course, Marty joined in on his mandolin. They talked about their album Fascination coming out.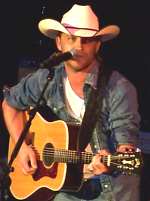 Once again, Marty and Eddie talked and Marty told Eddie he was cuter in person, and Eddie mentioned someone telling him he didn't really look like a mortician. Then they introduced Justin Moore who said he was from a town near Little Rock Arkansas of about 300 people for which the song "Small Town USA" was most fitting. He said he had been to the Opry several times but this was his first time at the Ryman Auditorium.

Then it was time to introduce the reason for the night of fun and music. MusiCares officials were introduced: Debbie Carroll and then Tony Conway from CMA Festival, also folks were there from Keep the Music Playing for the Schools. At that point they didn't have all the figures in (they were still selling tickets) as people just kept coming in even after the first two or three acts. Finally it looked like a nearly full house.



Before introducing the smallest but greatest act: Marty and the guys started out on "Slow Train" and brought in the boys Kell and March Martin. After all the introductions of their grandparents and mom and dad, everyone could fully understand why they are so talented. Grandparents Duane Allen (with the Oak Ridge Boys) and Nora Lee Allen (with the Carol Lee Singers), their dad is Marty's bass player Paul Martin and their mom is Jamie Allen Martin. All on the same stage, and then March did a Martin Guitar solo of "La Tingo Tango" of course with Marty & the Superlatives backing him up. That was an amazing sight to see, and little Kell moved like he could really dance too, if he wanted.

Marty talked about his 1996 Fleetwood Cadillac with 100 million miles on it, spinners and tinted windows. Eddie told about his 1999 Cadillac. You're just not a hillbilly unless you got one. Marty said he just replaced his Crest Cadillac license plate on front with a John Deere Tag.



Corb Lund was introduced and produced by Handsome Harry Stinson. He and Marty performed "Especially A Paint" then he and his band The Hurtin' Albertnas did "Time to Switch to Whiskey" been drinkin' beer all night. (not supposed to be in that order I've heard).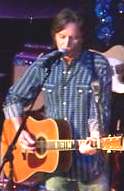 I lost my pen at one point but I'm glad some others had theirs, since Jeff Hanna from Nitty Gritty Dirt Band came along to sing "Mr. Bojangles" with Marty and the Superlatives. That was so nice and who can't sing along to that song?

There was an intermission fro about 15 minutes, so we got to visit with some of the fans and friends who are always there. I also gathered up more little yellow note sheets to write on and had everyone around me giving me their little flyers for the shows of George Jones and Elvis Costello matinees.

We came back from intermission to meet the sponsors of this great show. Haven't missed one yet and hope I never have to. Marty's 8th Jam! Bought one of the flyers for the show since for the first time I stayed for autographs afterward. But I'm jumping ahead. Back to the sponsors: Crest Cadillac, WSM (heard it was a great airing of the show), and RFD-TV. Crest presented a $10,000 check to add to the night's money raised. Over $30,000 was raised when all was said and done. Chris Cooley, General Manager of WSM, brought out a guitar and sang "Better for Her, But for Me No Way" with Marty.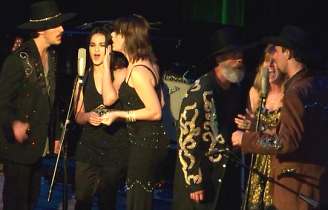 CherryHolmes came out for "Mary Don't You Weep" and finished off with a Grammy-nominated instrumental "Sumatra."

Eddie made mention that this was the best show of the week during the CMA festival and talked about how hard Marty works all year to get this show together. Marty had mentioned the planning starts for the next one the day after it's over.

Then Marty introduced his favorite girl singer: Connie Smith who sang "I've Got My Baby on My Mind" and (my favorite) "You've Got Me Right Where You Want Me". She and Marty both sang "You're Tender Loving Care."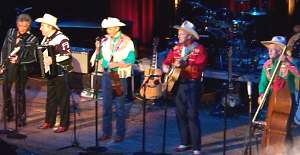 Dierks Bentley came out on the stage and told Marty he had just come by to hear the Rolls Royce of Country Music sing. It was 4 and a half minutes past midnight. So they had him introduce the next act: The Riders in the Sky. They were funny and the crowd really enjoyed them as they did their antics and songs "Wahoo" with Marty on mandolin. And talked about their Grammy for the music used in the movie Toy Story. Rap by Too Slim, or should I say the combination of cowboy music and rap-crap was a lot of fun! They also finished with "Cool Water" and and instrumental with Marty and the band while Too Slim danced a jig. Was it a Possum dance or Armadillo dance or Rabbit Dance? Now 12:23 a.m.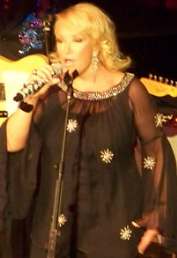 While preparing for the next act, everyone certainly applauded their agreement that Marty should be the next Entertainer of the Year because it was about entertaining, not what was on the radio. Then we listened while Eddie said to listen to see if we remembered a song playing, and the next thing we heard was "Delta dawn, what's that flower you have on". The crowd was so excited to see Tanya Tucker. It was her first time to perform in two years and you can could tell she was ready! She said the first time she came to the Opry she was 9 years old from Wilcox, Arkansas in July 1967, and Roy Acuff was on the stage. Her daddy asked her "Wouldn't you rather be up there doin' it, instead of down here watchin' it?" She put on a great show with "Is Anybody Goin' to San Antone." She said she heard Charley Pride sing when she was 11 years old, and " Love's Gonna Live Here Again" with Marty. She talked about Connie and her admiration for her over the years. Eddie and Marty talked about how she and Marty started in the business about the same time.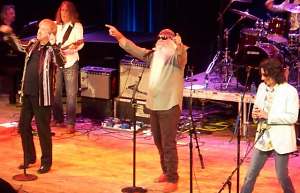 They laughed and joked around while the next set was getting ready, and the Oak Ridge Boys came out. "The Boys Are Back" was a new song coming out in September. The said that Joe Bonsall had been ordered to be quiet for 3 weeks (as he came out and held his throat on stage) so band member Jimmy Fulbright did a great fill in for the night. They followed with a favorite "Ya'll Come Back Saloon," "Beautiful Bluebird," "Shake It, Baby," "Mama's Table," and "Seven Nation Army" and of course "Boom, Boom Boom." They finished with Marty on "Have A Little Talk With Jesus" and then they were requested to do none other than "Elvira" with everyone joining in (including Joe who just couldn't stand it anymore being quiet and snuck in a few words here and there). It was now 1:21 a.m. CDT according to Eddie Stubbs.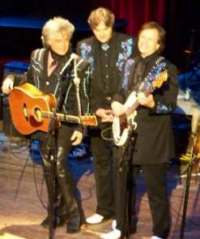 Marty and the Superlatives came back out and sang "The Whiskey Ain't Workin'. He told about being in Nashville once waiting on a ride, but they weren't there yet. he said he came around the corner to the Ryman and almost cried. He told of being named after Marty Robbins. Marty introduced his fine band Paul Martin, Harry Stinson, Kenny Vaughan, and then did a really good rendition of Marty Robbins "Don't We All Have the Right to be Wrong Now and Then." He has probably practiced that all his life, being his namesake. I loved the song he wrote and performed next: "What Will Become of the Working Man." Marty had just lost a good friend John L. Smith, who introduced Johnny Cash to the Lakota Indians. He did a tribute song for John "It's Hard to Say Goodbye". Brulé came back out and stood with him and they joined him in the song "Wounded Knee."


Everyone came back out for "Will the Circle Be Unbroken" and "Are You on the Rock and Roll". Then it was time to say thanks and Eddie said Marty would meet with and sign autographs for everyone who wanted to stay. I hadn't gotten to see Marty in a while so when I found someone who parked in the same parking garage I decided to stay after. Got the CD Cool Country Favorites and looked up to see Marty looking up and said "hi". (My hair was what they called poofy) guess he was trying to figure me out, since I don't usually have poofy hair. Autographed my Jam poster and he asked where and how I'd been. Told him and Connie both I'd been enjoying my grandchildren. Line was going pretty fast though, but Connie said she had a 7-month old grandbaby, and I said "there's nothing like them." She agreed. Then I went on to Eddie and got his "John Henry" and spoke with a few friends and fans before I headed to the car. Another year gone, and it was a great one!

Review and photos by Mary Runyan, Dayton, TN

View more of Mary's pictures from the Late Night Jam here.