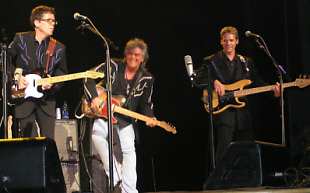 The official kick-off to the CMA Music Fest (Fan Fair) used to be the IFCO Show. These days, it's Marty Stuart's Late Night Jam, and a Jam it is. The performers are not announced early on, but I suggest you grab a ticket for the next one (it will be the 5th Late Night Jam).
Jim Hill introduced Marty and his Fabulous Superlatives. Marty and the band kick into "Now That's Country." With the great Ryman acoustics, the song never sounded better. Of course, sitting in the front row with an unobstructed view, helps. The evening also brought a few surprises and one of them, I thought, would be Travis Tritt. He and Marty had performed "The Whiskey Ain't Workin' " at the taping of CMT's 100 Greatest Duets earlier in the evening. However, when Marty went into the song ... I figured Travis was not going to be appearing.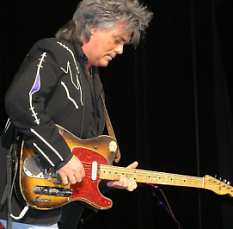 Next, Marty introduced each of the Fabulous Superlatives, then performed "Country Boy Rock and Roll." This is a song he does frequently on the Opry. Next was "Homesick." I was glad to see he stuck in one of my favorite Marty Stuart songs, "Tempted." At one point, Marty was having problems with the sleeve button on his shirt. He was trying to adjust it through the jacket. Someone in the audience yelled, "Take it off," so Marty did.
Marty then talked about the new album Soul's Chapel coming out (he said on August 29) on Superlatone Records through Universal South. He said it featured the music he fell in love with in Mississippi. Drummer Harry Stinson then sang lead on "Slow Train."
Marty said, "When I was five years old, I got my first record. It was Flatt & Scruggs' Greatest Hits. The second one was The Fabulous Johnny Cash. The only two jobs I ever had were with Lester Flat and Johnny Cash." He then introduced the great Earl Scruggs. Earl brought his son Randy and fiddler Stuart Duncan. They accompanied Marty as he sang "Cry, Cry, Cry."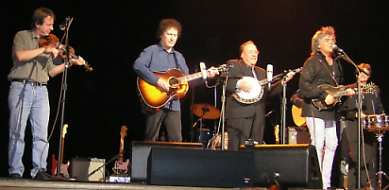 Then we heard the familiar chords of "The Ballad of Jed Clampett." Marty made the audience stand up and sing the words. How could one not know the words to that song? I loved watching The Beverly Hillbillies. Stuart Duncan got the ole "Orange Blossom Special" kicked off. Marty got a charge out of watching Earl's fingers run up and down the fret of the banjo.
Randy Scruggs then sang a song he had written with Johnny Cash called "Passing Through." Marty wouldn't let Earl leave without strumming "Foggy Mountain Breakdown." It is truly amazing to watch Earl Scruggs play that banjo. Earl and Company received a well-deserved standing ovation.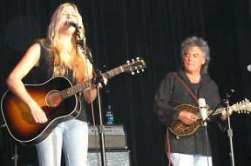 Next, Marty introduced the beautiful Holly Williams, daughter of Hank Williams, Jr. and granddaughter of Hank Williams, Sr. Holly's music is far from traditional country, but she has a strong voice and writes really good lyrics. She performed "I'll Only Break Your Heart," "Between Your Lines," "Sometimes" and "Would You Have Fallen" which she wrote about a close friend who suffered from a drug addiction. Marty grabbed his mandolin and joined her on "I'm So Lonesome, I Could Cry."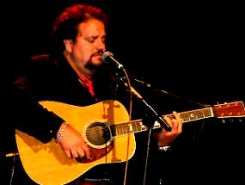 A surprise guest was The Mavericks' Raul Malo who, in my opinion, has one of the best voices in the business. Raul was the music director for CMT's 100 Greatest Duets' concert so he was "in the area" and happy to perform at the Ryman. He came out with his acoustic guitar and sang a song he had recently written called "Just Because." Then he said, "I've always wanted to sing this song at the Ryman" and broke into Pasty Clines' classic "Sweet Dreams." Raul's voice is mesmerizing and resonates beautifully in the Ryman.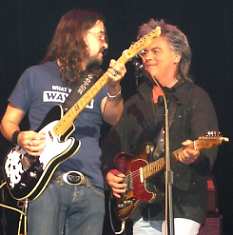 Marty then brought out Jessi Colter to introduce her son Shooter Jennings. There was a delay of sorts because Shooter's equipment had just then arrived and the stage wasn't ready. Shooter came out and stood with Marty and Jessi and waved to the audience. The set up was FAST, and before you knew it, Shooter was rocking the crowd. He opened with "Let's Put the O Back in Country," which includes lyrics from his dad's "Are You Ready for the Country." Next Shooter and his band, 357, performed "Solid Country Gold," "Lonesome, On'ry and Mean," "Southern Comfort" and closed their set with "4th of July," which is a song I absolutely love. I was very impressed with Shooter and his band. He looks so much like his father but has created his own musical sound.
Marty then brought out Debby Carroll and Tony Conway with MusiCares, which is the charity the Late Night Jam benefits. Marty presented them with a check for more than $21,100.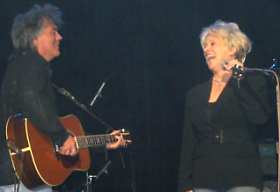 Marty and his Fabulous Superlatives once again took the stage. Marty mentioned CMT was there filming a documentary on the upcoming album, Badlands. Marty said he and the band would be going to Pine Ridge, South Dakota to film a concert. He said, "General Custer got what was coming to him" and performed a song from the album.
Next Marty brought out his beautiful wife, Connie Smith, and said that we were going to hear "Farmer's Blues" the way it is supposed to be sung. What can you say about Connie Smith? She's gorgeous and sings like an angel.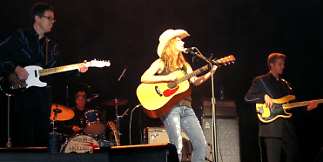 Marty then announced that Miranda Lambert was unable to perform, so they went out in the "alleyway" looking for somebody to replace her and found Jessi Alexander. The Fabulous Superlatives did a great job backing her on "I Wanna Believe" and "I'm Not Lisa." Jessi, named for Jessi Colter, has a strong voice and I was quite impressed with her. She was thrilled to perform on the Jam.
Next up was Dierks Bentley. Marty introduced him by saying that Dierks had just flown back from Jamaica and was scheduled to perform on Good Morning America in the morning but that Dierks was also the first artist to commit to perform on the show. Dierks also mentioned that Marty had called him personally to ask him if he would play the Late Night Jam.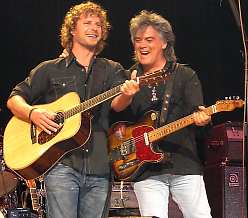 Dierks performed his hit "How Am I Doin'?" and then performed the next single off his new album, "Come A Little Closer." Marty grabbed his mandolin. Dierks says, "Don't you have enough money to buy a new mandolin?" Marty had to tell the story of how Johnny Cash took the mandolin and inscribed "JRC" on it so that Marty would never forget the Lord. Marty said he told him, "I can remember the Lord without you messing up my mandolin." He asked Dierks to sign the mandolin and Dierks declined. He accompanied Dierks on Dierks' latest hit "Lot of Leaving Left To Do." Dierks mentioned it was #2 on the charts. Marty asked, "Who's keeping you out of #1?" Dierks answered, "Keith Urban." The crowd went wild. Marty, in his best Aussie accent says, "Dierks, I'm so sorry ...."
Marty then reached for his electric guitar and had to do some major tuning. He goes, "Keith Urban has screwed up my guitar. I know he has." The crowd went crazy again. Once he got the guitar tuned, he and Dierks sang "Doin' My Time."

Marty then called everyone back out on the stage. He had Jessi Colter sing "I'm Not Lisa." They all sang "The Weight" with Connie, Dierks, Shooter, Jessi and Jessi singing background vocals. They closed out the show with "Amen."
The show ended at 2 a.m. Marty mentioned that next year's show would start at 10 p.m. He was drinking Red Bull and Diet Mountain Dew to stay awake. He had signed autographs at Tootsies for two hours, gone to the Gaylord Entertainment Center for the CMT special, came back to the Ryman for the Jam and was scheduled to sign autographs after the show. A busy man he was.
I absolutely enjoyed the show. Marty is an excellent host, puts on a first-rate show, joins his guests on stage and, as you can tell by some of these photographs, Marty has a GREAT time at the show.
Click here to see more great pictures from the Late Night Jam.
Review and photos by Sherry Mattioli, Nashville, TN