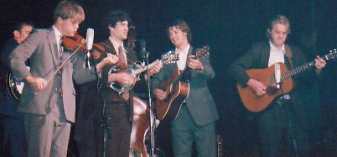 The first group, King Wilkie, was a bluegrass group from Virginia, and they could play! They started with an instrumental, then they sang "In The Pines". Another instrumental and out comes Brother Jim to introduce Marty who came out to welcome everyone, all in black.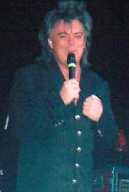 Marty introduced Naturally 7, a very talented group who, with no instruments at all, could make the sounds of all the instruments. Bass, drums, you name it, they could play it, but all through their voices and throats. Marty and Connie both sat on the side stage and really enjoyed it. The guy who imitates drums sat down and gave us a show, throwing the (invisible) drum sticks in the air and hitting the cymbals. Wow! Marty brought out his mandolin and asked if they could use a "white boy from Mississippi". They all played "Amazing Grace".
---
---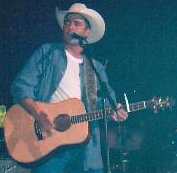 Trent Willmon came out and sang "I'm A Beer Man". Door prizes for the Street Team was one of the highlights with everything from T-shirts, ball caps, to 2 front row tickets to next years Jam in the drawing. Jim asked for anybody who had a picture of Abraham Lincoln, then while I was trying to find a 5 dollar bill he changed it to an expired driver's license and gave the guy a prize. He gave an empty trash bag he said was off Marty's bus to one lady.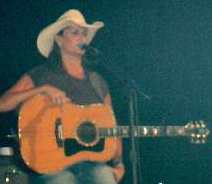 Terri Clark was next on the bill. She came out with her guitar in hand and sang
"Better Things To Do"
"Just Want To Be Mad For A While"
"Girls Lie Too"
"I Wanna Do It All"
She'd mentioned her breakfast with her fan club that morning early and how she'd had to have a nap this afternoon. Marty came out with Terri, and he talked about how proud they were in Canada right now, with her being inducted into the Grand Ole Opry on Saturday night. They sang 2 songs together: "Delta Dawn" and "Come Back To Me"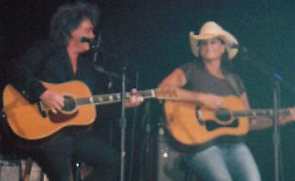 They really had a good time together on the songs and Marty joked about his DUI and that of all places, Walmart. He named off a swanky place and said it couldn't be there, it had to be Walmart. Then said "Don't do it!" (drink and drive), "Just don't do it". It was a lot of fun and, hey, it might make a difference to someone out there.
During intermission, I ran upstairs to get a new Jam shirt. These are black and have a picture of Jerry Lee and Marty on front really rocking. On back is Marty inside a star and Marty Stuart's Third Annual Late Night Jam 2004. Rockin At The Ryman, The Killer Event of the Year "Sold Out!"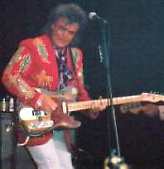 Of course since I stopped to get some caffeine to help finish off the night, the show had started with "Hey Baby" before I got back in. Then the always sent respectfully (to Washington) "Too Much Month At The End of The Money". We got the Welllllllllll intro with a little "Shake, Rattle and Roll" ( to get us ready for Jerry of course) before going in to "Whiskey Ain't Workin' Anymore". Then: "Burn Me Down" and "Mirrors Don't Lie".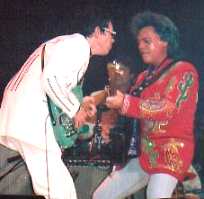 He introduced Mandy who was sitting on the front seat on the balcony and she stood up. She was the winner of the "CMT Got Me In With The Band" contest. He performed the song he wrote about Johnny Cash "Dark Bird" and explained that there was a big black crow he saw after Johnny's funeral that inspired the song.
Kenny performed for us "Luther Played the Boogie Woogie in the Strangest Kind of Way". They always have so much fun on this one. Marty came out on the mandolin for an instrumental then they all came down to sing "Slow Train" together (my favorite). "Hillbilly Rock" was fun, and the encore of "Draggin' The Line" had everyone standing.
---
---
Then it was Jerry Lee's turn and it went like this:
"Roll Over Beethoven"
"You Win Again"
"Drinkin' Wine"
"Another Place, Another Time"
"Whole Lotta Shakin' Goin' On"
"Great Balls of Fire"
What more could I say; he is still that good. Marty encouraged an encore and had played along on a few of the songs, but Jerry bowed and was gone.

They announced the meet and greet on the 2nd floor balcony. 3:00 a.m. my time and the caffeine was wearing thin. I'm sure it would have been 5:00 a.m. my time before I got back to the hotel if I'd stayed, and I had meetings the next day. Hope it was fun! Saw many familiar faces, but missed being able to see everyone during a fan club party.


Review and pictures by Mary Runyan, Dayton, TN