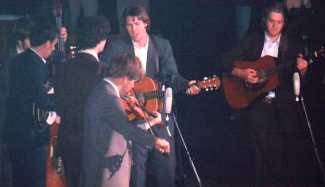 The Jam started right on time, with Jim the Merch Man and one of the Opry announcers sharing MC duties. They announced King Wilkie, a young Bluegrass group. They did a couple of songs and were really good.
Marty made a brief appearance then, dressed all in black; pants, jacket with the embossed black crosses and no shirt. He announced Naturally 7, then went to sit at the side of the stage to watch their performance.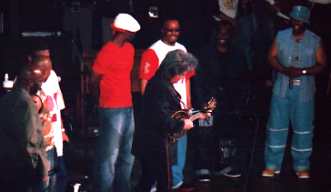 This group is unbelievable! They make all of the instrument sounds themselves and all of them have wonderful voices. They did several songs, everything from to gospel to Simon and Garfunkel, and got a huge ovation after every song. Marty came out and asked them if they could use a "white boy from Mississippi" in the band. They did "Amazing Grace," with Marty playing mandolin. Trent Willmon performed "Beer Man."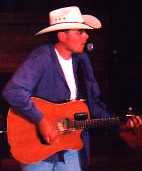 Between acts, the two MCs were drawing ticket stubs and giving away stuff to Street Team members, everything from bandanas to free tickets to next year's Jam. (I kept wondering, why isn't Marty doing this???? He just didn't seem to be as much a part of things as he has been in the past.) They encouraged everyone to come to the merch table after the show and to join the Street Team.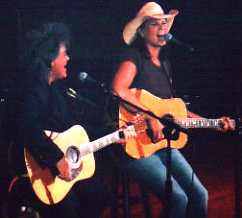 Marty introduced Terri Clark, who performed with just her guitar. She was great! She did several songs, including "Better Things To Do," "Girls Lie, Too" and "Be Mad For Awhile." She also talked about her fan club party that morning and becoming a member of the Opry. Marty joined her and they chatted for awhile and sang a couple of songs, one of which was "Delta Dawn." Terri said that was the first song she could remember singing. She made up some of the words, but did a good job. Marty joked about the DUI arrest and offered Terri some advice -- "Don't do it!!" Terri told him "It's too late!"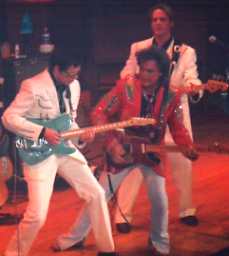 After a short intermission, Marty was introduced and came out in a sparkly pink sequined jacket that he said was stolen from Porter, a black t-shirt, purple scarf and faded jeans. (Only Marty!! LOL!!) I can't remember the order of the songs but he did "Hey Baby," "Burn Me Down," "Mirrors Don't Lie," "Luther (Kenny) Played the Boogie Woogie," "Dark Bird," "Slow Train" with Harry singing lead, "Whiskey...," "Too Much Month...," "Hillbilly Rock" and "Draggin' The Line." Although he looked tired while he was sitting at the side of the stage, his part of the show was fantastic...just not enough of it!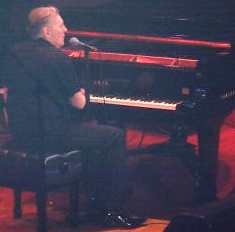 Jerry Lee Lewis performed last. He did most of his hits and can still really pound the piano. Marty stayed out onstage the entire time he performed, playing as a member of Jerry Lee's band. He was having a blast! (He'd changed out of the pink jacket into the polka dot shirt he's had for years.) I couldn't understand anything Jerry Lee said when he was talking -- his voice sounded weak -- but when he sings, he sounds like he always has. He was singing his last song, "Great Balls of Fire," I think, and he just stopped playing the piano, got up, waved to the audience and walked off. Marty tried to get him to come back and do another song, but Jerry Lee just shook his hands at Marty, gave him a hug, waved at the audience again and was gone.
Marty thanked everyone for coming and invited the audience to come by the merchandise table and that was it. The Jam was over. It was only 2 a.m., which is early compared to previous years, but maybe they had to cut the time down in order to have a Meet and Greet.
A lot of people stayed for the Meet and Greet, but I wasn't one of them! The line was stretched back into the theater upstairs and wound all the way down the steps, too. The ushers at the Ryman didn't seem too thrilled with having to stay for the Meet and Greet. I don't know how it was downstairs, but they were barking orders like drill sergeants upstairs....and unhappy drill sergeants, at that!! LOL!
I saw a few faces I recognized in the crowd below, but not like at past shows. The crowd was pretty responsive and everyone seemed to enjoy the show. Connie was there, sitting at the side of the stage with Marty during Naturally 7 and she watched Marty and Jerry Lee's shows, but she didn't perform at all and Marty didn't acknowledge her.
Well, that was the view from the balcony......
Review and photos by Judy Simonton, Lawrenceville, GA