Well, here goes nothing. I'm not too good at this.
Dustin & I headed out of town as soon as he got out of school, and we were on our way. We arrived at the gate probably at 4:30 but the concert area was clear on the other side of the fair. We got to enjoy the aroma of the cows and even side-stepped a few things on the way through.
On the way through one of the buildings, which someone said would be quicker to go through to get to the concert area (they don't know Dustin), we were delayed for a few minutes while Dustin admired the John Deere collectibles and other die-cast cars. We got to the gate about 5:00 and I'd say there were about 25 in line. I saw that Margie, Glenda and Clarence, LaDonna and her husband were right at the front. Donna Lewis from Sweetwater saw me and came over and said "hi," then I went on up and spoke to Margie and LaDonna. Margie had been there since about 11:00 and I found out later the others hadn't been there much longer than me. But I decided to go on back and get a place in line and wait for them to open the gate.
Marty and the band were still doing sound check. So we got to listen to parts of a few songs then. Someone in line behind me had the prettiest little girl with long curly blonde hair (about 3 years old) and those Wilson green eyes (Tanya Tucker's song "What's Your Momma's Name"). The deepest green I'd ever seen. The color of her eyes had to be what they meant in that song. She was getting impatient and her grandmother said they were from Dayton, Ohio. I told her I was from Dayton, TN. I always have to explain that it's 30 miles north of Chattanooga on U.S. Hwy 27 and that always does it perfectly. They said her great-grandmother was sitting over in the chairs because she couldn't stand long and she was the one who really wanted to see Marty. A few minutes later I remembered I had some of the little billfold photos of Marty and gave the little girl one. She would not let go of it because her grandfather tried to see it and she wouldn't turn it over to him. She went over to show it to her great-grandmother and she did let her hold it long enough to show it to every one sitting around her. She must be a big fan. I was glad I had it with me. I always carry a few of those around in my fanny bag.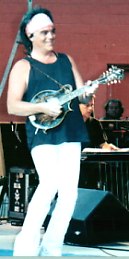 Margie said they were going to open the gate at 5:00 but apparently not until sound check was over. I was explaining to the group around us why people really couldn't sit around in the area during soundcheck and why they had to do soundcheck. It made them a little more patient then. (Essentially I explained they had to get each mike and each speaker just right, and they had to find out how good the acoustics were in each place they went.)
I guess they opened the gate finally between 5:30-5:45. We all rushed to find the good seats. There were several rows of reserved seats the whole length of the stage area but the seats we got were a little higher than eye level with the stage so they were really great. Glenda and Clarence, LaDonna and Gary, Margie and Ellie and Dustin and I all sat together. We all got to visit a little before the concert started. Sandy Shelton from Nashville came by and I spoke to her and she mentioned how great it was to have two shows in one night (not to mention only $6 for both).
WIVK DJ (Alan Jackson look alike) came out to begin the introductions but first he threw out some WIVK T-Shirts autographed by Marty and six Frisbees with four of them having a backstage pass attached to them to go back and meet with Marty. What a crowd! I'd say the first show the seats were at least 2/3 full. As soon as they threw out the shirts and Frisbees, a few minutes later, here came the band and Marty right behind them.
Thanks to LaDonna for keeping the set list. That was great help, since I usually get to carried away with the clapping and music to do justice on that, and picture taking too. She had a great photographer with her, her husband. He and Mario should exchange ideas.
He started out with "Hey Baby" and the crowd really got into it. It was a really good crowd and someone was most always clapping to each of the songs. In the meantime, Margie and I and LaDonna's husband were trying to catch those good shots for pictures. Glenda said her camera was broken so both LaDonna and I promised her some shots from the shows.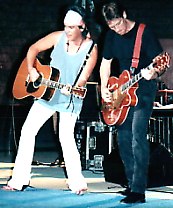 He then went into "Doin' My Time". "Whiskey Ain't Working" came next with a lot of folks singing along. As a matter of fact at the point where he usually tests the crowd (which song I can't remember) on how well they sing along he actually said "well, that didn't suck". Margie said she'd only heard him say that once before (and she sees lots of shows). He slowed it down for "Body and Soul", but when he started his "Burn Me Down" to see if we were ready for it, he went right into it, because we were ready! "Where I Come From" was next and then he fired up the crowd with "Tempted" (one of my favorites). We had a ball with "Now That's Country", and the place really got quiet for "Long Black Veil". It seems there are always new people who haven't heard that song and they really listen to the words on it. He did a guitar solo with Brad and they really had fun on that. The crowd enjoyed it too. Then he finished off with what we as fan club members know means the show is over, "Hillbilly Rock". There was a stage area coming out into the middle of the reserved seats within 8 feet of the area where we were and we really relished the moments he spent out there by trying to get good pictures. He shook hands with those in the reserved area, who were the only ones who could get near the stage and threw his pick to someone in front of the stage.
Unfortunately everyone started leaving and as hard as some of us tried to get an encore, I guess we just didn't make enough noise to get one. Someone passing by said they don't do encores and Margie commented, Marty always does if the crowd wants him back. Some of the people behind us noticed us standing and stood too and clapped but then the music came on so we knew it was over. They announced just before the show started that Marty would be meeting with fan club and backstage pass holders and we had to go over to the left side of the stage to line up.
There was a pretty good sized line. It went rather quickly, as Mike came through the line after gathering membership cards and passes, letting everyone know there were no pictures allowed, just hugs, kisses, autographs etc. I caught the humor and so did Margie I think.
I was still trying to figure out what I wanted autographed and it hit me that I had brought my long-sleeved denim shirt to wear if it got cool. Not! I chose that for my autograph item. Dustin had his pictures of him from Dayton, TN Strawberry Festival (May 94) and one taken from backstage at the Opry (June 98). Marty was impressed with how much he had grown in four years. Mike came up looking over Marty's shoulder to see the pictures when I mentioned how much he'd grown. Dustin also got the white shirt he was wearing with the red Marty logo on the chest autographed on back. I then got my denim shirt autographed and thanked him and told him "Happy Birthday, since I won't see you again before then". He thanked me very sincerely and I hugged him and told him we'd see him around.

Mike was standing at the back door and I introduced him to Dustin and they shook hands. Mike said he has really grown up. He is 5' 10" now. He was about four inches below Marty's shoulder in the 1994 photo.
As we walked out Dustin seemed to be really proud of the pictures. That's something for someone who will be sixteen next month. Not many teenagers care for country music. Even though he does like the other styles of music he has an appreciation of country too. Just not as much as I do he tells me. :> Give it time.
Margie and Ellie had taken some cookies to the crew bus earlier in the day, and Mike was surprised to see her "in the south, too?". By now Mike knows not to be surprised where Margie/MA might be, huh, Margie? Margie had said that Mike told her the Athens, Ohio show had been canceled and she still thought he was teasing until Glenda asked Marty about it at the M&G (meet and greet, for those unfamiliar with our jargon). They were all pretty disappointed because Glenda said that was the only time she'd get to see him before his birthday. We went back to check out our seats where we left our seat cushions and newspapers and drink bottles (anything to hold the seats) and I had asked a little girl who had already come in with her parents for the second show, if she'd mind watching my cushion for me. When I got back I thanked her for watching it for me. I also gave her one of the Marty billfold photos and she showed it to her mom and dad and they smiled at me. I thanked her again for watching my seat.
We still had some time before the next show to chat and look at some of Ellie's pictures. I showed everyone the two of Dustin and they asked what Marty said and I told them. Dustin wanted to check out the John Deere collectibles so we did that and wound up with a Dukes of Hazard die-cast as well as a John Deere truck, trailer and tractor. So much for the low ticket prices. :>
Once again for the second show the WIVK DJ came out and threw out more T- shirts autographed by "the one and only, Marty Stuart". Shortly after, the band came out as we cheered and clapped and Marty was right behind them. He did ask the DJ why he couldn't try to look like Travis Tritt. The queen of the fair was there and he had her walk out and bow once and then tried out a British accent. Something about the "queen wave" (he waved the way Queen Elizabeth waves) and said something like "please everyone move to the nearest exit" in as much of a British accent as he could muster. Seems Mississippi accents and British accents don't mix too good. :>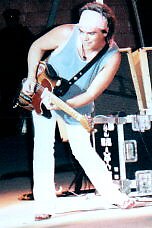 He started out this time with "Can't Help It" and then "The Wild One". Although the crowd seemed even larger than the first show, and just as rambunctious, he started out his "Welllll....and we chimed along. We sucked that time so he went on into "Whiskey Ain't Workin'. "Oh, What A Silent Night" calmed us down a bit but the honky tonkin' "This One's Gonna Hurt You..." got us singing along again. Everyone really seemed to enjoy that one.
"Country Girls" i.e. 'Knoxville girls' was a favorite of the crowd and they really got into it. Some of them pointing at themselves and such. Dustin looked at me when Brad was doing his popular head shake and said, "Doesn't he get a headache?" I said probably loosens his neck up a little. I love to watch the crowd sometimes, to see their reactions to Marty's music. Like a proud mom...no, sister watching her brother do a great job entertaining I guess. Just a thing I like to do. "Hobo's Prayer" was next and, if I remember right, he got a standing ovation on that one. I love it too. Then he set us up again with "Burn Me Down" and got us clapping and rockin again. Gary did a song on the steel guitar Marty said he wrote it. Margie mentioned it sounded a lot like Shenandoah. Then we got the always popular "Clyde" with Steve on electric bass! Then it was time for the inevitable "Hillbilly Rock". But this time most everyone stayed and cheered for more. Some man behind us chimed out Marty! Marty! and Mike says "do you want more?" and everyone clapped, squealed and cheered.
They came back out again for the encore. During the shows Marty introduced the band with Tennessee homes for the band. The ones I remember, Greg was from Maynardsville (on the outskirts of Knoxville), I think Brad or Steve was from Bristol, and Gary was from Rockwood (25 miles up the road from me). I wonder how many signs they have to check out on their way into a town to do that, or if they just study the maps? I don't even know if Rockwood is on most maps, it's so small. :>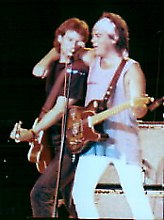 The encores were "Workin' On A Building" and "That'll Be Alright With Me". It was really a fun night. I had never seen the new buses up close and personal yet (Dustin came back telling me about them when he looked around while we waited in line) and there was really a crowd around them. Margie, Ellie, Dustin and I walked around and Glenda and Clarence were there too. I got a couple of pics of the bus, they are absolutely beautiful with all that chrome. But security was already clearing the way for Marty's bus to head out. They tooted the air horn as everyone waved as they left. Don't know if anyone was looking out but it was my first time seeing the bus leave. I heard it toot again at some people who were waving as they went out the gate.

I had an hour and a half drive to get home and Margie was at the crew bus probably finding out for sure about the canceled show in Athens. Glenda said it definitely was canceled and they had planned to go. Glenda and Margie both were planning to go back through Nashville to see the photo exhibit before going on to the Athens show(s). I told Glenda to be careful traveling and we'd see them again some time.

In my meetings this weekend I didn't have time to go see it, but Sherry had e-mailed me Friday and told me when they saw Margie Thursday night, that a lot of the pictures were gone already.

I don't know how well I remembered everything but I tried hard. Can't let it get to cold or you forget a lot of things. Fortunately it is easy to go back and add something that pops into your memory later in the review. Hope everyone who was there had as good a time as I did. Dustin says it was fun. That's real good from someone who is very lukewarm on most subjects. :> I enjoyed every minute of it. Can't wait for the next time.

Until then........

Review and photos by Mary Runyan