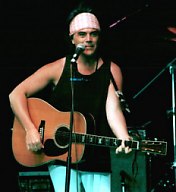 As usual Marty And The Rock and Roll Cowboys were terrific!!!
While we were waiting to be let in the gate, Marty came out and did a TV interview and waved to all of us (black jeans & tank top, bandana in hair).
At the first show, he was wearing a black tank top, jeans, boots, and bandana. Opening song was "Hey Baby." The bandana came in handy because it was really hot!! This is the set list -- "Doin My Time," "The Whiskey Ain't Workin," "Body & Soul," "Burn Me Down," "Where I Come From," "Tempted," "Now That's Country," "Long Black Veil," guitar solo with Brad, "Hillbilly Rock." I believe Marty may have been a little hungry. He wanted everyone to leave and go to the Waffle House. He even sang "Now That's Country" with the words Wal-Mart, Cracker Barrel, Waffle House. He also had to tease the Fair Queen. He had her step out and wave then he mocked her, very cute!!! There was no encore; crazy people in the crowd started leaving immediately.
After this show, we all went for the Meet & Greet. I was very fortunate to sit with Glenda & Clarence, Ellie, Margie, and Mary R. and her son, also met Brenda. We all had a wonderful time sharing Marty stories. I could have talked to these people all night!!!!! During the M & G Marty had changed into a long sleeved white shirt and orange bandana, he was friendly and polite and gorgeous as usual (no photos). He informed Glenda about the Athens concert (being canceled). They all were very disappointed and I can understand why!!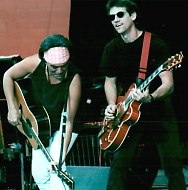 Now for the second show!!! Opening song "I Can't Help It" -- set list -- "The Wild One," The Whiskey Ain't Workin," "Oh, What A Silent Night," "This One's Gonna Hurt You," "Country Girls," "Hobo's Prayer," "Burn Me Down," steel guitar solo by Gary, "Clyde (Steve Played Electric Bass)," "Hillbilly Rock." This time there was an encore -- "Working on a Building" and "That'll Be Alright With Me." Marty was still mentioning the Waffle House!!!!! He did an outstanding job on the mandolin, really showing his stuff!!!
Then all too quickly the evening came to an end!!!
Review by LaDonna Cable. Photos taken by Gary Cable