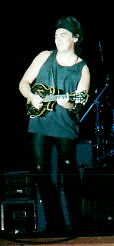 We got to Kewanee about noon on Sunday and drove right to the high school where Marty was performing. The crew was there setting up. The 1st show was to start at 3:30 so we decided to be there by 2:30. When we got there, they had us stand in line down the hallway of this school. It was sooooo HOT. 97 and no breeze! Plus the school didn't have air conditioning and only a couple fans! They finally let us in about 3:20. (the opening act was running late). We got seats in the 5th row center. The first 3 rows were roped off for the weekend festival queens and families.
The show started about 3:45 and the opening act, Mr. Kim Anthony, warmed us up with several country hits. He is the hometown boy trying to make it big. There wasn't a very big crowd, maybe 250 people. And most of the crowd were senior citizens. Evidently, northern Illinois people haven't discovered Marty's talents yet.
Finally Marty came on stage. He wore his leather pants, and black tank with a huge black sweatband on his head. I don't know the name of the opening song--it was a new one. Then the funniest thing happened! Half way through the first song the first row (the young queens, about 8 of them) got up and left!!! You should have seen Marty and the boys laughing. I couldn't believe it. So about halfway through the show, we went up to the front row to sit.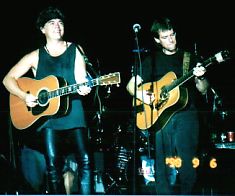 He then told the Mr. Cobb story. All the guys were from Illinois. He joked about being in Country Music for 26 yrs. and celebrating it by playing a Hog Festival! He oinked and laughed. He then sang "Burn me Down," "Country Girls," got out the mandolin and played "Oh What a Silent Night" and did some awesome bluegrass picking with Brad. Then did "Hobo's Prayer." The encore was "Hey Baby." Even though it was so hot, he still put on a good show and he was having a ball!
When we moved up to the front row, I noticed Judy (past fan club pres.) and her family sitting in the 2nd row. After the show, we went outside by the buses for the Meet and Greet. Judy went on the bus, and I didn't see them at the second show. Marty signed our Xmas ornament, bandana, and pictures. I got that wonderful hug and told him we traveled from central Iowa where we first saw him at Farm Aid in Ames about 5 years ago. He said "Oh yeah, I remember that" and "thanks for coming."
Then we went over to take a picture of the bus and saw Gary standing there. We talked to him for a few minutes then a loud crack of thunder came and quite a thunderstorm took place. We made it to the car just in time.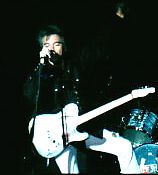 The second show was 100% better! It had cooled down some, and the queens in the 1st row stayed for the whole show and even danced during the encore. We got 3rd row seats for this show. Marty wore his torn blue jeans and black long sleeve western shirt. There was a bigger crowd and they were really appreciative. Steve gave us the set list (taped on the floor) after the show. It reads like this - They were going to do "Honky Tonkin" first, but it's crossed out and they opened with "Hey Baby," "Doin' My Time," "Whiskey," "Burn Me Down," "Mando," "Tempted," "Southern Accents," "Hey Baby" (changed to "Honky Tonkin"), "Soldiers Joy," "Hillbilly Rock" and encore. I've never seen Marty and the boys have such a great time on stage! He was so funny and the show was excellent. We are so glad we decided to go to both shows!
Wow, this is so long. I'm sorry, but seeing Marty is what I love to do and I could go on and on! Now I can't wait until October to see him again.
Review and photos by Lori Shirley