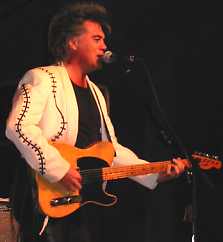 Should you ever be up in the Stateline / Post Falls / Cloure DeLane area in northwest Idaho, be sure to take in Kelly's Grand Ole Opry. Penny (Boss_Lady58 ), Kelly Hughes, Donna and all their staff are some really great people to meet. Kelly's (for short) is a unique indoor / outdoor dance hall and bar with outdoor facilities. This weekend we watched a bull riding event along with our Marty Stuart Outdoor Concert. We were even invited to come early to watch the setups. When we arrived we were given VIP passes and treated as special guests.
Show Time. Around 7:00p.m. the show opened. The first band was a local group consisting of a bass guitar, lead guitar and drums. They drove hard and fast and were pretty good. Up next was Kelly Hughes the owner of Kelly's. Kelly and his band were very good. They were extremely pleasant and easy to enjoy. I was surprised when I was told later, by Penny, that Kelly had never played professionally. Now it was time for Marty.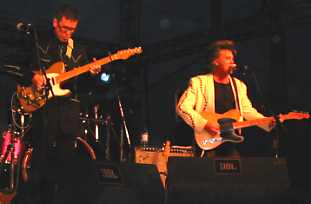 Marty came out in a beautiful white western coat, black shirt and black leather pants. His new group were all attired in matching western wear. Right away Marty had this crowd of over 1,000 up on their feet. Nonstop he energetically went through the first three songs. Out of breath Marty greeted everyone to the show and asked if they were ready to have some fun. The crowd cheering and yelling was ready. Marty then proceeded on for the next 45 minutes with some of his hits, some favorites and two new songs. Marty introduced "I Surrender", a beautiful love song, and "Homesick", a pleasant country ballad. Too soon came the familiar "Hillbilly Rock". Marty left the stage only to be cheered back for an encore of another three songs. Another great Marty Stuart concert.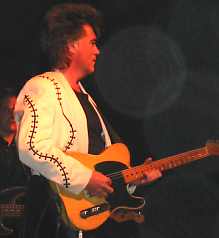 No one knew if there was going to be a Meet and Greet. Still the line outside of Kelly's bus was getting long. All of a sudden a long arm attached to a very tall man took hold of Linda's arm. All he would say at first was "Come with me." Linda's first response was "What did we do?" It turned out, to our surprise, that he was taking us to the front of the line to see Marty. When Marty came out and saw Linda and me, he gave a big smile and opened his arms for a hug from Linda. We talked for a little and then I went to take a picture of Marty with Linda. I guess I took too many pictures during the concert because my batteries were dead. Without picture Linda and I said our goodbyes to Marty.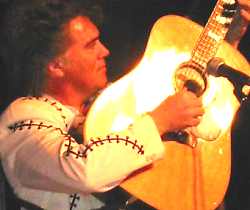 As we were walking away that long arm once again reached for Linda. He asked us to come back so their photographer could take a picture of us with Marty. What a night and it continued. We were asked to stay for the after concert party. Inside on the stage Kelly and his band started to play. There was a large crowded dance floor and picnic style benches all around filled with people. It was hoped that Travis Tritt, who was playing only a mile or two away, would come and join Marty at this after concert dance and party. Unfortunately neither Travis nor Marty decided to come.
A note of interest: We were told that Marty pulled a larger crowd than Travis.
Review and photos by John Ammons, Reno, NV