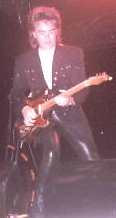 We got to sit close to the stage and during the show Marty threw his bottle cap. Evelyn didn't catch it but I did. The ones that wanted to stand got to stand up during the show. Marty also threw his towel and two guys fought over it.

Marty started the show with the song "Hillbilly Highway," then he did "Hey Baby," "I Don't Want No Other Baby But You." The rest may not be in the right order but here are the other songs Marty sang: "Whiskey Ain't Workin'." "Tempted," "Now That's Country," "Honky Tonk Crowd," "Hard Times and Misery," "Blue Train," "Long Black Veil," "Western Girls" and on one part Marty said "Jackson girls," "Southern Accent," "Hillbilly Rock," and "Hobo's Prayer."

Marty had on his black leather pants and what looked to be a white t-shirt and his black coat with pink horseshoes. Marty was really wired he seemed in great spirits. After Marty did "Hillbilly Rock," as usual, he left the stage. Everybody was hollering for Marty to do more and not just us fan club members. He came back and did "Hobo's Prayer." He then shook hands with us that were there at the stage. Evelyn and I both got to shake hands with Marty. Evelyn told him she loved him and he told her that he loved her too.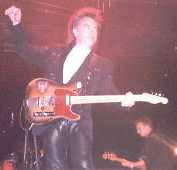 We didn't know if he was going to meet with the fan club or not. But we heard that he was going to meet with the ones that had backstage passes. So we went and asked the guard if he was going to meet with his fan club. She called back to where Marty was meeting with the ones with backstage passes, which was near the bus he was in tonight. He said, "Yes,send them back." As far as me and Evelyn recognized, there were only 9 of us members there. It was me and Evelyn, Cindy Allred, The Renfros (Melanie really looked good. She was dancing and everything),Margie Sullivan, a girl with long blonde hair and another girl with brown hair. Neither one of us knew these two girls names.

Evelyn and I had our picture made together with Marty. Evelyn got Marty to sign a picture that she had made with Marty the night she first met him and he said that he remembered it. We told Marty we loved him and both of us gave him a kiss.

After we started walking out, we met up with Brad and he gave both of us a hug. He gave Evelyn several kisses. We didn't get to see and talk with Steve. Gregg wasn't there. He had to play with Lorrie Morgan. Harry Stinson was playing drums for Marty tonight. Evelyn told me to tell you that someone named Spike was there. I think she said he was running sound for Marty.

Review and photos by Judy Trickett, Murfreesboro, TN