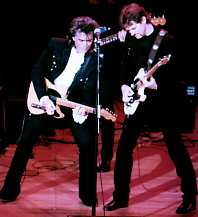 The IFCO show is the unofficial kick-off to Fan Fair week in Nashville. This year's show featured the talents of South Sixty-Five, Brad Hawkins, Janie Fricke, Beverly Ellis, Eric Heatherly, Jeff Carson, Victoria Shaw, Storm Seymour, Ricky Lynn Gregg, Trini Triggs, Danni Leigh, Young Guns, John Berry and (of course) Marty Stuart. Everyone performed brilliantly! Such talent on that stage. The Johnson Sisters seem to outdo themselves every single year.

Our seats were in the balcony where we had a great view of the stage. Marty and the Rock and Roll Cowboys headlined and opened the show with "High On A Mountain Top." Marty then asked how many hillbilly music fans were in the audience and asked for a big "Weeelllllllll." Naturally "that sucked," and we had to do it again. That led into "The Whiskey Ain't Workin'."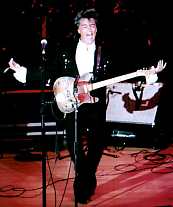 He said he can never sing that song without thinking about his brother, Travis Tritt. Marty said that on July 3, Travis and Theresa were going to have their second baby and this time it was going to be a boy. Travis said he put the "stem on the apple." Marty said he planned to be there with Travis when the baby was born. (Little did Marty, Travis and, most of all, Theresa know that Tristan James Tritt had his own delivery schedule and would arrive on June 16 while Marty was involved in the Fan Fair festivities). Marty had asked Travis what was involved in having a baby since Marty didn't have any children of his own that he knew about. Travis told him there wasn't nothin' to it. You just get a case of beer, go to the hospital and wait.
Marty then talked about his ex-father-in-law, the great Johnny Cash, and the "Blue Train" that was a mystery train that ran from Memphis to New Orleans. "Burn Me Down" got the crowd really going. Marty then introduced The Rock and Roll Cowboys. With the women all frenzied, he decides to slow it down and perform "Dark As A Dungeon." The crowd loved the mandolin playing. There was a blue light on Marty that was almost haunting. The Ryman's hallowed halls went quiet while Marty performed the song. Spurts of applause broke the silence.

Marty then told the story of arriving in Nashville on a Greyhound bus when he was 13 years old. He said the trip from Philadelphia, Mississippi was 430 miles and he was so excited that he stood up all the way. Marty said he got off the bus and saw the front door of the Ryman Auditorium and said "I'm home." He said The Ryman was the first place he ever played in Nashville and he hoped it was the last place he played in Nashville.
He mentioned that he's been performing for 25 years and he's loved every minute of it and every mile of it. He said he had his first album coming out in three years, The Pilgrim, and performed the first single off it, "Red, Red Wine and Cheatin' Songs."
Marty then performed "Hobo's Prayer." He said the one thing he learned about hobos was they all were hurtin' inside when he thought all they did was get drunk and ride trains.
Marty invited everyone to the groundbreaking ceremony for the Country Music Hall of Fame that was going to be taking place on Thursday. The Hall of Fame and its inductees are so dear to Marty. He said, "They gave all of us a road to ride on, they gave all of us a map to travel on, they gave all of us a life to play country music." Marty can bring out the legends and he brought out one of the very best. Country Music Hall of Famer, Earl Scruggs, joined Marty on the song "Mr. John Henry, The Steel Driving Man." Earl's son, Gary, and Brad Davis joined Marty and Earl on "Lonesome Reuben." Such wonderful "pickin' on those songs.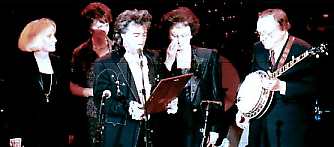 Each year, IFCO presents the Tex Ritter Award. Marty was the recipient in 1995. Everyone in the audience thought this year's award was going to be presented to Earl Scruggs. Marty said, "You don't need any more awards.........this one's for Louise." Louise Scruggs managed the 21-year career of Flatt & Scruggs and has handled Earl's career since 1989 -- this in an era when it was unheard of for women to handle the careers of male stars.
Louise was overwhelmed with emotion. Marty, naturally, could not say enough good things about Louise. He talked about the corporate sponsors and the deals Louise was able to cut for Flatt & Scruggs. Marty read the inscription on the award, then posed for a few photos. It was then time to end the show with Marty's signature "Hillbilly Rock." After the song, Marty came down the steps from the stage and shook hands with some of the crowd.
I was able to meet Kathy Patterson, Penny Risk, Cathy Morrison, and Beverly Kerr as well as revisit with Sheila Walters, Cindy Allred, and Ellie Viscione. Also spotted Pat Johnson and Glenda Rummell. The Marty Maniacs were out in force!
Enjoy these other photos from the show.