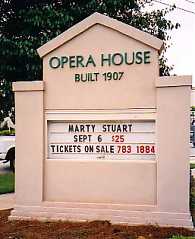 My sister and I started out around 11:00 a.m. on our way to Hawkinsville, Georgia. It's only a three- hour drive from our house, but since we didn't know where we were going and seating is general admission, we wanted to be there early.
The drive was uneventful (didn't get lost once!!) and we had no trouble finding the Opera House, a lovely old building in a typical small southern town. We found a place to park right out front and just around the corner from Marty's bus. When we went in, we met Diane and her husband, Jim, who were already waiting.
We talked for a few minutes and I picked up my tickets for the second show. Everyone who works at the Opera House is very friendly and they were all excited about having Marty there. As we stood in the lobby talking, who should walk in but Marty himself, smiling and shaking hands! He looked like he'd just rolled out of bed, all sleepy-eyed, with his hair sticking out all over his head (even more than usual!!) and needing to shave, but, man, he sure looked GOOD!!! One of the ladies said "You look like you need a nap!" and Marty replied "I've been asleep for two days! I came home, got Connie off to Norway and I went to bed!"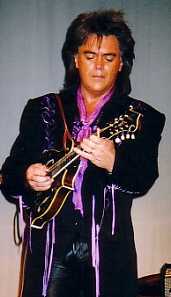 The time passed quickly as we listened to sound check and told Marty stories and before I knew it they were opening the doors and letting us into the auditorium, where we were able to get front row seats! Another fan club member, Cindy, sat with us and we all had a good time while we were waiting.
After a welcome from one of the representatives of the Opera House and an announcement about the meet and greet, it was time for the show! Marty and the Fabulous Superlatives took the stage dressed in their black suits with the green trim. They started right off with "Orange Blossom Special." As the applause was dying down, someone yelled out "Where's Connie?" Marty responded with "Where's Connie? She's in Norway. She's in Oslo, Norway and I miss her! There isn't another one like her in the whole world and I love her very much. I know you do, too. Want to hear my favorite Connie Smith song?" Everyone cheered, so he went into "Cincinnati, Ohio" and did a great job. Before continuing, Marty announced that during soundcheck they had decided to do sort of an acoustic show, with Harry standing out front with the other guys playing his drum. He said the "noise" of the usual setup would be too much for "this beautiful theater." Anyway, after talking for a few minutes about how good it was to be in the south, they did "Tempted" and "Too Much Month..." which was respectfully sent to Washington. He talked about the new CD and encouraged everyone to buy it, then said we could send it to Travis for a refund if we didn't like it. He then did "The Whiskey Ain't Working" and "This One's Gonna Hurt You," followed by "A Satisfied Mind."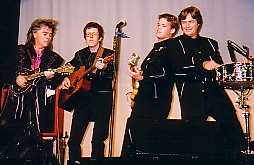 The theater seats less than 400 people and it was probably 3/4ths full. The crowd started out a little quiet (except for our row, of course!) but got more into it as the show went on. Marty and the band seemed to be having a blast from start to finish!
At some point during the first few songs, can't remember exactly when, Marty introduced the band. Naturally, everybody was from some small Georgia town Before singing "Farmers Blues" he talked about writing the song with Connie and singing it with Merle and told us to be watching for the video.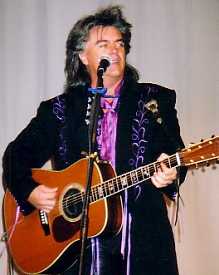 Kenny did a great job on "Walk Like That", then Marty did "Burn Me Down" and an especially wonderful version of "Long Black Veil" with Harry sounding so good on backup! Brian did "Everybody's Trying To Be My Baby" which I've never heard him do before. Then Marty said "I've gotta do this, I've been thinking about it all day!" and went into "Don't Come Home A-Drinking." He had a lot of fun with that one!
Everyone gathered around the microphone for "Slow Train" with Harry singing lead. After that it was "That's Country" "The Waffle House Song" and all too soon, "Hillbilly Rock." The crowd was on its feet cheering by this time, so they came back and did "Draggin' The Line." As Marty came out from backstage, he wiped his face with a towel and threw it out into the audience. Jackie and another woman went for it and even though she took an elbow to the cheek, Jackie held on and got the towel! Brian then got another towel, wiped Marty's face and tossed it to the other lady. I thought that was nice.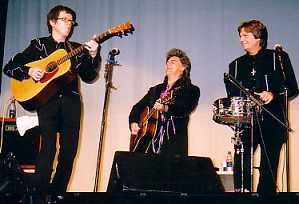 The wonderful folks at the Opera House allowed us to keep our seats from the first show and Jim, our hero, was kind enough to stay in the auditorium and guard them for us!
The meet and greet took place in a small room upstairs. It was packed, but I finally managed to get my copy of the CD signed and a quick hug. That made the stuffy conditions and fighting the crowd worthwhile! When Jackie gave him the towel to sign, Marty said "Thank you!" and wiped his face with it again before signing it.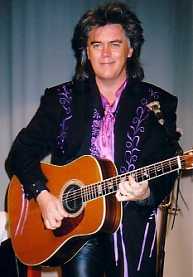 The front row was full of fan club members - me, Jackie, Diane, Jim, Cindy, Gail and Linda - and we were ready for another concert! Marty's second show was pretty much like the first, with a few song changes. Once again, they started with "Orange Blossom Special", but this time they did "Hey Baby" before "Too Much Month...", talking about the new CD and Travis and singing "Whiskey." He talked about Connie being gone again and did "Cincinnati, Ohio" and "Homesick." When he did "Rock Island Line" the train was full of Tallapoosa, GA. white lightening!
He talked about the new CD some more, then did "Satisfied Mind," "Farmers Blues," and "Southern Accent" which is one of my all time favorite songs for Marty to do. He did it with so much feeling and emotion I was blown away!!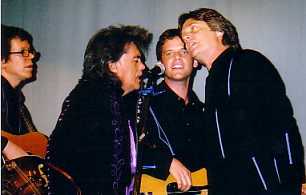 Kenny did "Walk Like That" again and Brian followed with "Crazy Over You." They were both having a ball and really playing the audience. Marty asked what everybody wanted to hear and the audience started calling out their favorite songs. This show wasn't sold out either, but the crowd was a lot louder than the first one. Marty joked around a bit while he decided what to do. Someone requested "Observations of a Crow." Marty thanked him, but said he couldn't do it. He said that ever since Gary passed away, he just hasn't been able to do songs from The Pilgrim because so much of that album revolved around Gary and his steel guitar.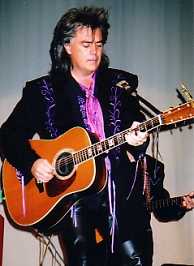 After some more discussion, he did "Here I Am" (YES!! I love that song!!), "Tempted," "If There Ain't There Ought'a Be," and "High On A Mountain Top." He brought everyone around again for "Somebody Saved Me and "This Little Light of Mine" which the audience loved. After that it was "The Waffle House Song" and then they were gone! No "Hillbilly Rock" this time, which was a first. The encore was once again "Draggin The Line."
The meet and greet was even more crowded this time, but I got my new t-shirt signed and took a picture of Marty and Diane together. Got to chat with Denise for a few minutes and then we all walked outside. We stood around talking until the bus pulled away, then we called it a night. Jackie and I drove off with Country Music blasting from the CD player and big smiles on our faces!
Review and photos by Judy Simonton, Lawrenceville, GA