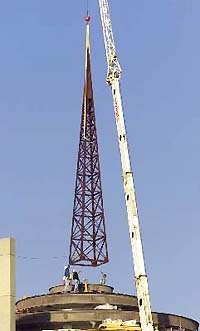 Marty: Man this is great. It's coming up right now. Looks like somebody went out to Brentwood and got the WSM tower and brought it over here. (laughs) As a matter of fact, my boys did that last night. (laughs). This is great, this is great, this great. That is a world-class lightning rod, right there. That's beautiful. You know it is so symbolic because WSM speaks for itself. It's the country music station of the century. And this is like a beacon. This is truly a beacon to Music City USA. Right now. Look at it. There it goes. I feel like we're watching the space shuttle take off for the first time.
Bill Cody: And, you know, I hope the technology that greets us in the year 2000 as people listen as they work downtown and maybe you can see out as you listen online, WSMonline.com, you can see what's taking place just across the way at 5th and Demonbreun, between 4th and 5th on Demonbreun. The spring 2001 home of the Country Music Hall of Fame.
Marty: I believe we're a "go." We're almost in place. Kyle, are you happy Kyle Young?
Kyle Young: Oh Marty, I'm really happy. What a great day this is. You know this is another milestone. We saw the wall come up and that was a lot of fun, and then the Conservatory built on the front. This might be the best.
Marty: There's Al down there. This goes on top of the Ford theatre. Now what do you think, Al?
Al Giombetti: I think it looks great. It's a fabulous looking building. I think the tower just puts the icing on the cake for us. This is great.
Bill Cody: Bud Wendell is here with us, Marty. We've got Bruce Hinton along side.
Marty: Bruce just signed three new acts right here. (laughs). They're called the "Hard Hats." Wow, look at that. Somebody ought to play "Turn Your Radio On" right now..
Bill Cody: Ten minutes after 8:00, 8:10 as you set your clocks to a moment in time in the history of country music and the Country Music Hall of Fame and Museum. Kyle Young, the director is here. We mentioned Bruce Hinton. The capital campaign director, Bud Wendell, Country Music Hall of Famer, and Marty Stuart is here.
John Malone: .......Carefully lowered now ever so slowly. You can still see the play, it's so close.
Marty: This building has been so on schedule and on time, Cody, because it was just a year ago last June that we broke ground on it. I mean, the word of God has just blessed us with great weather. It just seems like its been a seamless, a seamless execution of this. It's just been incredible.
Bill Cody: You know Marty, as Kyle Young joined us, Bud Wendell said that the campaign now is at about $17 million, Kyle, and that you had told him that we are on budget.
Kyle Young: And I never lie to Bud Wendell. We are. We're right on it.
Bill Cody: Bruce Hinton, let's get your thoughts here this morning on 650 WSM.
Bruce Hinton: Well, I would just say if you haven't been down to the downtown lately, you will not believe how the Hall of Fame has taken shape. Site's being cleaned up, and I guess, Kyle, it will be turned over in how many days?
Kyle Young: About 13 weeks, Bruce. 13 weeks.
Bruce Hinton: About 13 weeks, but , frankly, it's looking from the outside like it's a building ready to move into now. Very impressive and what a kick of a day. Even the good weather to celebrate.
Bill Cody: Absolutely. And Bud, I can't help but think for all those visitors who make their way to Nashville and the Country Music Hall of Fame and all the things we offer in this community that it's only appropriate that this skyline will now be represented with that tower. You represent it so well as our Chief Executive Officer..
Bud Wendell: This is so appropriate because, as Marty said, WSM is the station of the century. WSM is recognized around the world and this tower is significant to the listeners out there and I think all the fans of country music when they come to town, this is one of the places they're gonna want to visit. Put this on the "must see" list. And, incidentally, let me mention that the campaign is still ongoing. And if those people would have any interest in helping to build it out, well, yes, the lines are open. We're appreciative if they'd care to participate in this.
John Malone: with John Madole (project manager). Where are we on the tower at this point?
John Madole: Well the guys have lowered the tower into place and are in the process of aligning the bolts.
John Malone: Now those are important. Those bolts are pretty important, aren't they?
John Madole You'd be amazed. Those bolts have been a line from Kentucky to Alabama. Part of it was built in Alabama, part of it in Kentucky and part of it in Tennessee. Big effort gone on to make this work.
Bill Cody: At least you kept it in the Southeastern conference.
John Madole: That's true. Very appropriate. According to our superintendent on top of the roof, he says everything is going like clockwork. So we should be in business shortly.
John Malone: And this is already making such a huge impact on the skyline. This is just beautiful, gentlemen.
Marty: I wish you could see Kyle Young's face right now. Have you ever seen a possum eat persimmon? (aughs) He's so happy.
Bill Cody: The country music hall of fame and museum new location for those of you just joining us is at 5th and Demonbreun between 4th and 5th which are blocked off this morning for those of you who have to take this route and had to park someplace else and wWonder what the story was or take a detour. The reason is the lowering of this tower into place atop the Rotunda--the replica tower of the 650 WSM tower located in Brentwood down at Concord Road and I-65. Many of you pass that on a regular basis. Marty, there are those who say "you know, if I hold my mouth just right in the morning, it'll come in on my fillings while I'm in the bathroom. Or come in on my razor."
Marty: You know in the old days of radio, all those acts that would play in the neighboring states, they all wanted to get to Nashville and WSM because of that 50,000 watt beacon and it was absolutely the place to be — still is — but remember the old line was it was so powerful if you stand by the barbed wire fence, you could hear Hank Williams come in. (laughs)
Marty: Before we go any further, do you actually know Richard Thomas (traffic reporter on WSM)
Bill Cody: Yes I do.
Marty: Could you get me his autograph?
Bill Cody: I'm not terribly proud of knowing him.
Marty: He is my hero. He's saves me so much time. I love Richard Thomas.
Bill Cody: Let me tell you about Richard Thomas. I was thinking the other day and you know, this is his 25th anniversary. He's been here 1/3 of the time that WSM has been on.
Marty: He's always flying around up there.
Bill Cody: Tell me about your earliest memories of a kid in Mississippi listening to 650 WSM.
Marty: I had a buddy named Carl Jackson who lives in Louisville, MS about 25 miles up the road from Philadelphia.. Carl was a teenager but he had a job at the Grand Ole Opry with Jim and Jesse and it was a big event when Carl would come back home. I'm 12 years old and I'd go up to his house 'cause I was learning to play music. His dad, Lee, was helping me to learn to play the mandolin and, late at night after we'd get through playing music and I'd spend the weekend up there, you know, they had those Lucy and Ricky beds in there, you know. With a nightstand in the middle and a radio and Carl and me would lay in bed and listen to the radio...... WSM when it would come through. I remember the first night Hairl Hensley joined on and it was everybody talks about gathering around the radio to listen to the Opry, but we truly did that. I mean, we truly listened to the radio a lot. And then, come to our house, the Grand Ole Opry was a way of life. WSM and the south was just simply a way of life.
Bill Cody: Well, thank you for being so much a part of who we are at 650 WSM and this Country Music Hall of Fame and Museum that is coming to fruition, becoming a reality.
Marty: Well, I'm so proud of this building. I think of all forms and aspects and avenues of country music. This, right here, in front of us, is probably.........it is the most important place in country music in my opinion, because it's our treasure chest, it's our integrity, it's our dignity. It's the roots that gives us our power for the future. It's the past, present, future of country music. And if you're a hillbilly musician like me, this is where you wanna wind up. It's the same as being a baseball player and going to Cooperstown. This is it.
Bill Cody: And you will be there. To Connie Smith, give her our best. We'll see her at the Opry this weekend.
Marty. I'll do it.
Bill Cody: Marty Stuart........thank you pal.
Marty: Thank you, Bill.