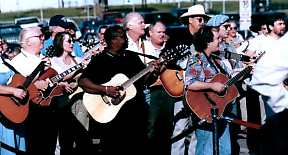 The groundbreaking ceremony for the new Country Music Hall of Fame took place at the new site on Thursday of Fan Fair week. We arrived to FREE parking at the Nashville Arena and walked into the fenced-in area. Unfortunately, we were not VIPs or media, so we (as fans) had to be behind ropes but did have access to some bleachers they had set up.

Marty appeared to have arrived early. Other dignitaries arrived by limousine. There was a parade of guitar players (led by Chet Atkins) who performed "Wildwood Flower" while everyone was arriving and getting settled in.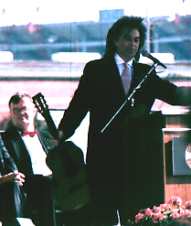 The ceremony began with words from Kyle Young, Director of the Country Music Foundation. There were musical performances by Randy Scruggs, Bryan White, Kathy Mattea and Vince Gill. Speakers included Bruce Hinton, Chairman of the Country Music Foundation; Humorist Garrison Keillor; Ralph Appelbaum, the architect who has designed the new Hall of Fame; Nashville Mayor Phil Bredesen, Tennessee Governor Don Sundquist; Hall of Famer Bud Wendell; and Marty who is President of the Country Music Foundation. Guests included Hall of Fame members Little Jimmy Dickens, Brenda Lee, Jo Meador-Walker, Kitty Wells, Earl Scruggs and Eddy Arnold.
Marty brought with him the guitar Jimmie Rodgers used to record the Bristol sessions. Marty held the guitar as he spoke: "And I'm standing here holding the most precious possession in country music. This is the guitar that Jimmie Rodgers played at the Bristol sessions along with the other people up there that helped start country music. It's a precious day and this is what it's all about for me. We have fans from all over the world. We have our Hall of Fame members. We have executives. The genius of this city has invented something that's about to happen. Right behind us we have the mother church of country music (Ryman Auditorium). Today we're about to break ground on the sanctuary of country music. I think what Moses was told by God. He said 'Son take your shoes off. You're on Holy ground. This is Holy ground. This is Holy ground.' So many people have sacrificed their love and their life and their families for this moment. It's our treasure chest. As an artist, it's where we want to all wind up. Every note I play is aimed at this building, for the long haul. And I want to thank every one of you on the front row. I love you and I thank this City for letting a part of this. God Bless You Patsy Stone. Thank you very much." Marty was holding back the tears as he finished his emotional speech.
Everyone joined in for "Will The Circle Be Unbroken." Other country artists on stage included Clint Black, Mark Collie, Paul Brandt and Connie Smith. The new Hall of Fame is scheduled to open in May 2001.


Clint Black, Marty and Earl Scruggs

Randy Scruggs, Jo Walker-Meador, Marty and
E. W. "Bud" Wendell