Click here to go directly to the listing of donated items (listed below)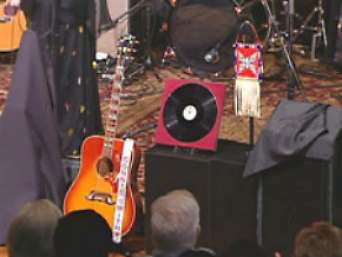 In an emotional ceremony rich in music and memorable stories, Marty Stuart and Connie Smith donated a treasure trove of country music artifacts to the Country Music Hall of Fame® and Museum on February 13.
A renowned collector and country music star, Stuart's endowment includes personal items that once belonged to Johnny Cash, Lester Flatt, Roy Nichols of Merle Haggard's Strangers band and Hank Williams; he also donated several items from his own career. His wife, famed country singer Connie Smith, presented several artifacts of her own, including a stage outfit, a guitar and a studio acetate of her signature hit, "Once a Day," which she received the day she recorded it in 1964.
"Marty Stuart and Connie Smith are here to celebrate love-their love for each other, their love for country music and all of its cherished traditions, their love for country music fans," said Kyle Young, director of the Country Music Hall of Fame and Museum, in his welcoming remarks. "They come bearing gifts for the Museum's collection. I can't tell you how meaningful and how important this is."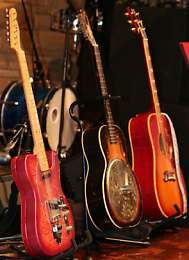 The late-morning ceremony took place in front of a packed crowd in the Museum's Ford Theater. Stuart and Smith performed with their bands, then shared the stage with performers Vince Gill, Earl Scruggs, Ricky Skaggs and Eddie Stubbs.
The audience included Country Music Hall of Fame members Harold Bradley, Ralph Emery, Jim Foglesong, Charlie Louvin, Jo Walker-Meador and E. W. "Bud" Wendell. David Conrad, a member of the Museum's Board of Officers and Trustees, welcomed Stuart and Smith's contribution with personal testimony about Stuart's dedication to preserving and cataloging country music history.
"I believe most of what we have in life is not really ours, they're only gifts that pass through our hands, and they're only with us for a little while," Conrad said. "I think Connie and Marty knew that all along, and I think that's why they chose to bring these treasures home."
Stuart had requested the ceremony take place on February 13, deeming his gifts a "Valentine of Love" to the Museum. Stuart's extensive donations included a suit and overcoat from Johnny Cash, an acoustic guitar from Lester Flatt and a suitcase from Hank Williams that Williams had with him in the Cadillac on the night he died. Stuart also donated a dobro that once belonged to Roy Nichols, a longtime member of Merle Haggard and the Strangers. Stuart picked up the dobro and played the opening notes of "Mama Tried" on the instrument, the same one Nichols used for Haggard's recording of the song.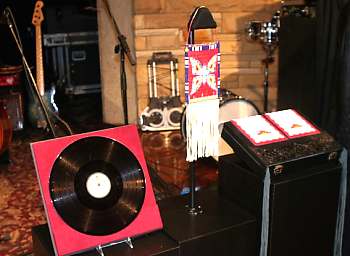 Stuart spoke of the only two jobs he ever held, as a musician in the bands of Lester Flatt and Johnny Cash. His donations carried a personal element for him, since they included historic items that once belonged to those two Country Music Hall of Fame members. "You have to go with the heart," Stuart said.
He also addressed his passion for collecting artifacts that represent the history and cultural heritage of country music. "The costumes, the guitars, the set lists, the manuscripts that the Country Music Hall of Fame couldn't get to out in the hinterlands, I simply bought and stored," he said. "I still see it as American culture-and our culture, as country musicians."
Stuart made special note of Flatt's 1950 Martin D-28 acoustic guitar, which the late bluegrass legend played for 25 years, beginning in 1956. The "Lester" guitar, as it was called, was played on many classic Flatt & Scruggs recordings, in live performances and on their syndicated TV show.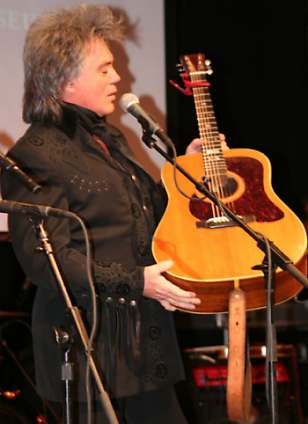 Stuart played mandolin in Flatt's band as a teenager and, for a while, lived in the Flatt family home when he first moved to Nashville. The Country Music Hall of Fame member loaned Stuart the guitar in 1972. After Flatt's death, Stuart purchased it from Flatt's daughter, Brenda. Stuart described it as "the guitar of bluegrass music."
Young, in accepting the donated items, made special reference to the instrument. "Lester Flatt's guitar, without question, is a hallmark of our own civilization," Young said. The guitar will be featured in a special spotlight exhibit at the Museum. After that, Young said, "It will find a home in our Precious Jewel exhibit, alongside Mother Maybelle's guitar and Bill Monroe's mandolin."
Stuart invited Scruggs to be present, he said, because the bluegrass icon will forever be linked with Flatt as leaders of one of the most important duos in American musical history. "It is an honor to live on the same planet as you," he told Scruggs, who was seated in the front row.
Stuart also thanked Gill and Skaggs for joining him for the special occasion, noting that the three of them grew up on the bluegrass circuit and shared that training and those memories. "They are simply two of the people I admired the most, and still do-as men, as modern masters," Stuart said. "They are timeless artists."
Connie Smith, before describing the items she donated, noted that her husband had taught her the importance of preserving history. She told of the first time Stuart took her to the warehouse where he keeps his collection of country music artifacts. He slipped a coat around her arms, and Smith recalled how she got chills when he told her it once belonged to Hank Williams.
"Country music is such a part of my heart, and I'm blessed to be a part of country music's family," Smith said. "I personally know how much Marty loves some of these things. I think a gift is really when you give something you love and you treasure. Marty is the best at doing that. I'm so proud to be here for my part and so proud to be here as his wife."
All of the invited musical guests performed during the ceremony. Stuart and his Fabulous Superlatives opened with "Country Boy Rock & Roll," featuring Stuart and guitarist Kenny Vaughan trading electric lead guitar licks. Smith showed off her beautiful, expressive voice on "You Got Me (Right Where You Want Me)" and "Once a Day." Gill, Skaggs and Stuart offered a three-mandolin version of "John Hardy," each showing off their virtuosity on the instrument. The three were then joined by Scruggs and WSM air personality Eddie Stubbs for a harmony-rich take on the hymn "Who Will Sing for Me?," a Flatt & Scruggs favorite. Stuart and Smith came together in a duet of "Your Tender Loving Care," a Buck Owens song that the couple danced to on their wedding day. The event ended with all of the performers singing the Carter Family's "Storms Are on the Ocean."
At the ceremony's end, Young concluded, "Let's be grateful to Marty Stuart and Connie Smith for their stewardship of this essential part of our American history-our songs of home."
===============================================================================
Here is a listing of the items Marty and Connie donated:
Connie Smith Life and Career (All items donated by Connie Smith)
1. Three-piece black stage costume, including embroidered leather fitted jacket, a three-tiered floor-length skirt embellished with tiny jet beads, and a matching blouse with ruffled bodice. "This is referred to as the Mrs. Pilgrim outfit," said Stuart.
2. Connie Smith's 1968 Gibson "Dove" guitar with pearl inlay by Marty Lanham, Nashville Guitar Co. Rhinestone strap by Jaime Custom Tailor of North Hollywood, California. In 1968, Gibson Guitars presented Smith with a new red sunburst "Dove." Smith had a fully rhinestoned strap made to complement the new instrument. She was to make her first appearance with the instrument on the Grand Ole Opry. The guitar and strap were stolen from her Ryman dressing room before she had a chance to play it. Stuart bought this guitar and had a new strap made to replace her stolen instrument.
3. Acetate from Smith's first recording session, produced by Bob Ferguson, at RCA Victor Studio B in Nashville, Tennessee, on July 16, 1964. Acetate includes "Once a Day," which was the third song recorded that day. In September 1964, "Once a Day" became the first debut recording by a female country singer to become a #1 record. It remained at the top of the chart for eight weeks. Since then, Smith's policy for every recording session has been to record the song she most believes in third. It gives her a chance to warm up her voice, the musicians to settle in and everybody to get in the groove.
4. Beaded bag with butterfly motif, circa 1997. Crafted by Helen Two Feathers of Kyle, South Dakota. Beaded with porcupine quill, bells and Liberty cotton lining. A gift to Connie from Marty.
Marty Stuart Life and Career (All items donated by Marty Stuart)
1. A circa 1973-1974 stage costume worn by Stuart as a teenaged member of Lester Flatt's Nashville Grass. Marty refers to this costume as "poetical polyester" or "heavenly houndstooth." He says, "It is highly flammable, good for getting girls to notice you, scaring off mosquitoes at bluegrass festivals and holds a crease real good."
2. Circa 1972 pink paisley Fender Telecaster with B-string bender used by Stuart in performances and recordings from 1990 to 1999. All Stuart's guitars have a name. This one is the "Connie Smith." Smith autographed it for him when they were dating. "I named it after her because it was pretty and had a twang to it," he said. The instrument was customized by Duane Marrs, formerly of Sho-Bud Steel Guitars, and Keith Gaddis, to accommodate Stuart's B-string bender guitar style.
3. Fully rhinestoned, embroidered and cross-hatched stage costume custom-designed by Jaime Custom Tailor of North Hollywood, California. The black garment is known as "The Chandelier," a reference to the yards of six- to nine-inch-long rhinestone fringe adorning the sleeves and yoke. Stuart wore the shirt for a performance with Travis Tritt on the 1992 Grammy Awards, The duo took home the Grammy for Best Country Vocal Collaboration for "The Whiskey Ain't Workin'." Jaime is the legatee of costume couturiers Nudie the Rodeo Tailor and Manuel.
4. Circa 1995 beaded briefcase crafted by Marvin Helper of Red Shirt Table, South Dakota, and used by Stuart during the creation his 1999 concept album, The Pilgrim.
5. Elaborate three-piece Pilgrim costume with boots and hat, one of two designed and crafted by Manuel for the cover of The Pilgrim. Black leather pants are topped by an embroidered shirt with a stand-up collar and a floor-length cloak with a black velvet collar and velvet fabric repeated in appliqués of simple crosses.
6. Tote bag (ca. 1998) presented to Stuart by traditional Lakota Medicine Man Marvin Helper following a sweat lodge prayer ritual. As he presented the gift, Helper told Stuart that the bag "would not be empty very long. Be prepared," Helper said, "because it is about to be filled with music that will help many people." Ten albums subsequently recorded and/or produced by Stuart now fill the bag. These include The Pilgrim, the film soundtrack All the Pretty Horses, Kindred Spirits: A Tribute to the Songs of Johnny Cash, Souls' Chapel, Badlands, In the Moment, Live at the Ryman, Wagonmaster, Compadres and Coal.
7. Knife crafted by Terry Lankford of Franklin, Tennessee, with beaded sheath created by Alvin Jolly "Crow Nation" of the Battle of Little Big Horn community in Big Horn, Montana.
8. Nikon FE camera with Nikkor 50mm lens and black leather strap. According to Stuart, this camera traveled worldwide with him for more than 20 years. He used it to shoot the last photographs ever taken of Country Music Hall of Fame members Bill Monroe and Chet Atkins.
9. Presentation copy of Stuart's 2007 publication Country Music: The Masters with hand-tooled leather slipcover designed by Stuart, leather tooling by Terry Lankford and embroidery by Manuel.
10. Collection of seventeen 16"x20" black-and-white prints of images included in Country Music: The Masters. Collection includes Johnny Cash, "Final Portrait," September 2003; Johnny Cash and Merle Haggard, Cash Cabin, 2000; Merle Haggard, 2007; Loretta Lynn, Cash Cabin, September 2006; George Jones, 2007; Jimmy Dickens, 2007; Porter Wagoner, "Wagonmaster"; Dolly Parton, 2007; Connie Smith, 1997; Bill Monroe, "Last Winter," 1995; Bill Monroe, "Chicken Reel," 1995; Minnie Pearl's Hat, 2002; Minnie Pearl's Shoes, 2002; Willie Nelson; Jimmie Rodgers Monument, Meridian, MS, 2005; Jimmie Rodgers, Blue Yodel Guitar, 2005; and Kitty Wells, 2007.
Treasures from the Marty Stuart Collection
Marty Stuart has been a connoisseur and collector of country music memorabilia for almost 30 years. From his collection of more than 20,000 pieces, Stuart has given the Museum several priceless treasures representing the lives and careers of some of the most iconic figures in the history of the music. Most of these donated items, now in the public trust, have never been exhibited publicly.

Life and Career of Johnny Cash
1. Black gabardine two-piece "Bicentennial suit," circa 1976, with brass military buttons and satin-stitched blue stars adorning the shirt collar, cuffs, front and back yoke, and striping the side seams of the trousers. Designed and crafted by Nudie Rodeo Tailors, a Hollywood cowboy couture palace rarely frequented by Cash.
2. Circa 1987 full-length black leather overcoat with yoke, shoulders and collar embellished with a variety of etched-silver motifs. Stuart said that Cash regarded the Manuel creation as a "weapon" because of the sharp and jagged edges of the sliver appliqués.
3. Circa 1983 brown leather 11" X 15" briefcase. As part and parcel of a running gag between them, Stuart and Cash swapped briefcases in the studio one day. Cash went home with Stuart's handmade black shoulder bag, which "the man in black" had previously nicknamed "Hog." Cash was inducted into the Country Music Hall of Fame in 1980 and elected to the Rock and Roll Hall of Fame in 1992.
Life and Career of Merle Haggard and Roy Nichols
Renowned guitarist Roy Nichols' 1930 Dobro. Sideman to Maddox Brothers & Rose, Lefty Frizzell, and Wynn Stewart, and a charter member of Merle Haggard's Strangers, Nichols played this low-tech dobro on "Mama Tried," and created one of the most famous guitar parts in the history of country music. The instrument is held together with safety pins. Included in the feature film Killers Three, which starred Haggard, "Mama Tried" (1968) was this 1994 Country Music Hall of Fame inductee's fifth chart-topper.
Life and Career of Lester Flatt and Marty Stuart
Lester Flatt's 1950 Martin D-28 "Lester" guitar with brown leather strap embossed with a horseshoe design and his name, and in a Mark Leaf case.
Known as "the holy grail of bluegrass guitars," this instrument was purchased by Flatt for $115 at a Charleston, West Virginia, pawnshop in 1956. Home to Flatt's world renowned G-run for nearly 25 years, the Martin was used on most of Flatt & Scruggs's classic recordings and live performances, including Grand Ole Opry broadcasts and their appearances on the national television show Beverly Hillbillies and the Martha White-sponsored Flatt & Scruggs Grand Ole Opry.
The pearl inlay and snowflake patterns on the fingerboard were not Martin factory issue. When the guitar was entrusted for repair to independent Chattanooga luthier Mike Longworth, the fledgling craftsman also added the pearl inlay and glued his business card into the guitar. It was Longworth's fifth job and the "L-5" inlay stands for Longworth's fifth, which made both him and the guitar famous.
In 1998, the Martin Company issued a Lester Flatt Limited Edition Signature guitar, which included a perfectly duplicated "L-5" inlay. A series of 50 were made and sold.
In 1972, Flatt loaned the long-retired iconic instrument to Stuart, the young bluegrass prodigy who had joined his band that year and who was also living in the Flatt home. Stuart fell in love with the guitar's familiar "rich and full million-dollar sound" and adopted it for live performances and recordings until the early 1980s. After that, Stuart continued to use the instrument on some recordings, but did not take it on the road. "It's possibly one of the greatest rhythm instruments ever made," Stuart said.
When Flatt retired and disbanded his bluegrass band, Stuart sadly returned the instrument thinking he would never see it again. Some time after Flatt's death in May 1979, Stuart purchased the instrument from Flatt's daughter, Brenda. Flatt & Scruggs were inducted into the Country Music Hall of Fame in 1985.
Life and Career of Hank Williams
1. Scuffed and battered brown leather suitcase with metal clasps and buckled straps. According to Stuart, the suitcase (ca. 1950) was in the car when Williams died. Years later, Stuart purchased the luggage from Williams' sister, Irene.
2. Fragile and tattered -brown leather briefcase (ca. 1947–52), which Williams used to store and transport his song manuscripts. The 11" X 15" case has an Aztec design tooled on the back and a screaming eagle pattern on the front.
3. Khaki, single-breasted LusKoat brand overcoat, (ca. 1950s). Tailoring by Irving Lusk, Inc. of New York, New York.
4. Khaki-colored Charmadine gabardine two-piece suit with pearl snaps and western tailoring by Nudie Rodeo Tailors. According to Stuart, Williams called this outfit (ca. 1951–52) his "riding clothes." The outfit arrived at the Museum with Williams' brown leather belt still in the belt loops. The copper-colored buckle is engraved with Williams' initials. The outfit typifies Williams' understated cowboy couture. Hank Williams was inducted into the Country Music Hall of Fame in 1961 and in 1987 he was elected to the Rock and Roll Hall of Fame in recognition of his standing as a forefather of rock & roll.
Some of the Hank Williams artifacts in this donation will be exhibited in the Museum's major exhibition Family Tradition: The Williams Family Legacy, Co-Presented by SunTrust and Ford Motor Company, opening March 28, 2008, for a near two-year run.