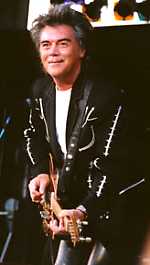 All I can say is the Marty Party was AWESOME!!!!
Marty and the guys seemed to be having great time! Laughing and smiling, Marty dancing around and playing with the crowd and I CAUGHT THE TOWEL!!!!! The list of fan club members I saw included MaryR and Dustin, Serena Lee and her mother, Margie Brodmerkle Margie Sullivan, Cindy Allred and 2 friends with her, Evelyn, Judy, Glenda and Clarence, June and Jay. I saw other faces I recognized but do not know names. Maybe someone else does!! So we really had quite a turn out. I hope I did not leave anyone out!!
I did not keep a songlist, Mary R and others did. Marty was in great voice and yes, BLACK LEATHER PANTS!!!! For the second show Janette Carter of the Carter family was there and you could tell how pleased Marty was that she was there. He sang Carter family songs during both shows. No photos during the meet and greet because there was just an hour between shows, but he did sign and visit!!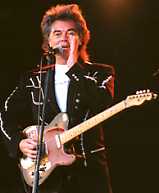 He did an encore after each show, told us Connie had started DRINKING!!! He told us he had just celebrated his 4-year anniversary and it was really working!!! He came down the runway each show shook hands, would walk out while playing, just really enjoyed what he was doing and the crowd loved him. I will add more later with photos!!! Everyone else can have there chance, a lot of the folks were going on to Indiana so there will be another review!! I hope how soon everyone gets their chance for a Marty Party, it sure is good to see him in action!!!!!
---

Janette Carter

Trey Hensley
Review by LaDonna Cable
Photos by Gary Cable, Johnson City, Tennessee