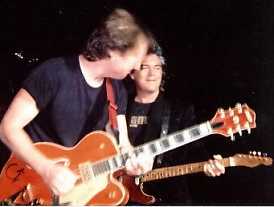 Judy and her friend picked me up on Thursday afternoon, and we headed out from Mayfield, KY. to Gray, TN. We decided to stay over night Morriston, TN. in a cheap motel. Judy said it was a dump! But, it was all we could afford to be able to stay in Gray, TN. to stay both nights.

We arrived there at 10:30 p.m. their time, and checked in. We got up early on Friday morning, and checked out to head out for Gray, TN. Stopped at the Cracker Barrell to eat breakfast, and when we got ready to leave there, had a flat, had to get it fixed. The guy that fixed it, gave us the right directions to get to Gray and the fair. We then got to the motel we stayed at Friday night, Days Inn. It was lots better. We stopped to get gas at a BP station and while Judy's friend and I were in paying for the gas, guess what went by the station? MARTY'S BUS! So, ratz! I missed it!

Got there around 2 pm, and got ready for the concerts. We arrived at the fair about 4:30 p.m., to find out where to park, and got good parking. Judy had to use a friend's wheelchair, and as Marty says, "It sucked." The left wheel wouldn't go forward, when trying to push it forward. It could only be pulled backward.

I went to Gate 1 to pay for parking, and ran into Margie Sullivan. She was looking for Margie Brodmerkle because she had her tickets for the show. Saw Glenda and Clarence. They parked in their van behind us. Then saw Margie B.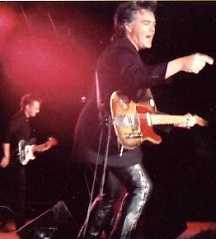 We finally went down to the gate to wait till time for it to open and ran into Serena Wimmer, and her mom on the way down. Great meeting Serena Lee, finally! After we talked to her a bit, then went on down to the gate, and ran in to both Margies again, and saw Cindy Allred and her friend, Lisa, MaryR. and her son Dustin, LaDonna Cable, and her hubby. Loved LaDonna's shirt! We got to hear some sound check while waiting by the fence.

When it was almost time for the gate to open, some lady came out and told us where the wheelchair people go in, we got to in from the right side of the stage, from the back, left from the front. Judy had a great seat in front of the fence, her friend and I sat kind of behind her for the 1st show in the 2nd row. Still good seats. There were some special education children in front of us, (and they really gave Marty the screams and a couple even danced).

Before Marty was announced to come on, they had speeches for people who were over the fair, and did things for the fair.

When it was announced for Marty to come on, the guy also annouced that there would be a meet'n'greet after the first show on the left side of the stage in the back. I just melted when he said that, I was so happy and anxious to see Marty again!

Then it was time for Marty to come on at 7 p.m. All of us fans yelled when the band came out then Marty. He had on black leather pants, white shirt, and black coat with the arrows on it. Some one yelled at him "take your coat off," and he said, "take your dress off." Then he said, "I have showed my butt enough, and promised Connie I wouldn't do it anymore." This was said during the first few songs of the concert. In the show, he mentioned the Waffle House, and Wal-mart, wanted to know if they had a Wal-mart there. He even mentioned Chuckie, TN.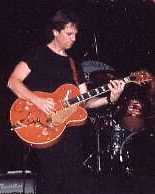 He started off with "Hillbilly Highway," then "Hey Baby." Someone asked about Connie, and he told them she was drunk, drinking all the time. He just got her off dope, now she is drinking whiskey. Then every one cracked up, and he said she was in Michigan drunk! Then he sang "The Whiskey Ain't Working Anymore." He did "Blue Train," and dedicated it to Johnny Cash. That was so nice. He did "Honky Tonk Crowd." When he did it, asked if there were any honky tonkers in the audience, that it was Saturday night, go honky tonking then get up on Sunday morning and go to Church. He spoke of the Carter family and Janette Carter. He did a song, I never heard, "Farther On," then started off with "Long Black Veil," at the end of the "Farther On" song. "Country Girls," "Just To Satisfy You," "Tempted," "Little Things," "Hillbilly Rock," the regular version; was the last song.

Somewhere in between, a helicopter flew over and landed, and Marty pointed to it, he said, it was the FBI coming after him. Someone yelled maybe it was Connie, and then he replied it was Travis, "He travels like that some time." There was a walkway, and in his song performances he did go on it lots, and after the last song for the 1st show, he came on the walkway and shook hands with every one there. Then he left the stage. Every one yelled, he came on for the encore, "Western Girls" (Tennessee Girls.) I didn't go to the walkway, neither did Judy and her friend. We waited and went on for the meet'n'greet.

When we went back for the meet'n'greet, I was deciding what to let him sign, cause the security told us, 1 autograph, then they came back and said 1 autograph, and no pictures. So, we did not get a photo with him. Shucks.

The security took us in a few at a time, we met beside the new bus. Saw Brad and spoke to him backstage.

When it was our turn for the meet'n'greet, I let Judy and her friend go ahead of me. He listened to a boy age 10 or 11 play a guitar -- the song "Jimmy Brown the News Boy." So, Marty held up the line. it wasn't me or Judy! Then when the boy finished, Marty applauded, and signed his guitar.

Then Marty talked to Judy and signed a 5x7 picture and initialed the bottle cap she caught at Jackson, TN. She asked Marty if he remembered throwing the cap, and he said, "No," smiling. I bet he remembered! He signed an 8x10 pic for Judy's friend. When it was my turn, I let him sign an old 5x7 pic I have had a while, and gave him a pic of little Mary Vaughn, she sent to him by me taken this year. She wanted him to have it and I gave him one to give to Steve along with a letter to Steve. I asked him,"How are you doing?" He replied, "Sweaty." Believe me he was!!!!! Then I asked him if he remembered her from last year, and Marty replied, "Yes." I said, "Well, she isn't little any more, she is as almost as tall as you." He said, "Tell her I would love to see her again." I gave him a hug around the neck, and he let me kiss him on his right cheek, and when I did, I got his sweat in my mouth! YUM YUM, tasted good.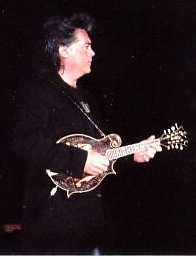 We went on out the way we went in, the National Guards let us, ran in to Gregg Stocki, and we hugged, I said, "Hey Buddie." And he spoke back. (The first time Gregg has ever gave me a hug.)

We waited to get in for the 2nd show, and the lady finally let us in, swapped out the tickets, and we ended up with better seating for the 2nd show. Yep, FRONT ROW, right near the walkway, and in front of Brad.

Saw June, and yelled at her, and she came over, and gave me and Judy a big warm hug!!!!! What a sweetie June is!

Then it was time for Marty to come on for the 2nd show, they came out in different clothes, Marty had on his leather pants, the Manual shirt he wore at the Fan Club Party, and a black jacket, solid black. The guys wore purple shirts, and black jeans, could have been black shirts the way the lights were. Looked purple. Steve had a black long sleeve top on.

Marty opened with "Hillbilly Highway." Then "Hey Baby" and "The Whiskey Ain't Working Anymore." He dedicated "Train of Love" to Johnny Cash and said he loved him! He did "Western Girls," he did "Now That's Country" and when he began doing it, he asked if there was anyone born and raised in the country. Lots of hands went up. "Have you ever peed off your back porch?" No one showed any hands on that, and then he said, "You're lying if you haven't and say you're from the country," and he laughed. When finishing the song, he did his little microphone trick with it, and had the audience screaming!

Then he spoke of the Carter family again, Janette Carter, and Rita were sitting on the stage, along with the little 10 or 11 year old boy that was backstage playing for Marty. Marty did "Farther On," and then after it, got his mandolin and did "Dark As a Dungeon!" He also did "Just To Satisfy You," "Tempted," "Burn Me Down," and "High On A Mountain Top." Then he introduced the little boy, Trey Hensley, and he did a song with Marty, "Jimmy Brown The News Boy" and "Wildwood Flower." The little boy got a standing ovation after the 1st song. Then Marty ended with "Hillbilly Rock," the fast version. I was singing right along with Marty to that, and he noticed me, and nodded his head!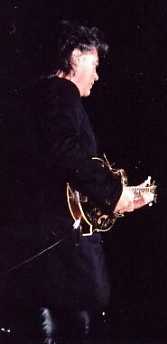 Again, we all stood up and went over to the walkway. Marty left the stage, so did the band, and they finally came back on, and the sound guy brought the microphone out to the walkway, Marty came over to the end of the stage and threw a towel. LaDonna Cable caught the towel, lucky girl! Then Marty came on the walkway and began talking about people having hearts broke and being hurt, he said, "I am a vagabond, but I know where my home is. That's in Heaven."(raising his hand to the sky.) I yelled, standing right by Marty on the walkway (I was on the ground.)"Amen." Judy, did too, saying "Amen Marty." He sang "Hobo's Prayer."

After that, he took his guitar back to the stage, and came back on the walkway and shook hands with us standing along the walkway. He squeezed my hand tightly, as I did his, and I told him, "I Love You, Marty." He just smiled!

I did talk to Steve after the show to make sure he got the note and picture from little Mary Vaughn, and told her how she was so tall, and he remembered she turned 8 this year, and told him she loved him and said hi to him. He said he would love to see her again too.

Review and photos by Evelyn Totty, Mayfield, Kentucky