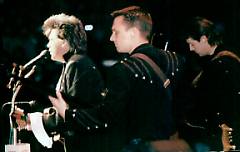 Marty and the Rock & Roll Cowboys (except Gary) performed on the Grand Ole Opry on Saturday, March 14, 1998. It was a busy scene backstage as artists like Diamond Rio, Jo Dee Messina and Mark Wills also performing.

For the first show, Mario and I watched from backstage. Marty performed "Body and Soul" and "Now That's Country" and talked about how great it was to be back at the Grand Ole Opry. It's hard to get pictures from way off to the side of the stage--but this one came out pretty good of Marty with Steve and Brad.

Marty came off stage and signed autographs and posed for pictures. Mike wasn't there so Marie-Elena escorted Marty back and forth to the stage. At one point, Marty turned around and waved to me. He also walked by Mario and said "hi."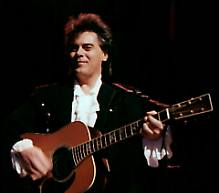 For the second show, Marty had an entire 15-minute segment to himself. Mario and I went out into the theater and sat on the floor in front of the stage. Saw several other fan club members there. Marty performed "Hey Baby, "Doin' My Time," "The Whiskey Ain't Workin'," and "Marty Stuart Visits the Moon." 15 minutes of Marty and the Rock & Roll Cowboys is NOT enough!

It is always wonderful seeing Marty. He's really in his element at the Opry. He and the Rock & Roll Cowboys sounded super and looked rested. Got the chance to talk with Jodee and Gregg Stocki and Willie Wilson (with the fan club). It was a very enjoyable evening. Here are a few more photos.