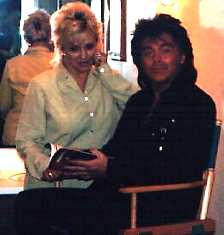 Another Opry moment. It's always great to have Marty and the Rock and Roll Cowboys perform at the Grand Ole Opry. This weekend was a particular somber one. Not only was it announced that five of the Opry Staff Band were leaving at the end of the year, but official word had just come down that Marty was coming off the road January 1, 2000 and the legendary Rock and Roll Cowboy band was being dismissed.

Marty and Connie were already there by the time Mario and I arrived. Marty usually takes Dressing Room #1 but this time around, the door was open. A group gathered around the door and Marty and Connie came to the door and signed autographs and posed for pictures. Once they were done, they went back into the dressing room and the door remained open. Soon fans flocked in through the door for their autographs and a short conversation with Marty. I did get to say a quick "hello" to Marty as he went down the hallway.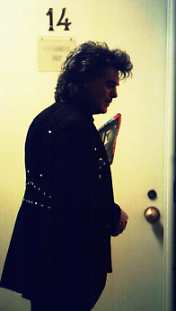 Marty had come with copies of his book and we watched as he distributed them around (personally autographed, I am sure). Here is at Porter Wagoner's dressing room door with a copy of the book in his hand. On his way back through the lounge, he stopped and talked with Freddy Weller (Paul Revere and the Raiders and had a solo country music career) for a while. Is there anyone in the music business that Marty doesn't know on a first-name basis???
Mario and I enjoyed long conversations with Steve, Gary and Gregg. Brad did say "hello," but he was busy doing his Mayberry RFD imitations and talking with Leon Rhodes. Based on what the guys said......they are basically happy to have some time off the road. Most have other projects in mind and Marty still hopes to use them in some of the projects he'll be doing during the year. Still it was a sad time because most of those projects won't involve the fans.
Mario and I watched the first show from backstage. Leon Rhodes loves to pick with Marty and the boys and did join them on "Blue Train." Is there no better steel guitar player than Gary Hogue? The solo he does in this song is undescribable. Brad and Marty then picked "Mr. John Henry, Steel Driving Man" (sounds quite different without the banjo) and Brad stuck some licks of "California" in there as well.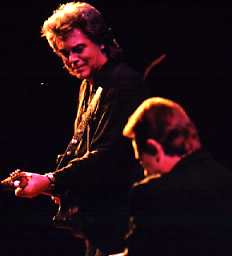 Since Marty was hosting a segment of the second show, we decided to go out in the theater and get some better pictures. I had seen Leroy Troy with his banjo and figured Marty might bring him out to perform, but he didn't. (Too bad because Leroy is really an incredible performer.)
There weren't too many people down on the floor in front of the stage. Saw Cindy Allred--she's usually at every Opry performance. I'm sure it warms Marty's heart to look down and see some familiar faces singing along with the songs.
They opened the segment with "Tempted" which remains my all time favorite song. It's the one that started it all for me and it just holds a very special place in my heart. Wilma Lee Cooper came on and asked Marty to play mandolin on "Pretty Polly." They had performed the song together at the Birthday Bash in October and Wilma Lee said she had gotten a lot of comments on it. Marty even threw in some harmony vocals this time around.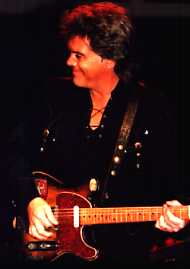 Marty recited words from "Same Ole Train" in talking about country music and the Opry and all the "stories" that are sung on the stage. They closed with "Dark As A Dungeon." Marty sings this song with such emotion that it literally leaves you breathless.
Coming into the dark backstage area from the theater, your eyes can't see much. I was walking along and Marty (pulling Connie) walked by me and said "bye." Basically I caught sight of Connie's blonde hair (since Marty was all in black) and just got out an "Hi Connie" and they were gone. Back at the dressing room, they were safely inside but the door remained open. This is the first time I've ever been there where Marty has remained that accessible to the fans. Many times he will come out in the hall and sign and pose for pictures. An open-door policy is rare for many of the artists, so it was nice to see Marty and Connie leave a part of their lives open like that.
Review by Sherry Mattioli
Photos by Mario Mattioli