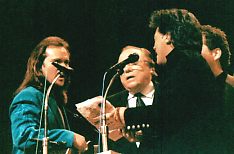 Of course, the highlight of the show was getting to see and hear the legendary Earl Scruggs. Earl's sons Randy and Gary along with Glen Duncan joined Marty and Travis on a few songs. This was the Opry at its finest! The crowd thoroughly enjoyed these performers and it was apparent these guys were enjoying it themselves. When Travis, Earl, Glen and Marty performed an a cappella version of "Precious Memories," I don't think there was a dry eye in the house. You could have heard a pin drop!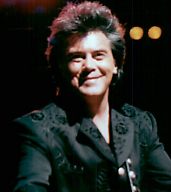 Going back to the side stage area, I practically ran into one Mr. Vince Gill. It takes a few seconds for your eyes to adjust for the very low light and had he not lifted up his guitar to let me through, I would have hit it head-on. Vince was also quite accessible and always had a crowd around him. Back in the Green Room we saw Marty's dad, John, and sister, Jennifer. Spent time talking with both of them. Jennifer closed her store on Music Valley Drive.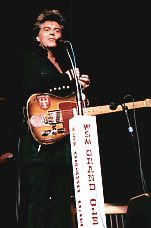 I think with Opryland closing, it's had a devastating effect on tourism to Nashville in general and especially to the Opryland area of town. A lot of the retail areas in Nashville are disappearing. Most of the shops along Music Row are gone. Jen said she wasn't sure what she was going to do at this point. I asked Marty's dad where Hilda (Marty's mom) was and he said she was home dog sitting. Marty gave them a puppy last Christmas. He now weighs about 60 pounds and "has a mind of his own." It was sure nice seeing Marty's dad again. He said that now he's retired, he often goes out on the road with Marty. He is really proud of his two children!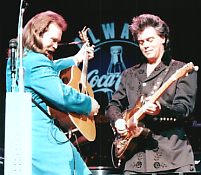 Travis Tritt happily signed autographs and posed for pictures with the fans. Security was right there to make sure things didn't get out of hand, but things were orderly and everyone was accommodated. For the second show, we again went out and sat on the floor in front of the stage. I only saw one Marty fan that I recognized. A lady at the Friday night show had come all the way from Nova Scotia to see Marty at the Opry.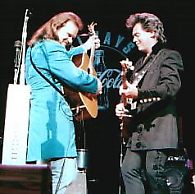 Marty opened the segment with a new song, "Red, Red Wine and Cheatin' Songs" which (as Margie Brodmerkle mentioned in one of her concert reviews) is a terrific song. He then brought Travis back out and they again sang "The Whiskey Ain't Workin'." The Scruggs family and Glen Duncan came out out a performed "Rollin' In My Sweet Baby's Arms," "Foggy Mountain Breakdown," Travis performed "Old Home Place," and they closed with "In The Pines."
By the time we got back to the Green Room, the backstage area had pretty much thinned out. Marty and Travis emerged from the dressing room together. Marty walked over to us and said "hello" and asked Mario if he got some good shots (Mario took three rolls of film and only a portion of them are seen here).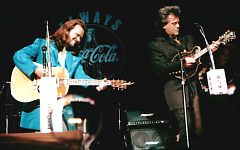 Marty is the ideal host. He stays on the stage and watches the other artists in his segment perform, he encourages the audience to applaud and sometimes will even dance. To have the opportunity to see Marty host 90 minutes of the Grand Ole Opry was really special.
Review by Sherry Mattioli
Photos by Mario Mattioli