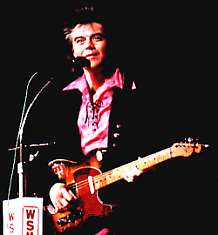 We left Johnson City, TN about 8 a.m. Saturday morning heading toward Nashville, when we got to Knoxville we got in that horrible snow storm they received in about 2 hours time. I had to sit in a pile- up for about 45 minutes but there was no way I was turning around because of who was going to be at the Opry! I can now join some of the rest of you saying I have been through rain, snow, sleet and ice to see Marty! We finally made it to Nashville, ate, and went to the 6:30 show. I probably will get these shows confused because they both were great!
Trisha Yearwood gave us an excellent performance. Her music seemed to drown out all the other bands. She did 3 songs, was welcomed into the Opry family, and the touching moment came when Patsy Cline's husband and daughter presented her with one of Patsy's silver necklaces framed and inscribed from them. Trisha's session came to an end and it was time for Marty.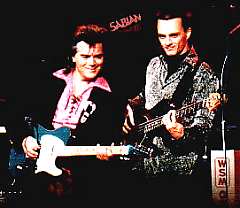 Bill Anderson came out to host and the crowd on the floor in front of the stage had gone back to their seats and, when everyone knew it was time for Marty, they started moving back up front. Bill said I don't understand this. "Everyone was here when Trisha was playing, then when I came out you all left, now for some reason you are all coming back up to the stage, I wonder why!!!" The boys came out, wearing black jeans and black shirts, then came the MAN! Black dress pants, long black jacket and a shiny pink shirt that tied in front. Awesome as usual!!! They performed "Southern Accents." Truly wonderful. The place was silent listening to the song! Then much too soon he was gone, but another show to go! Ricky Skaggs and Kentucky Thunder performed, and that band can smoke!! And don't forget Vince Gill. A great show at the Opry!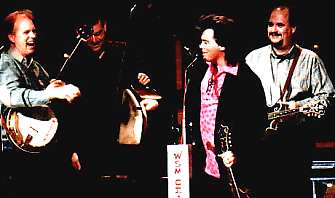 Time for the 9:30 show!
In between shows I met Tami!! Wonderful person! This show was just as great, everyone was having fun. During Mike Snider's segment, here came Marty walking out from the other side. Mike and Marty did this comedy routine, and Marty was laughing so hard he would turn and walk away from the mic. Mike then invited him to stay and play with them so they blew away "Rawhide," Marty on mandolin. The next segment Marty hosted. Him and boys came out and did "Doin' My Time." Another great performance.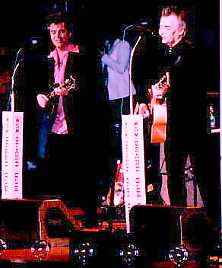 Then he introduced John Prine as one of the greatest songwriters ever! John Prine performed one song, Marty came out to thank him and asked him to do another song and John asked him to stay out there with him. Marty made the comment that he had been jumping in with everyone else, and he would love to play with him. They performed "Angels From Montgomery" together (beautiful song, Marty on mandolin). Then Marty was gone! Ricky Skagg's blew everyone away again, so did Vince Gill. Little Jimmy Dickens was full of the Dickens!!, telling jokes, Vince made the comment that all these comedians are out of work and "tater" is trying to be one!!!!
Let me tell you it was a wonderful trip and a great night at the Opry! It will be hard but I think this Marty fix will do me until the Fan Club Party!!!!
Review and photos by LaDonna Cable, Johnson City, TN