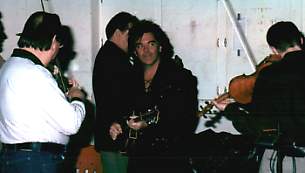 What can you say about an evening backstage at the Grand Ole Opry when Marty and the Rock & Roll Cowboys are performing? Especially on a Friday evening when there are very few people back there and Marty is free to just "hang out."

Mario and I arrived about 7 p.m. Spike and Randy were "guarding" the equipment and we spent a few minutes talking with them. Spotted Gary who is walking quite stiffly due to the brace he's wearing (he recently underwent back surgery). He says he's doing okay and it's not bad if they are performing only one show that evening but said it was difficult to sit and play for two.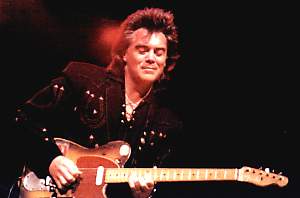 Mr. Mikey arrived and Mario and I both got hugs. I got the impression from Mike, Spike and Randy that it's a lot of work getting everything together to play only a couple of songs on the Opry. Bringing in the equipment and then taking it right back out. (Well, guys, WE enjoy the Opry even if Marty only does ONE song -- and we appreciate your hard work.)
Back in the Green Room, Mike, Spike and Gary were talking. I told Gary how much I enjoyed his steel guitar playing on Connie's album. Those songs really lend themselves to a steel guitar and he did a great job. We also talked about the CD of songs inspired by the film Hi-Lo Country, (which I've bought but not listened to as of this date). The band played on the tracks and Gary co-produced one of the songs with Marty. He said he hadn't even heard the album yet and needed to go out and buy one (commenting, "You'd think they'd send me one.") Gary said they'd also been busy in the recording studio doing soundtrack work.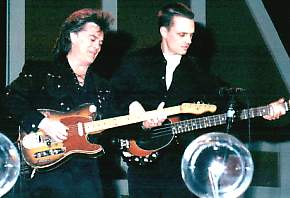 About that time, Mario says "here he is" and I hear from behind me, "Hi Mario, Hi Sherry." It was THE MAN himself going into dressing room #2. I think all he could see of me was my hand but Marty knows that when he sees Mario, I cannot be too far behind!!!
Jodee and Gregg arrived. I just love Gregg's hair. Short and blonde now. I do miss those curls, though and now he's going to find out what us women go through who color our hair. Jodee had her camera so, if you read this and you got some great pictures of Marty and/or the band, send them to me and I'll put them on the website.
Marty came out of the dressing room carrying his mandolin. He went over and talked with some people and then walked over to me and gave me a hug and continued walking. I told him we couldn't wait for this new album and he said, "It's a good 'un." I told him that's what we'd heard and he was out of range. You know, that boy can really fly on his feet!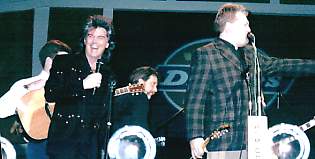 He went out the side stage door where he joined Ricky Skaggs and Kentucky Thunder in the "cage." Cage? Well, it's this little "area" that has some boxes and cardboard in it and the guys say it has great acoustics. Marty joined in the pickin'. I sat down to listen and take a couple of pictures.
When they were done, Marty walked over to me and I told him how much I was looking forward to seeing a full concert again. The Opry is great, but it's only a few minutes and a couple of songs. It just whets you appetite for a full show. I can't recall what he said to me.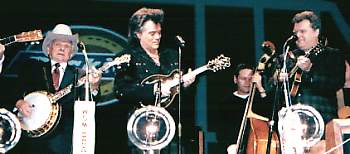 Mario and I went out into the theater to watch from the front of the stage. Marty hosted the 8:00 to 8:30 p.m. segment. He and the band opened with "Now That's Country." Marty then introduced Ricky Skaggs and Kentucky Thunder. Ricky's true calling is bluegrass music and his band has several very young, good-looking guys in it. Sort of reminded me of what it must have been like watching Marty on stage with Lester.
Ricky then introduced Ralph Stanley -- one of the masters of bluegrass music -- and his Clinch Mountain Boys. The Whites performed next. Marty then brought back Ricky and Ralph for a "bluegrass jam." Marty and Ricky closed with "Rawhide" and it was dueling mandolins. Those fingers were flying so fast. It was just so incredible and you knew they didn't spend hours rehearsing that song.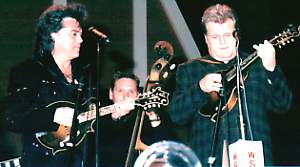 We went back to the Green Room while Marty signed autographs. He then came in and talked with a few people while Mario took pictures. Marty went in the dressing room and got his coat and came out and signed more autographs. I think anyone who wanted an autograph got one. I didn't approach him for one or a picture, even though I'm sure he would have been happy to do both. Sometimes I think he sees too much of me and I just don't want to be "in his face." He's really good about coming over to me and saying "hi."
Mario and I followed Marty down the hall. He stopped to talk with Skeeter Davis and we stopped and talked with Mike before heading out the door. It was a very nice evening and it was great to see Marty and the Rock & Roll Cowboys again.

These photos show Marty "hanging out" in the hallways.
The "shadow" between the man on the left and
Mike Copelin is me!
Review by Sherry Mattioli
Photos by Mario and Sherry Mattioli