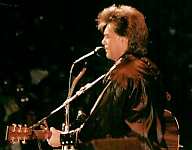 The Grand Ole Opry came alive on Saturday, December 13 when Marty and the Rock & Roll Cowboys appeared on both shows. The Opry House was decorated for the Holidays with a beautiful Christmas tree on stage left. The guys were scheduled to perform in the last segment of each show.

Mario and I were backstage and the crowd back there was very light for a change. Viewing the show from backstage is unique in that you get to view everything from the back. As Marty walked out of his dressing room to go on stage, the first thing I noticed was how short the back of his hair was.

Mike Snider hosted the segment and Marty came out and they did their Mr. Cobb (the banker) joke. Marty dedicated the first song to Waylon Jennings and performed "Because You Asked Me To." For the second song, they wanted to do a Christmas song but Marty said they didn't know any Christmas songs. He said they were going to perform "Can't Help Falling In Love," and that, for tonight, the title was "Can't Help Falling In Love With You At Christmas." This is the fabulous instrumental featuring Marty on the mandolin. I guess the crowd didn't "get it" because they did not sing along to it the way the audience did in Owensboro. But you could have heard a pin drop.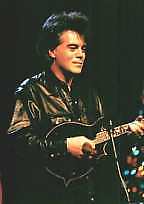 Later, while we were sitting in the "Green Room," Marty came in to get some lemonade. I walked over to him to say "hello" and commented on his short hair. He said it was time for a change and added, "it'll grow back." He made sure to go over and shake Mario's hand and, by that time, a couple of people had come over asking if he'd pose for a picture with them.
For the second show, we went out in the theater and sat on the floor in front of the stage. Marty came out and said he wanted to do a Johnny Cash song. He'd talked with Johnny earlier that day and said Johnny is "feeling good again," which is good news.Marty performed "Don't Take Your Guns To Town" with the help of a music stand and the words. He really did a great job on this song as he does on all of Johnny's songs. Ironically, it's always been one of my favorite Johnny Cash songs.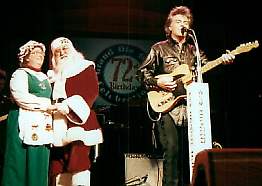 What was this about not knowing any Christmas songs? For the second song, Marty sang "Even Santa Claus Gets The Blues." During this number, Mr. and Mrs. Santa Claus came out and stood next to Marty. Jeannie Seely was hosting this segment and asked Marty to stay and help her out with her final number. She also brought out the Carol Lee Singers, The Whites, Jan Howard, and Bob Whittaker (general manager of the Opry). Marty played mandolin on "Silent Night."

It came to an end all too soon. By the time we returned backstage, Marty had gone into the dressing room. He came out carrying several wrapped Christmas presents. I told him I hoped he and Connie have a very Merry Christmas. He said "thank you" and wished us the same. The Opry House was just about empty at that point as we all walked out together. Seeing Marty has certainly made my Christmas Holiday more special.

Review written by Sherry Mattioli
(Photos taken by Mario Mattioli)