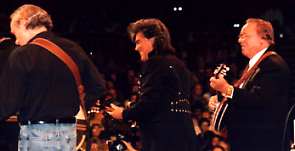 Mario and I arrived a little late at the Grand Ole Opry. They were already out of programs at the desk, so we had to check out the schedule listing on the wall. Caught sight of Marty's hair blowing down the hallway. Connie had been scheduled to perform on Marty's segments but that had been changed. She had already performed on the first show by the time we got there.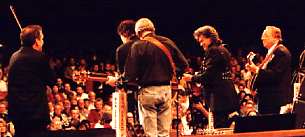 We stood side stage to watch the TV portion which featured Marty with Earl Scruggs, Earl's sons Gary and Randy, and Glen Duncan. Andy Griffith came out and inducted fellow North Carolinian Earl Scruggs into that state's Hall of Fame. There was some hot pickin' and a grinnin' when Andy donned a guitar and picked with the group. You can tell Marty had an absolute blast.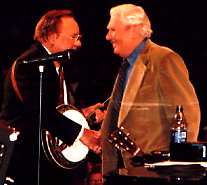 Marty hosted the following segment and we went out into the theater to enjoy the show. Marty and the Cowboys opened with "Doin' My Time." Wilma Lee Cooper asked Marty to accompany her on "I'm Goin' Home On The Morning Train." You just can't keep Marty from having a lot of fun. Jeanne Pruett sang "Temporarily Yours" and Marty came out on stage to play mandolin. The Melvin Sloan Dancers were next and Marty joined with the Opry Squaredance band to pick a rousin' dance number. Marty and the Cowboys closed with "Hillbilly Rock."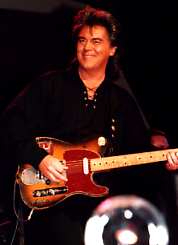 Mario and I came back side stage and went into the lounge for some of that great lemonade. Marty came walking by and some people stopped him and asked if he'd pose for a picture. He looked over and said hi to me and then walked on down the hall. A crowd had gathered and he was happy to sign autographs and pose for pictures. I decided to check at the desk to see if they had gotten any more programs and went the long way around to avoid walking in front of Marty.
They had gotten some in, so picked one up and turned around and Marty is walking toward me. He holds out his arms and gives me a big hug!!! He and Jodee Stocki went through a door and I went back to the lounge. I did have the chance to talk with Gary Hogue and he was exhausted after a hectic weekend of performing on Friday's Opry, going straight to the Nashville airport to catch a plane to Houston, not being able to find the hotel in Houston and checking in quite late. Three hours later getting up to do a show at 10 a.m. Going straight to the airport to fly back to Nashville. They drove straight from the Nashville airport to the Opry. You could tell Gary was absolutely exhausted and then I find out that the band will be performing with Marty at Sam's Place the next evening.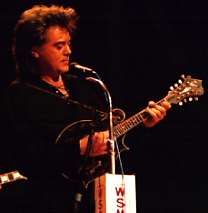 There was a lot going on in Dressing Room #1. People going in and out and flashes going off. Mario went to see what the fuss was all about and there was Vince Gill and Amy Grant. Vince usually leaves his dressing room door open when he's at the Opry and he was happy to invite you in for a short chat.
I did get to say "hi" to Gregg and Steve but Brad was constantly running late and always seemed to be lost until the curtain was about to come up and he rushed on stage. We decided to watch the second show from backstage. Marty once again performed with Earl and his sons. This time, Vince was invited to come out and pick too. To me, that epitomizes what the Opry is all about! Andy Griffith was supposed to be on as well but he wasn't feeling very well and had gone back to the hotel.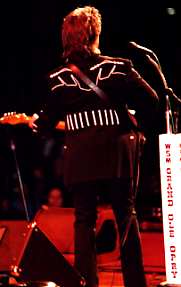 Marty hosted a 15-minute segment and had put on a jacket for this occasion. He and the band performed "The Whiskey Ain't Workin' and then he introduced Jan Howard. Marty stood in front of us talking to folks backstage. He closed the segment with "Long Black Veil."
Mario and I decided to leave at that point. Connie was to perform on the 11:30 segment but golf comes first for Mario and 5:00 a.m. comes early. We did happen to catch T. Graham Brown and Kelly Willis hanging out in the lounge as well as members of BR5-49. It was a short evening considering we usually stay for the entire two shows. Marty and the band sounded great considering their schedule, and it was great seeing some of Marty's dedicated fans as well.
Review by Sherry Mattioli
Photos by Mario Mattioli