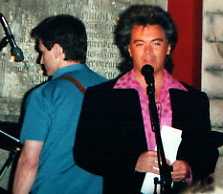 Marty hosted a benefit breakfast to raise money for Loretta Johnson's medical fund. Loretta has bone marrow cancer is to undergo stem cell replacement therapy later this summer. Loretta is one of the Johnson Sisters. They are really responsible for Fan Fair. They started out running Loretta Lynn's fan club and now they run the International Fan Club Organization -- known as IFCO. They also host an annual concert during Fan Fair week. Marty has known Loretta, Lovetta and Kay a very long time and was more than happy to host this event. Artists who performed were George Ducas, Lila McCann, Chalee Tennison, Chad Brock and Eric Heatherly.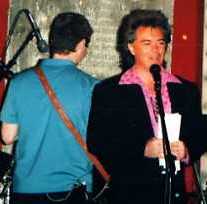 The small, upstairs room held about 150 people. Breakfast was a buffet featuring scrambled eggs, bacon, hash brown potatoes, mini muffins and orange juice. Marty welcomed the crowd saying, "Sorry I'm late. I've been cooking bacon." Then he adds, "Why are we up so early? It is a good question. We're here to honor a wonderful lady, a wonderful organization, wonderful family that means a whole lot to country music and especially Fan Fair. The Johnson Sisters." He asked them to "Stand up. Take a bow, girls."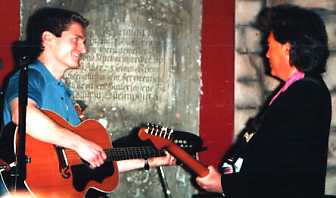 "Way back in 1967, they started an organization called IFCO and it's probably the best friend that up-and-coming stars, stars that were coming down ever had. And the reason I'm here is because when nobody else would give me a microphone and a place, the Johnson Sisters would a long time ago. And I thank you for that. I really do. And everybody knows, I don't think this a secret, Loretta's been sick lately and we need to raise the rest of the money to help her at the doctor's office. I get so mad. You get sick, you call and they don't say 'how are you feeling,' The first thing they say is 'Have you got insurance?' Well, yeah, she's got insurance. That's sucks, is what it does. Loretta's got insurance but we need to help her out."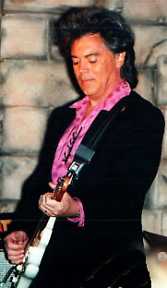 "There's auction items back there, so you go back there and sign your name. What are some of the things we got? Tim McGraw's jeans. He ain't in 'em. Brooks and Dunn's world tour jacket. And they only got one, you have to split it between you, autographed Jo Dee Messina softball outfit or if you send enough money, we'll give you Jo Dee all right, Jo Dee's throw like the one on the "Burn" album cover, and two VIP Opry tickets this weekend with a backstage tour of the Opry, for any show except the Opry performances at the Ryman. So, if you get the chance, slide back there to that table. We've got music for you, we've got bacon, we've got bad beans. And we got a lot of love to throw to Loretta this morning. Before we get started, how about a hand one more time for Loretta."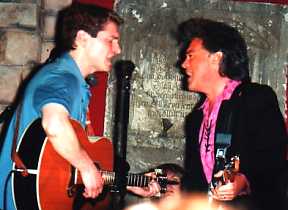 Marty introduced George Ducas who performed several songs. I recognized several of the guys in his band. Kenny Vaughan played lead guitar. Eric Holt (keyboards) and Mike Daly (steel guitar) perform regularly at Billy Block's Western Beat Roots Revival on Tuesday nights. On drums was Steve Ege who we've seen perform with Steve (R&R Cowboy) Arnold. George performed an acoustic solo on Willie Nelson's "Angel Fying Too Close To The Ground," and Marty joined him on lead guitar and sang a verse. It was the only time Marty performed.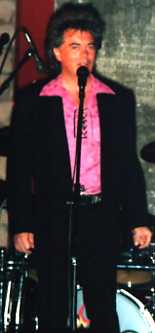 "That'll get your heart pumpin'. You guys hot? Me and George were just talkin' about weird days. The best stories are true.....sometimes. Me and the band were up in Northern California. We were playing in Northern California at some fair and it was 1,000 degrees for a matinee show. I kinda looked at the audience and said, 'Why do you all do that?' And they looked at us and go 'Why ARE we doing this?' It's a mutual thing. And during the middle of that set, we had 'Touch me, turn me on, and burn me down' and this old lady had heat stroke and died. I mean, I've played for shootings and fightings and cuts but never for the dyin'. I just stopped frozen. I didn't know what to do. I said, 'Is she okay?' And she wasn't. So they took her away. Her husband was real distraught and her family wasn't in good shape. I thought 'We'd better get back to some music,' And I looked down and the next song after 'Burn Me Down' was 'This One's Gonna Hurt You For a Long Time' and I didn't do it. I did 'The Bottle Let Me Down'. And we sent her some flowers, thank you very much."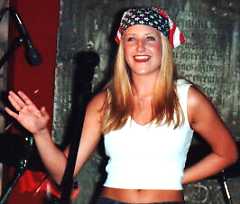 "Oh, I forgot my list. Hey Lila. Today's Flag Day. When Lila comes, she's got flags on her hair. I love this lady. She's cool. You got a dog named Sugar? Do you live in California? What town? Stay out of Northern California, it's rough out there. Santa Monica? I love this girl. How about a hand for Miss Lila McCann." Lila was accompanied by two members of her band on acoustic guitars. She performed some songs off her new album.
"Everybody talks about country music changing. Country music's the same. It's still a family thing. Don't forget the auction table. That's still open, right? Is that open, Tamara? Tamara get off the phone. Tamara? Everybody say 'Tamara'. Is the auction still open? Go back to your phone call. We're gonna auction off Tamara's cell phone."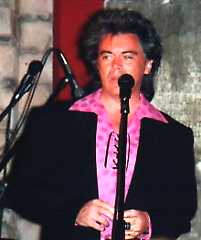 "Hey, this afternoon about 4 o'clock, I don't know exactly what we're doing, but Travis Tritt and me are going to be at Tootsie's. I love Travis. He's my brother. Sometimes people ask me how me and Travis got together. I wrote a song called 'The Whiskey Ain't Workin' and I sent it to him and he liked it. He decided we needed to make a record of it. Then he called one day and said, 'We gotta go on tour.' I said 'I know.' He said, 'We got a hit.' I said 'I know.' He said, "You got any money? We gotta have money to go tour on." I said, "Well. my mama works at a bank in Murfreesboro, Tennessee. We'll go up there and ask for some money. The thing I remember about that is there's this old man you had to borrow money from. Mr. Cobb was his name. He looked over his glasses and he just made you feel awkward for walking into his office. I told Travis, 'I'll be in off tour next Monday. You come to the bank in Murfreesboro and we'll borrow ourselves some money to on tour. So at 10 o'clock in the morning, Travis Tritt pulls up to borrow money in a limousine as long as I've ever seen. He gets out walking like this. That means he's had three beers. And he's 10 feet tall and bulletproof."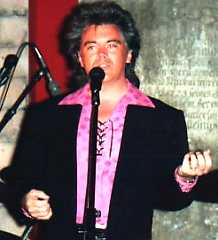 "So, I thought 'well, this is going to be bad because Mr. Cobb won't understand long-haired guitar players needing money.' We walk into the bank and I say, 'Mr. Cobb, I'm Marty Stuart. My mama's Hilda and she works up there on the line and this is my brother Travis Tritt.' I know this is going to be a LONG meeting. Mr. Cobb says, 'Hello gentlemen,' and he says, 'Do you want to borrow some money?' I said, 'Yes, Sir.' I had in mind about $10,000. He says, 'How much did you have in mind?' Travis says, 'About $250,000.' He said, 'Young man, don't get smart with me. I've seen your kind before. You are obviously a hick from the country. Do you know what we do with hicks from the country here in the city?' Travis said, 'I know what we do with Cobbs in the country.' You all come and see us at Tootsie's this afternoon. We'll get into some more of that."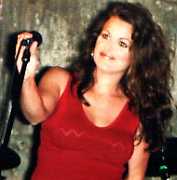 "It says here that this next lady played the Texas nightclub circuit for 10 years before moving to Nashville. She's a regular co-host with Dallas Turner on GAC and I like her lyrics. How about a hand for Miss Chalee Tennison." Chalee also brought two members of her band to play acoustic guitar. She sang three songs. Chalee's daughter was there. She'd mentioned her other two children were with their daddy, but her daughter is now a teenager and she insisted she stay with her. Marty says, "Hey Chalee. Where's your daughter? Is this your daughter? Come take a bow. Say 'Hi.' There she is."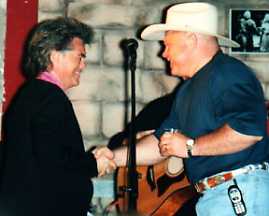 "Hey somebody hollered they were from California. Where's California? Anybody from Texas here? Anybody from Mississippi here? How about Oklahoma, Maine? Europe? Anybody from Europe here? Where ya from? Maryland? That ain't Europe. Maryland, Europe. Welcome, welcome, welcome. What do you think about Fan Fair downtown so far? You gettin' used to it? You don't like the parkin' do you? The fairgrounds burned down. Change is good. You too old for that? Loretta tell 'em change is good. This next guy, I love this guy. We've talked backstage several times. Worked a couple shows together. He got a big ole heart; he's a big ole boy to fill up that heart. How about a hand for brother Chad Brock?" Chad performed three songs.
"I think we need the Johnson Sisters on stage. Before we got any further, how about a nice hand for Great American Country, all the crew -- take a bow boys. They're workin' hard."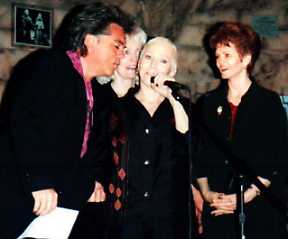 Kay, Lovetta and Loretta came on stage. Marty hugged them all. "Come here, Loretta," he said and he gave her a long hug. "Come here, Baby. Hi Loretta." The crowd gave her a very long standing ovation. Loretta said, "I've known Marty since he was 13 years old. I mean he loved Connie since he was 13. I wanna know about that. I was hanging around. How come you weren't smitten with me?" Marty said, "You said 'no'."
Loretta continued, "Actually, this is just a very stirring, humbling thing. I didn't plan on getting sick. I have two life-threatening diseases, actually. One is bone marrow cancer. And they can't doctor one without it interfering with the other. So, so far, I've had very little medical attention on my cancer because when I was having chemo and they took me off my medicine for the condition which is chronic inflammatory and it's a disease that paralyses you if it's not taken care of."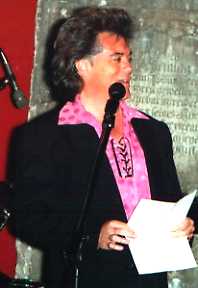 "In February, I had to have Joe Bob Barnhill and his wife to come and help my sisters actually carry me to the emergency room. I couldn't walk. I had to learn to walk all over again in February. Had to use a walker, a cane. I had a physical therapist. So far, I've had little care of my cancer, but they've got me on high doses of Prednisone, which you can see by my cheeks and getting a little hair back, so they are going to change my medication to cyclosporene. I keep saying Neosporene out of habit. They think that will enable them to give me chemo. So far, I haven't had any chemo they could give. Then they will give me a stem cell transplant this summer. They said to enjoy it as much as I can right now because it will be a high-risk surgery. Because they haven't been able to treat my cancer, they are going to have to bring me way, way down. They have two possibles they were thinking about having a transplant for both but they haven't found anywhere in the universe where that's been done. They can't find two people who've had that same disease at the same time."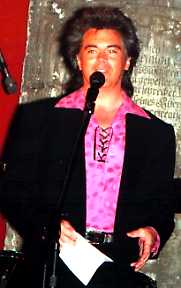 "Loudilla is a match if I should have to have a donor. We're very grateful for that. We won't have to go out and search for a donor. There's a high probability of a host disease and I could contaminate every organ of my body if I go too early into that transplant. So, it's possible they may eventually do two transplants. I told them, if we're going for one, I'll go for the cancer cure. If we're going to try and do the transplant on both, I don't mind being a guinea pig for that. I said I know if there's any possible way to do it that you're going to do it here at Vanderbilt. Because that will mean of molto-million dollars if you do it right and it will be kinda embarrassing if you do it wrong. But I am very grateful to Marty Stuart and to everyone at Great American Country, to Chat Brock, to Chalee Tennison, George Ducas, Eric Heatherly, Lila McCann and everybody and all of you especially, for the support of this for all these years. Thank you."
Representatives from Great American Country came on stage to present Loretta with a check for $2,880. Loretta said, "I want you to know, none of us out here on the stage, Great American Country, IFCO, I know Marty for sure........none of us take you for granted. Not one second. We praise the Lord every day and the Lord is gonna heal." Marty took the microphone and said, "I know your faith is strong. We're all in agreement for healing. God gonna take care of it, he knows all about it. We're gonna pray for you. And before you sit down, I've got one serious question for you, look behind you at the buffalo. Ain't that the ugliest buffalo?"
They took a short intermission to get ready for Eric Heatherly. Marty said, "You all get your hands out of each others pocket and we'll be right back."
"One of my heroes behind the door's got a little cat in their blood. I liked 'Flowers on the Wall,' I like this band, I like this man. How about a hand for Mr. Eric Heatherly?" Most of the crowd was there to see Eric. He brought his band and they rocked! Eric mentioned that Marty Stuart had taught him to play guitar 10 years ago. He also wanted Marty to come out and perform with them, but Marty had "left the building." It was a great show for a wonderful cause.
Review by Sherry Mattioli
Photos by Mary Runyan