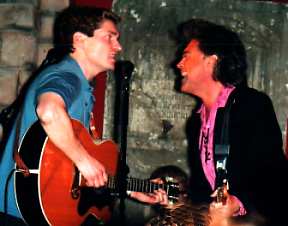 After getting in about midnight we got to bed and were back up early to head to the GAC breakfast. On this morning Sherry, Debby and I actually found parking for $6. Wow a bargain. Too bad that can't be all day parking, by just keeping your stub for the parking lot. We walked a couple of blocks to the Planet Hollywood and got in the long line. Glenda was there looking for Serena Wimmer to get an extra ticket she had. I'm so glad Glenda got to attend.

The line started moving and not soon enough. It was already hot outside! They checked us on the invitation list and stamped our hand to go upstairs. Seems everywhere we went there were more than expected. There was seating near the stage closed off, but they had to open it up and everyone started moving up there. We were at the end of the line so we sat in some of the seats they moved from.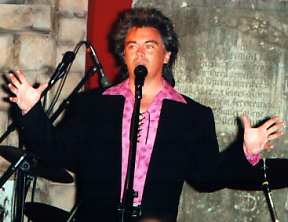 It was a small area though, and probably held a little over a hundred at the most. So the acoustics and sound were fine, and the views weren't bad at any angle. I did take a chair and sit beside Sheila for a while to get better pictures. It was a wonderful cause and a great benefit. The entertainment was so good and well worth the price. I didn't expect it to last as long as it did. Marty let everyone know that he and Travis were going to be at Tootsie's Orchid Lounge at 4:00. He kept it light and entertaining, because cancer is such a hard thing to deal with. Marty is so good at keeping someone's spirits up and today was no exception. After Loretta, Kay, and Lovetta came on stage and Loretta explained her illnesses and what they were going to be doing to deal with them, they presented a large check to her for $2880 for a starter. Marty assured her that we would all be in prayer for her (See more details on Sherry's website).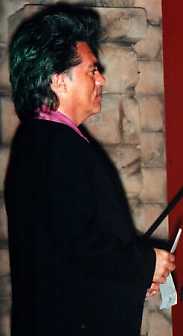 George Ducas put on a great show and even had Marty out there with him having a great time. I especially enjoyed "Angel Flying Too Close To The Ground", one of my favorites. Lila McCann looked great as all the young acts do. My son really likes her and I got him a great picture I think I'll have enlarged for him. Chalee Tennison did some very deep and moving numbers that touched home for me, and had me teary-eyed. Chad Brock had a sing along with his hit, "Yes". Eric Heatherly had a good deal of folks there too, and rocked the house as only he can. He, too, wanted Marty to come out, but Marty had already had to leave. (At the same time Connie was accepting the Golden Voice Award! I'm sure he also wanted to be a part of that. I can't blame him.) George, Chalee and Chad stayed to sign autographs where the buffet was set up.

We headed out and walked down to Tootsie's first and decided the almost four-hour wait and small quarters would probably have us worn out even before time for Marty and Travis to get there, so we shopped a bit along Broadway as we headed back to the car, then on to the mall to get the breakfast pictures developed and a bite to eat. Great show and benefit, great day!

Review and photos by Mary Runyan, Dayton, TN