One fixture that didn't change were fan-oriented breakfasts staged by individual artist fan clubs, or sponsored by large organizations like GAC's benefit breakfast. Held at the popular Planet Hollywood club Wednesday morning, fans were treated to breakfast, plus entertainment from host Marty Stuart and artists including George Ducas, Lila McCann, Chalee Tennison, Chad Brock and Eric Heatherly. More than $3,300 from the breakfast went to the Loretta Johnson Medical Fund to help the founding member of IFCO (International Fan Club Organization) who is battling cancer.

When word went out that the function would raise money for Loretta Johnson's fund to help her battle cancer, the stars and fans were quick to respond. Johnson and her sisters, Loudilla and Kay, formed the International Fan Club Organization that has been instrumental for years in spreading country music's popularity worldwide. For that reason, one of country music's greatest talents and modern day country historian, Marty Stuart, agreed to host the function.

In short order, a list of marvelous performers agreed to contribute their talent to the early morning show (understand, early is the last part of the day singers like to work). Singer-songwriter George Ducas opened the show, contributing his own original songs. And, at the urging of Marty Stuart who joined Ducas on stage, George performed a couple of great cover versions of Willie Nelson tunes. The crowd loved it.

Lila McCann followed, injecting her youthful spirit into the morning as she previewed songs from her new album Complete. For the fans who hadn't seen her since she went from high school teenager to adult performer in the last two years, the transformation to mature, confident performer was remarkable as Lila put all she had into each tune.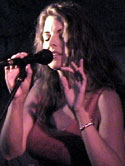 Chad Brock then joined the celebration. The ex-wrestler turned-tender country crooner cuts and imposing physical presence that contrasts the sensitive love songs he sings like his signature, "Yes!"
Chalee Tennison graced the stage with her lovely voice and looks. She had added incentive to do well that morning because her 12 year-old daughter came along to watch mom work.
After Chalee's performance, Marty Stuart and GAC's Tamara Saviano presented Loretta Johnson with a check for the funds raised by the event. Loretta shared some of the details of her astoundingly courageous battle to survive her illness. She was so gracious and inspirational in her thanks and hopeful attitude that the audience gave her a spontaneous, heartfelt standing ovation.

Eric Heatherly closed out the morning show with his rockabilly guitar style and dress. He thrilled the crowd with his breakthrough cover of "Flowers on the Wall" that put him instantly on the country star map. Heatherly turned in the longest show, something not unusual for a performer who says he'd perform 5 hours a night if he could because he so loves being on stage making his music for the people.
In short, GAC's breakfast brought out the very best in all involved, the generous fans, media and the country stars.