There is NO WAY that I can top Mary's review of the party, the CMT taping, and the Jam so I won't even try. I'll try to contribute some pics provided they turn out well.

Fan Fair itself was good again this year. Thursday was Marty's first appearance at his booth. The line started pretty early and got really long, which was great to see. However, he arrived almost 45 minutes late! Carolyn Thumann who helps work the booth came and told everyone standing in line that Marty had gotten tied up in a meeting and was stuck in traffic, but he would be there and would sign for the full two hours he promised. Lots of people still complained, but not us diehards! He arrived in his jeans and a white shirt, no jacket this time........he looked really good, I got my hug that I was cheated out of the night before at the fan club party. My Mom asked how he felt that morning and did he have trouble getting out of bed. He said he was a little slow! I strolled back by the booth later on and he had donned one of his Marty Stuart denim jackets, it was cold in there, felt like a meat locker. He told Jodee to have them do something about the air conditioning, like she has some say in that!LOL!!!!!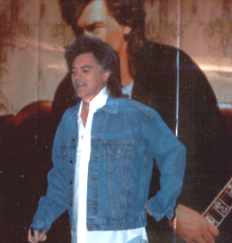 Saturday he made his second appearance. The backdrop was the new CD cover, it's pretty good but I do like the newsletter picture better myself. This one looks too much like The Pilgrim for me but it's still good! He had changed the time he'd be at his booth from 12:30 to 2:30 to 2 to 4 due to having a sound check at the stadium at 1. He called prior to the sound check to say he'd be on time, NOT!!!! He was late, but I also heard that Buddy Jewel who was doing the sound check as well was late too. Jennifer had shown up by then, she looked good. I was standing beside the booth and was appointed head 'cheerleader' for when Marty appeared! LOL!!!!!! He came through the middle of our line just grinning up a storm. Today he had on jeans and a black shirt. Again there was a really long line for him. I'm not sure if he made it through all of the people before they closed the exhibit hall, but I'm sure he tried his best. Hilda arrived with him on Saturday as well. She's just as sweet as ever.
Everyone was expecting to see him on Sunday but turned out he didn't know he was supposed to be signing. Poor Jodee was at a loss as well, she went to each booth to tell them he wasn't coming but it turned out Sony had already come by and told them he wouldn't be there. I don't know what the mix up was.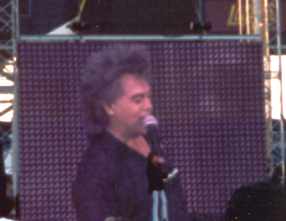 The Saturday night show at the Coliseum was really good, he did a great job as host, (are you surprised?). Lot's of good newcomers as well as old standbys. He sang with Tammy Cochran when she did 'Your Good Girl is Gonna Go Bad'. Cledus T. Judd did a GREAT new song. He re-did the Barbara Mandrell song "I Was Country When Country Wasn't Cool." It is now "I Was Country When Country Wasn't POP!!!!" I, for one, LOVED IT!!!!! It mentions names and George Jones sings a line in it just like he did in the Barbara song years ago. Of course, Marty and the Fabulous Superlatives were GREAT!!! They even did the 'Waffle House Song' from the Jam. They got a good response and he got a very good introduction from a guy at Sony who said he was proud to be on the same planet as Marty! Montgomery Gentry ended the show, we left to beat the crowd but it was a good show.

I met lots of great artists this year: Trace Adkins, Ricky Skaggs, Porter Wagoner, The Hager Twins (remember them from Hee Haw? Jim and John), Daryl Singletary, Steve Holy, Buddy Jewell, and I cannot forget the last one, it's someone I never thought I'd get to meet, Billy Ray Cyrus!!!!!! Very cool!!!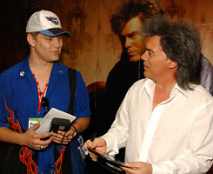 Everyone check out the Fan Fair section of the CMT website, the flipbook section has a pic of Bev's Jarred with Marty at the booth, great pic of both of them. Bev, tell Jarred not to get too big headed over that or his Titans hats won't fit anymore!! LOL!!!!!!
Well, everything's beginning to run together. Hope everyone enjoyed hearing about my Fan Fair fun this year.
By Serena Wimmer, Copper Hill, VA