It's Friday, June 18, and Fan Fair is over! How sad! My granddaughter Anna (who is 3 years old) and me had the best time we have ever had! The new Pilgrim album is fantastic. It's not just an album, it's a masterpiece! The entire story flows and I can't stop listening to it.

Last Friday night (June 11), I attended the reception for Marty at Cheekwood for his photos. The artwork is FINE. He looked wonderful. He wore tight jeans that were split up to his ankles with blue suede boots, a black T-shirt that came barely to the top of his pants and, when he moved just right, you could see his belly. He also wore an awesome jacket (as always) that was cream color with baby blue inserts. This made his eyes look a steel blue. SO AWESOME.

The photos were done in black and white mostly with three of them in color and they would make you chuckle, cry and sincerely show his talents as a photographer. The book comes out September 1 and I would recommend everyone buy it as I am sure it will be just as great.

Monday was the fan club party. Believe me, if anyone that has never been, wonders about going? Go! You will love it. When we got to this park way out in the country, we all went in and got seats. The floor was left open for anyone to sit and, after we ate, many of us sat on the floor. Anna awaited Marty coming out as she loves him dearly. When the band and Marty came out, they all walked out together and Marty had the top hat on that is on the front of the album cover. He is a joy.

They started to play and everyone was enjoying it tremendously. He had a girl come up and play the sax with him and the band and she did a wonderful job. Tami Krato went up and she was going to just say something and he made her stay on stage and sing with him. He was going to make her sing "Hey Baby" but changed it to a rendition of "I Got You Babe." It was adorable and Tami was totally embarrassed, but we all had fun.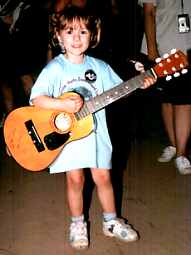 Marty played "The Pilgrim" with his Mom next to him and he started to cry. He couldn't finish the song so Brad took over and you could hear a pin drop. It was the most emotional point of the day. Steve sang a love song like Bugs Bunny and everyone was having a blast. Everyone kept hollering and saying what songs they wanted to hear and Anna yelled but Marty didn't hear her.
One of the ladies by the aisle said she could stand in the aisle and holler at him. So I told Anna to stand and NOT go up to the stage and yell. She walked to the bottom of the steps and decided to head right up there. Marty stopped the show and squatted down. She wrapped her arms around his neck and hugged him. They talked for a minute and I have no idea what they were saying as then she took his face and kissed him dead on the lips.
Connie came up and Marty says, "See what I got. I bought her at Wal-Mart." The crowd roared. Then he said to Connie after the kiss, "Be careful now, she's precious!" Connie just laughed so hard. In the line later, he signed Anna's guitar and took some wonderful pictures with her. She played her little guitar and sang her rendition of "Hillbilly Rock" for everyone. Even though we all spent the afternoon with Marty and the Cowboys, we hated for it to end.
Tuesday, I went to Fan Fair with Tami and when we got to Marty in the booth, the first words he said to me were, "Where is SHE?" I said, "Anna?" I said "I left her at home today." He insisted that I bring her on Wednesday to see him. So I told him I would since he insisted. He was so great with everyone. The MCA show that evening was great. Marty had the grandstand on their feet clapping while he sang. He was a tremendous hit. They loved his music and his little dancing routine with the guys just jumping around him.
Wednesday, we had some of the photos from Monday's party and I had some blown up. Anna signed one "Love Anna." As he was walking through the crowd, he stopped and hugged and kissed her and said he'd see her inside. When we got inside, she gave him the picture she had signed and I gave him a copy of all the photos I had taken on Monday. He loved them and said, "Can I keep her?" I laughed. He said, "I'll take care of her!" She became a hit that day. She stood in the middle of the floor and sang again with her guitar. This day she was interviewed by a TV station, a radio station, and got pictures put on the Internet. She said she was going to play music with her favorite--Marty Stuart. She talked a lot about him and everyone paid attention. Wednesday night was the Superstar Spectacular and I did not get to go.
Thursday was the end. Marty came back again and so did the rest of us. He had a dedication in the morning downtown for the new Country Music Hall of Fame and, when he arrived at Fan Fair, he had on a suit. WOW. He was gorgeous. It was black and he had black suede boots on with a white shirt and pink tie. All the women screamed and Mike said, "No fainting in the audience please!"
Marty, of course, signed more and talked more and we all had a great time. The Cowboys came a little later and they also signed autographs and took pictures. Those guys are a great bunch. Sherry brought me some wonderful photos that Mario had taken and I will cherish them greatly. Marty and the guys are so down to earth and they make everyone feel so comfortable when they are around.
Tami left tonight to go back home and I miss her and everyone I met there. I met some great people from the Onelist there and we are already planning on meeting again soon for another Marty Party. I hope all of you that couldn't come this year will make it next year. It will be wonderful again, I'm sure. I hope to meet some of you at other Marty events also. This week made Anna's dream come true and that made me one Happy Grandma.