Fan Fair was a wonderful (Marty) event. If you were there and didn't see enough of Marty, it was no one's fault but your own. Getting all my pics in order to remember what to tell you. Got them back today. And everyone should watch their local papers because the Chattanooga paper had a great picture of Marty, Brad and Steve from the "Red, Red Wine" video with a written article on Marty today. The picture took up almost half a page.

How do you put six days in a nutshell? You don't. So get ready.

Arrived, and we picked up Debby at the bus station and headed for the Ryman. Had dinner at Big River and then we were ready to head for the IFCO Show and meet some people we knew (Onelisters). We got inside and, right off, started seeing people we knew. I think I was the only one without a Marty shirt on that night. But the rest were easy to spot. Bumped into Judy Trickett in the restroom and, when we came out, we started seeing everyone else. Got our seats in the balcony and Mario and I started taking pics. I always like to take one picture of each of the performers leading up to Marty. I must say the slate was full and lots of great entertainment.

Then Marty came out! I could never outdo Sherry's review so we can refer to that. Cathy Morrison and I moved down to take a few pictures at the end of the balcony which was a good vantage point. Mario and his new camera didn't have to go anywhere but his seat. Mario is one of the greatest photographers I know. But I'm prejudiced.

The highlight of of the evening was the Scruggs family. The Tex Ritter award went to Louise Scruggs and that is one of my favorite parts for the IFCO show. Especially the year Marty got it!

On Monday, we all got up bright-eyed and ready for a Marty Party hoe-down. We picked up Cathy and Bea and headed for Smiley Hollow. As always, Mario went his way and we got there just fine. By the way, the food there is always great. Jill Meister and I decided to go ahead and eat so we'd have our shutter fingers free for pictures.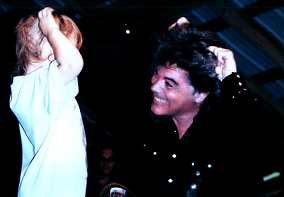 When Anna came up on state, it was just the cutest thing. Especially when she is standing there winding her dog ears (pigtails) around her fingers and Marty takes his hair and twists it the same way.
My favorite moment was when Marty brought his mom up on the stage. There was hardly a dry eye in the place. One of my pictures caught a tear sliding down Marty's cheek and I almost cried again looking at the pictures. It just seemed he couldn't sing without breaking into tears.
I bought the new Pilgrim shirt (gray one), a mini stand-up of Marty (sitting down), a new magnet, a new group shot of the band and Marty and, of course, the new album! So there were plenty of goodies to be had!
I didn't make it over this year to dunk Mike. There were so many people to talk to and get to know. I did get Connie to autograph one shoulder of my new shirt. Some of the Onelisters got a quick pic made with Steve and they were buzzing about making themselves available for autographs (on the new group photo) and being their regular sweet selves. Mike was hilarious with his bullhorn. I think the siren announced every move Marty made during Fan Fair. Just keep your eyes out on the Bullhorn police, Mike! Mike did a great job (as always) and especially at one point, really deserved a pat on the back.
It was so great to see Nick Shirley win one of the goody bags. They really had some good stuff in them!
LeRoy was really a hoot! Marty always provides us with great entertainment and a great day.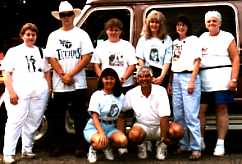 The last photo was a great shot in front of Sherry and Mario's van with Debby, Bev and her son, SherryM, Cathy, Bea, with me and Mario squatting down in front. We had a great dinner together afterwards at Applebees. Another late night to bed. Then up Tuesday morning to head out for Fan Fair and see how the booth is going.
Tower Records had displays for each album coming out and Marty's was really neat. A wall of pictures of Marty, of Marty sitting down with the long coat on and draped around him, and the album cover looks like it is busting out of the pictures in the middle with the pictures peeled back and the album revealed underneath. I was so impressed with the strategy Mike used in selling Marty's album during Fan Fair. Using the famous bullhorn to announce that anyone wanting an autographed CD or tape cover didn't have to wait in line. Just go over to Tower Records (next door to Marty's booth) and buy the album and then bring it right over and Marty will sign it to you (by name). Once he took four at a time and you should have heard him trying to remember the four names they told him. But he pulled it off just fine. It is so great just to be able to watch as the people file through getting Marty's autograph and how much fun everyone is having. To see some of their faces (first-timers) is just priceless.