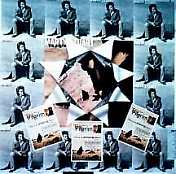 What does one do at Fan Fair? If you're a Marty Stuart fan, you hang out around his booth -- all the time. If you want to get an autograph and picture taken with Marty, you need to get in line as soon as the gates open. This year, we arrived late every single day and were surprised to find only a few people in Marty's line. That didn't last long, however. Each day, the line eventually ventured down the hill and fans were forced to stand on that asphalt out in the sun waiting to see Marty.

This year, Nashville had the perfect weather. Highs were barely into the 80's and NO rain after Monday. There were fewer exhibitors (fan club, magazine and record label booths), fewer fans, and fewer big-name artists signing at Fan Fair. The difference was VERY noticeable.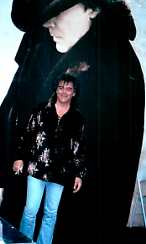 Lucky for us, Marty had decided to be at the booth on Tuesday, Wednesday and Thursday. He had a new album to promote and lots of fans he wanted to meet. The first thing we did was check out Tower Records display of The Pilgrim. It was featured in "new release" displays at both ends of the store. There was also one entire box dedicated to the CD and a supply of cassettes. Other albums by Marty were also available.
Marty usually arrives at the booth late. This was no exception. The crowd roared upon his entrance into the building. Usually some camera crew is there to get a few words from Marty -- the fans just have to wait. Mike is always there with Marty to make sure things run smoothly with the line. And this year, Mike was promoting the new album like you could not believe. The Tower Records store is just across the hall from Marty's booth. Mike brought his bullhorn and was announcing that if you went to Tower Records and bought the CD or cassette and brought the cover or jacket over, he would get Marty to sign it and there would be no waiting. This was announced over and over again and folks just kept bring the album over to get it signed.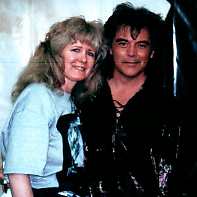 Mike would say, "You, too can be like (insert name). She went across the hall (Mike would point) and bought the CD, brought me the cover, got it signed with NO waiting. That's right folks, no waiting." Of course they played the CD continuously at the booth -- at times it was cranked up pretty loud. Last year, there weren't all that many people around the booth trying to take pictures. This year, it was packed. I tried to snap a few photos using a new camera and I figured I'd get in line to meet with Marty right before they cut the line. It worked out well that way because then you don't have to stand out in the hot sun very long.
Once the last person was serviced, Marty was out the door! It's amazing how fast the crowd clears out! Gives you a chance to actually get to the booth to talk with those working in the booth. It is always a madhouse when Marty's there.
Willie Wilson took this photo
The Hard Workers: Willie, Diane Blocker,
Rita Gonzalez, Jodee and Travis
---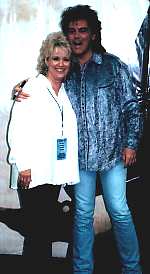 Wednesday, Marty again arrived a bit late. Again, I stood at the booth to get a few photos. Again, Mike was pushing the new CD--at times with the bullhorn. I call him Megaphone Mike. Again, more and more people were coming up with the CD and cassette covers to get autographed by Marty. And again, Mary and I got in line before they cut it and we didn't have to wait as long to see Marty. Folks in the line kept saying "this line isn't moving." Well, constantly, Mike is bringing Marty album covers to sign. Other times, they stop the line so everyone can get a clear shot at a photograph of Marty in the booth. Plus, Marty also meets with those fans who aren't able to stand in line. There is an endless stream of those fans and they need to be worked into the line.
Connie also appeared in Marty's booth for just a minute. She had a hectic schedule signing in several booths that day. Mary and I stood in line at the Music City News booth to meet with her. She is such a gracious lady. We stood and watched her with the fans. She seemed to really be enjoying herself. Connie said she's been to just about every Fan Fair.
| | |
| --- | --- |
| | |
| Anna made another visit to see Marty | Willie Wilson took this photo |
---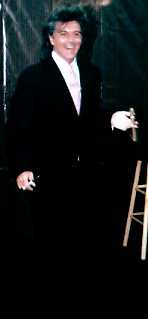 Thursday morning, we went to the groundbreaking ceremony for the new Country Music Hall of Fame. Marty was dressed in a suit and tie (looked SO mighty fine). When I told him that we'd see him at the booth, he said, "I'll be the only one in a tie." Well, when we came through the door by the booth, he was indeed still wearing that suit and tie. He looked so tired! His Fan Fair schedule was so grueling. Mike was still pushing the "buy the album, get it autographed with NO waiting." The Rock and Roll Cowboys were scheduled to be there at 2 p.m. but they were moved up to 1 p.m. so Marty could get out of there early.
All of the fans in line were able to meet with Marty and a few of us were able to combine the Cowboys and Marty. I mean, how many chances will you get to have your picture taken with Marty when he's wearing a suit and tie! Marty made a trek to Tower Records (probably to see how many Pilgrim albums they'd sold--the answer was 300).
Marty's. line was cut every day. I talked with several people who were just so happy to have the chance to meet Marty. Marty had to be pleased with the number of fans who stood in his line, the amount of merchandise sold, the number of albums sold and the fact that he made a whole lot of people very happy.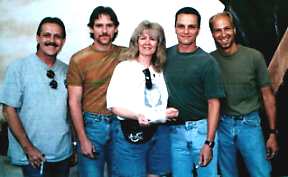 We had the chance to talk with Jodee. Her son Travis also worked the booth and what a terrific kid he is! He had us laughing. I can't believe he wanted to hang around and talk to a bunch of "older" ladies. He was doing his best to sell the merchandise -- and he had the sales pitch down pat. It was really hard to turn him down. Travis plans to be a famous drummer (in a heavy metal band) one day and I'll be able to say, "I knew him when......" He told me the only country music singer he likes is Marty! Hmm, wonder if Travis' date with Little Miss Arkansas ever came about!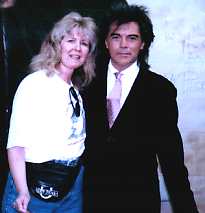 I would like to thank Jodee, Willie Wilson, Rita and Diane for the wonderful job they did in the booth again this year. It's massive hysteria when Marty is there and these folks make it look so easy! I want to know what you all took to have all that boundless energy. You guys were so terrific to the fans! We appreciate it.
Before we left the fairgrounds for the last time, we went to Tower Records to check out the remaining supply of Marty's albums. They had added two more boxes in the CD section and only had a handful of cassettes left. They usually list their top 5 sellers and I'm hoping Marty was on top!
It's always sad to see Fan Fair end. It's a week where you get to see Marty a lot and I've always met and made new friends that I probably won't see again for another year.
Written by Sherry Mattioli
Photos by Sherry Mattioli