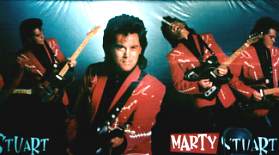 Marty's booth at Fan Fair featured a huge backdrop with pictures of Marty in various poses. The center photo was gigantic with Marty's eyes looking right at you. He's wearing the controversial red/pink/fuchsia jacket.

Marty was expected around 11:30 a.m. on Wednesday to sign autographs. Mary and I were the first ones to the booth. Sitting in the air conditioning sure beats standing in the hot sun any day. Last year we invested in a couple of chairs and they sure came in handy. While in line we were able to visit with other Marty fans. Marty was late (as usual) but very well received.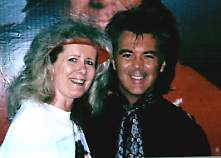 I wasn't planning on getting in Marty's line except that the last roll of film taken at the fan club party didn't turn out and I lost the picture I had taken with him there. Marty had a great smile on his face for this photo. I think I always look dorky standing next to Marty.
Marty was going to sign autographs until about 2:15. Connie Smith was going to be performing at the Warner Bros. show at 2:30. Faith Hill actually opened the show for Connie. We followed Marty from the booth to the grandstands. The only way to get a decent photo of Connie was to go through the photo line. Since Connie was only performing 4 songs, we knew we'd have only one chance to get around.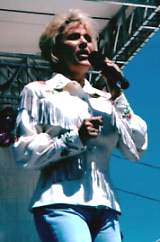 Marty's Rock & Roll Cowboy band was backing her up--with the addition of Larry Marrs on acoustic guitar. She performed the same four songs she sang at Marty's fan club party: "Once A Day," "Hearts Like Ours," "How Long", and closed again with that heart-stopping rendition of "How Great Thou Art." She received a standing ovation which should have made her extremely happy. Oh, and did I mention that the great George Jones introduced her? Her new album is scheduled to be released in August. Cannot wait for that. She has never sounded (or looked) better.
Marty and the Rock & Roll Cowboys were due back at the booth after Connie's show to sign autographs. Those lucky fans were able to get their photos taken with Marty and the band. There didn't seem to be as many people at the fairgrounds this year and the crowd taking pictures around Marty's booth was light. I was trying out a new camera which seemed to work just fine.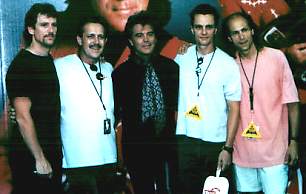 Now, aren't these some fine looking fellows? From left to right that's Brad Davis (lead guitar), Gary Hogue (steel guitar), the guy in the middle is someone Connie called "George" at the fan club party--oh.... that's Marty. Steve Arnold (bass guitar) and Gregg Stocki (drums) round out the Rock & Roll Cowboy band.
Before he left the fairgrounds, Marty made a quick pass through Buildings A, F, E and D, shaking hands, signing autographs, posing for pictures, hugging on Wynonna, Pam Tillis, Billy Ray Cyrus and a few other artists before heading out to the parking lot. Jodee, Mary and I struggled to keep up while handing out fan club membership forms.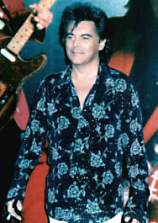 Thursday, Marty was again due to sign at 11:30. This time he was early. His mom and sister Jennifer joined him in the booth. I was in the line but just passed through while Mary got her picture taken and had some things signed. We hung around the booth watching, talking to the fans and handing out more membership applications. I've now added one to this website so if you aren't a member of Marty's fan club and you want to be (and you should be), click here to fill it out. Do it now...you can always come back to this page when you're finished.
Marty made sure he hugged and thanked everyone in the booth and made a special trip out of his way to come over to hug me, which made me feel really special.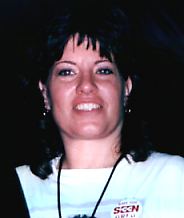 His mom and Jennifer stayed around talking with the fans. The new fan club president, Jodee Stocki (left), was there all week at the booth doing a SUPER job. Her son Travis helped out. Willie Wilson and his mom were there as well as some other hard workers (I'm sorry, I don't know their names). It was a wild few days for them, I'm sure. It's frantic in the booth when Marty's there.
If you were there around Marty's booth, I hope this brings back some memories. If you'd like to come to Fan Fair in 1999 (June 14-19), write to Fan Fair in November to get put on their mailing list. The address is 2804 Opryland Drive, Nashville, TN 37214.
Review and pictures by Sherry Mattioli, Nashville, TN