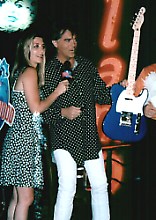 Planet Hollywood in Nashville presented the 1998 Marty Stuart Celebrity Auction benefiting Gilda's Club on Monday, June 15. The auction raised over $10,500. Country artists like--well, let's just say most of the country artists had donated something to be auctioned off.

Mary Runyan and I got at the end of the long line and, lo and behold, behind us were Frank and Marie Garon from New Jersey. They are regular visitors to this website (thank you) and Marie is on our Marty Stuart mailing list.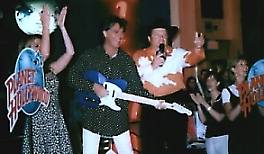 Marty donated one of his Telecaster guitars. The bidding was fast and furious. Thanks to his antics and prodding, the guitar went for $3,400. I saw a lot of Marty's fans there and I am sure most were wishing they could have bid on the item (me included). The guitar raised the most money for Gilda's Club.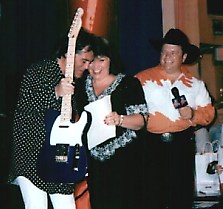 It was a Marty Stuart fan who had the winning bid. Marty took the time to autograph the guitar. Barbara, you're one lucky gal. She was in town to attend Marty's fan club party. Doesn't she look happy? Marty threw in the guitar case for good measure. The auctioneer (far right), who did such a great job, looks quite pleased as well. (Note: it was difficult getting pictures standing behind a man with a big video camera. If anyone else has photos of Tom, Linda or Kacey, send them to me and I'll use them.)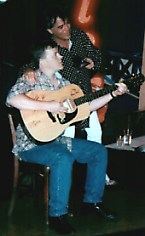 This lucky fellow offered to pay $100 to play guitar and sing with Marty. The guitar he's using was autographed by Marty, Tom Arnold, Linda Davis and the Dixie Chicks and was auctioned off later for $475. The song we all sang was "Happy Birthday" to Planet Hollywood. It was their second. Later, when Marty videotaped a promo, he added "14 more years and you'll be able to drive." Tom Arnold autographed a movie poster and picture which sold for $30. Linda Davis brought a beautiful dress which went for $505. Curb recording artist and comedienne Kacey Jones performed her song "Put the Seat Back Down" and donated an autographed CD, picture and Johnny Light.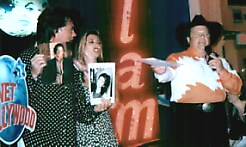 As you can see, Marty was a big reason the auction was so successful. Here he's displaying a couple of items up for bid. It was a good auction, supported by country music fans, that raised some much needed money for Gilda's Club. The new facility is due to open in August here in Nashville. Thanks, Marty, for you help and support.
Review and photos by Sherry Mattioli