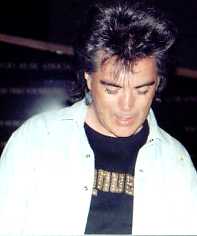 Everyone has covered the fan club party pretty well. So, I'll just tell about meeting him at the party, booth, seeing him at the breakfast and opening ceremonies.
At the fan club party, I met up with the Martypals (some I have met, some I hadn't met). I also talked with other fan club members that I have come to know over the years. It's kind of like a family reunion. Everyone is like those cousins you only see at the family reunion that one time of year. I did get to talk to Steve, Hilda and Jennifer.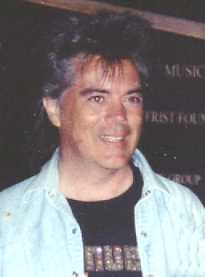 We finally got to meet with Marty. My daughter Laura went first. She never really says much. She always checks to see what boots he was wearing. She says they were blue suede. When it was my turn, I asked to see his t-shirt. He opened up the denim shirt to show me the rhinestone "Manuel" on it. He gave me hug and, of course, I hugged him back with a little kiss on the cheek.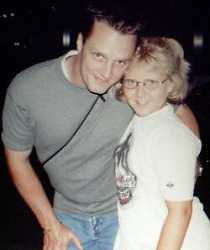 I think I made him feel old. I have two old albums and a photo that he signed for me. The first was a photo from 1984. He said, "That's an old one." Then he signed an album called Take a Little Time by Curly Seckler and the Nashville Grass. He was about 19 and has a beard. He said, "That's an old one too." The I had him sign a double LP set by Lester Flatt and the Nashville Grass. He was age 16 on that one. I said, "Now we're really going back in time." He laughed.
GAC Breakfast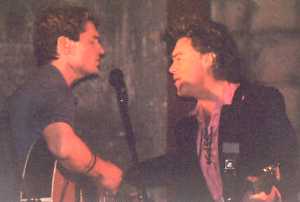 All I can say is this show was great and it was for a great cause. Marty was a fantastic host as usual. My favorite part was when Marty picked up the guitar and played along with George Ducas on Willie Nelson's "Angel Flying to Close to the Ground." That has got to be my favorite Willie song besides "Seven Spanish Angels." George Ducas, Lila McCann (my daughter's favorite), Chalee Tennison, Chad Brock and Eric Heatherly were all great. Eric did say that Marty taught him how to play guitar. He said he used to listen to Marty albums and try to play like him. I thought that was cool.
Opening Ceremonies
Marty was dressed in a black suit with hot pink shirt, the same he wore at the breakfast that morning. He came out and said a few words welcoming everyone to fan fair and mentioned the changes, apologized for the parking but there was nothing he could do about it. Later that night, Travis performed. I was sure hoping Marty would join him, but he didn't. Travis put on an awesome show for his part.
---
---
Fan Fair Booth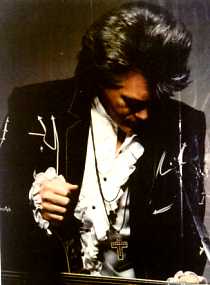 The booth backdrop was just gorgeous. I love the photo they used. I told Jodee that I liked it and she said, "It can be yours." I told her I had no place to put it, how about a smaller version, like an 8x10. Carolyn from Texas was working in the booth all weekend with Jodee. Jodee's son Travis was there too. Jennifer (Marty's sister) was there Friday. Marty was late as usual but he is worth the wait. He recorded a radio spot for Jarred and signed the t-shirt the radio station is going to give away. Laura noticed his boots were black suede. I took their pictures with him and then it was my turn. I got a hug and he signed some photos. One of the photos was an old 5 x 7. I don't even remember where I got it. It was taken about the time Hillbilly Rock came out. He has a really mischievous look on his face. He said, " Who is this cat. He looks like he's up to something. I wonder what he's thinking." I then said," Probably trouble." He said," You're probably right." Then Jodee took our picture and I got another hug. He made my Fan Fair. I can't wait till next year.
---
Review and photos by Beverly Kerr, Rush Springs, Oklahoma