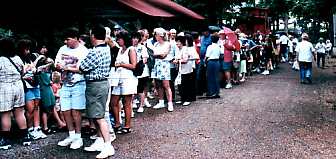 Marty's Fan Club Party was held at Smiley Hollow for the third year. It's about 30 miles out of Nashville and cab fare will cost $30 to $40, but the setting just lends itself to a Marty Party. The weather that morning was rainy, but it could not dampen our spirits. It rained on our way up there, getting lighter and lighter as we got closer to Smiley Hollow. This year there was no reserve seating, so folks got there early and had to park outside the gate. At least it kept the temperature down a little. It continued to mist rain while we were standing in line. The Smiley Hollow security folks are really the best. They allowed the cars to go through the gates in the order they arrived, thus fan club members lined up at the door in that order. It still misted rain while we were in line waiting for the doors to open. I noticed a LOT of Onelister t-shirts in the line. Everyone was so well behaved.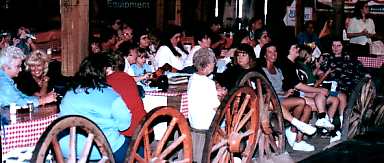 Mario became the "official photographer" and he took a lot of photos of the fans at the party. In fact, it was two rolls before there's even a picture of Marty! LOL. In this picture, I see Hilda (Marty's mom) and her friends, Margie Sullivan and Anna, Sandy Osborne and her mom, Penny Risk, Cindy Allred, and Heather. See how rustic Smiley Hollow is? The weather wasn't too hot although it got a little warm inside after a while (Marty heated things up good.)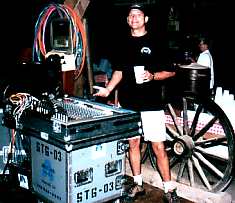 Fan Club President, Jodee Stocki, welcomed everyone at the door and took the ticket stubs for some surprise! They were separated into "adults" and "kids" boxes. The merchandise table was to the right, full of great Pilgrim memorabilia. Rita and Diane were there giving it all a great push!
They were selling the new album. It went like hotcakes. The Fan Club's new t-shirt is just beautiful. You'll see it in the photos here as well on the Marty & Friends page. (Of course, it didn't look better than the shirt most of the Onelisters wore. LOL). There's a new cap, magnet, new photos, posters.....you could spend money to your heart's content. I settled for the CD, the new t-shirt and magnet.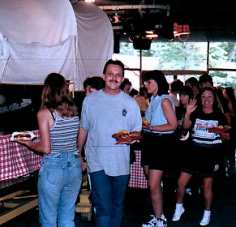 There were only about 420 fan club members there so everyone got a great table. This year they left the dance floor open and when Marty came on stage, that's where most of the folks went. They had to sit on the floor -- but they didn't mind.
There was no announcement made as to when you could eat, but the lines were forming. The food smelled great and is always so good. You know...they even let the band and crew enjoy some of the food (i.e. Gary is seen in this photo with his plate of food), however, they are not permitted to eat with the fan club members. For some reason, they are delegated to a table in a completely different area. I think they are trying to avoid us. (Just kidding guys.) Seriously, the band and crew are great to the fans and were available to chat with or sign autographs.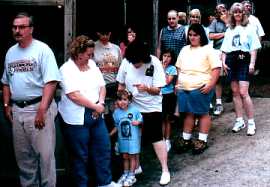 This picture is the chow line. It was long but it moves fast. I have no idea who the man on the left is, but there's Tami Krato, little Anna-Marie Rose Decker who completely upstaged Marty (is that possible?), her grandma Margie Sullivan. I'm also there (far right) wearing the Onelist shirt!
Jodee came on stage to welcome everyone. "Hello everybody. This past year has been SO good. Everybody's been SO good to me and I've had the best time talking to you on the phone. And the Onelisters.......you're all EXCELLENT. And it's real nice to finally put some faces with those voices that I talk to on the phone. We're going to have a drawing and it doesn't involve singing (did someone tell that to Marty and Tami Krato????)...........or dancing..........yet."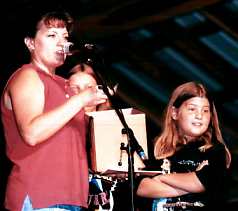 Jodee, with help from her daughter Rachel, then proceeded to raffle off Marty duffel bags filled with merchandise. Some were geared to the kids....the others to adults. Jodee had "named" each package. One duffel bag included the boxer shorts and Jodee said "they are used." She then added "by me," cracking everyone up. There were several happy winners out there, among them Nick Shirley, Sara Johnson, and Kay Sutton.
Jodee said, "You know, the nice part about getting your name drawn right now, other than the fact that you're winning something, is that your name isn't put back in the back in the box to have to get up and sing........yet."
She continued to draw names while Mike started in with the bullhorn. Was that the cue for Jodee to stop talking -- did that announce the arrival of the star of the show? No, I think Mike was anxious to get to the microphone.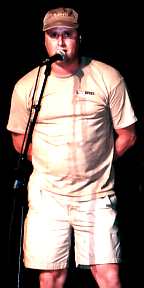 Mike Copelin, with bullhorn in hand, was wheeled in on a cart by Brad. Mike says, "How ya'll doin' today?" He welcomed us to Fan Fair and said, "The procedure this year for the meet and greets is....if you have a membership card, unlimited amount of visits." The crowd screamed. No more meet and greet cards. As long as you have a current fan club membership card, you can meet with Marty at all the concerts you attend.
Mike then introduced the band as they came on stage and Marty walked out wearing the Pilgrim hat. He said hello to his mama. He mentioned that Connie was there and he hoped to bring her up on stage to sing. Marty asked if anybody got lost on their way to the party. Someone asked if he did. He said, "I was supposed to be here at 12 o'clock. 12:45, that's when I made it."
He opened the show by talking about the album he did for the Buddy Holly tribute. I think the crowd really wanted him to sing "Crying, Waiting, Hoping," which is the duet he performed with Steve Earle for the record, but he Marty said, "I'm gonna do a song I didn't record. Nanci Griffith did this song 'Well All Right'. It had been a long time since I've heard Marty sing this song.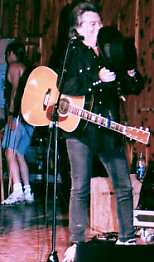 Marty then said what they were going today was "everything we don't know." He asked "so whatcha wanna hear?" Song titles were shouted out and Marty said, "no, we know that one." Someone yelled out "Cry, Cry, Cry" and Marty said "that one might qualify." Someone else wanted to hear "Beyond The Great Divide" and Marty said "My God, I don't know that one. That was a long time ago." Someone else yelled "Half A Heart" and Marty said, "Okay, I don't know that one." The crowd continued to yell out different things. Marty couldn't hear something specific, so he says "come here."
Who should end up on stage but our own Tami Krato. Marty says "This is a public-access forum. Ask your question." Tami was only relaying a message that Jodee wanted to see a certain person. Now, could Marty leave this alone? No way! Tami, girlfriend, you know you don't get onstage with Marty. He has other plans for you and you played right into his hot little hand.