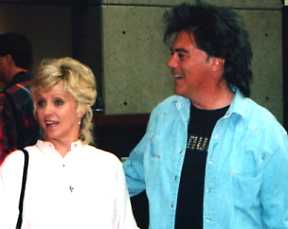 At last, June 13 had arrived and it was time for the Marty Party 2001. Instead of hot, sunny Smiley Hollow, the party was held at the brand new Country Music Hall of Fame in downtown Nashville. It had been a hot day in Nashville since the temperatures always seem to reach the 90's during Fan Fair week. There was already a line of fan club members standing out in the sun when we arrived. We wanted to stand in the shade!
Marty's mom arrived and came over to talk with us. She said she'd gone the wrong way down a one-way street and we assured her she could just play the "tourist" role and the police would understand. While parking spaces were ample, the cost was $10 since the awards show was being held directly across the street from the Hall of Fame.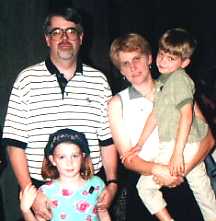 I spent some time talking to those fan club members and Martypals that I knew. Most of these people we see once a year -- at the fan club party, so it's a special event. Jodee and Rachel came by handing out the commemorative pins which had the Hall of Fame logo on it and said "Marty Stuart Fan Club, June 13, 2001."
The time was 7 p.m. and the doors were not open. Suddenly a black Cadillac comes by and Serena Wimmer had noticed Connie in the passenger seat. Our "host" and "hostess" were LATE.
Former fan club president Judy Allston and her family had come down for the party and it was so great to talk with her again. She's a fan of this website and it's always nice to hear people say good things about the Fan Page.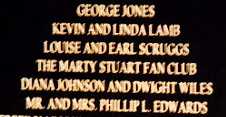 We were brought into the Conservatory of the Hall of Fame. There were not many tables set up and those in front of us grabbed them. We stopped to find the Fan Club's name on the wall. I really thought there would be a lot more names there, but I am SO proud of Marty's fan club for helping.
Marty and Connie appeared and the crowd swarmed over to them. We'd found out that Marty and the Cowboys were not going to be performing a concert because the acoustics were so bad in the Conservatory. Marty walked on through the crowd to the area they had set up. Jodee spoke first and then introduced Marty.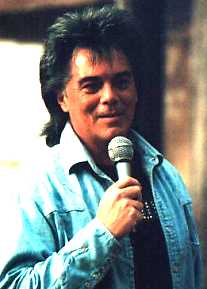 Marty welcomed the crowd, saying "So what do you think about this building? It's pretty nice. I love this place. I know it's not Smiley Hollow. We're just as at home as Smiley Hollow. I'll tell you one thing. Every penny you gave to this, every cent counted to build this building. You're just as much of this building as the Ford Motor Company or any other corporate sponsor. This building belongs to you. Enjoy it." Marty went on to say that he hadn't actually seen the entire Hall of Fame himself. "I've seen bits and pieces, but I've never taken a tour from top to bottom, but I understand it takes the best part of two or three hours if you really pay attention. So I'm afraid if I lead you, we'll all end up in the parking lot." Marty mentioned that coffee and dessert would be served after the tour.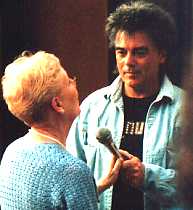 He then brought up Marilyn Jennings who had taken the "Nash Trash" tour put on by the Jugg Sisters. We couldn't hear what Marilyn had to say, but she was trying to tell everyone what the Jugg Sisters had said about the new Hall of Fame (that the windows in the Conservatory were like piano keys). Marty stated that when "I'm an old man and I can't get on stage any more, I wanna be right here."
Marty mentioned he's "got recording plans, I got all these songs ready, we'll sign a record deal and we'll be touring again, so don't even worry about it." That was wonderful new for the fans. Marty said they were doing 30 to 40 shows this year to get warmed up. He thanked everyone for coming and mentioned the breakfast for Loretta Johnson, the opening ceremonies of Fan Fair and the fact that he would be appearing at his booth twice to sign autographs.

The tour began. We were led to an area where there were TWO elevators. Mind you, there were 350 people at this party and Marty had gone up in the first elevator. It would take at least 25 elevator trips to bring everyone up. You enter through one side of the elevator and the doors on the other side of the elevator that open up on the third floor, which is where you start your tour.
The doors open and, lo and behold, there is Marty welcoming every person as they exited the elevator. That was enough to shake up a person. Marty was hugging, kissing and shaking hands. I thought that was just a wonderful thing for him to do.
The total tour takes about three hours because there are a lot of interactive exhibits. I loved going into these cylinders where they had music playing. You couldn't hear the music from the outside. So many things on display, including one of Connie's dresses. Gosh, it looked awfully tiny. Musical instruments, stage costumes, handwritten lyrics--all in the display cases.
The walls of the gold and platinum albums were so impressive. Certain plaques could be opened and you listened to music. You can actually have a CD made of certain songs and pick it up on your way out (it's not free, of course). A glass wall separates the exhibits from the archived area. Filing cabinets and shelves of documents covering the history of country music.
There were several "listening" areas with seats. As we came by one, Dolly Parton was on film singing. The words to the song were at the bottom of the screen. Johnny Cash came on as we walked on by.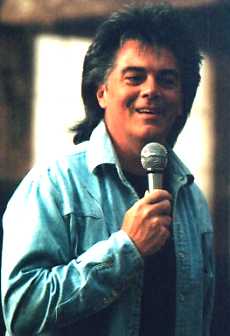 Down a spiral staircase (featuring more gold and platinum albums on the wall) to the second floor, you immediately reach the Marty Stuart Collection. What an incredible exhibit this is. It's a "circular" exhibit with so many items in there that you have to stand for a long while just to see them all. There was a binder with a sheet for each item in Marty's exhibit. He had handwritten information on each item.
As you walk around the exhibit, there is a film of Marty talking about his collection. While there is supposed to be no photography inside the Hall of Fame, they were gracious enough to allow Mario to take pictures for this website. The photographs do not do this exhibit justice, but maybe you can see the guitars and costumes on display. Most of the jackets and outfits are Marty's--many that we've seen him wear through the years. Same with the boot collection.
On the next page is a transcript of Marty's film about his exhibit and the photos Mario took of The Marty Stuart Collection. Please allow time for the pictures to load.
---