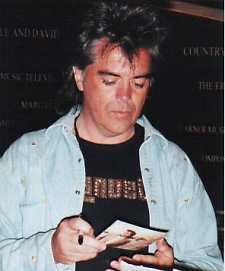 It just didn't seem possible that it was time for another fan club party! But I was so glad it was! It was a great setting at the Country Music Hall of Fame, and I felt privileged to be able to enjoy our fan club party at the place we helped come into being. I mentioned to someone at one point, when we were taking pictures of the wall, "just think...we helped make this possible." Marty's comments later to us, that we were just as much a part of that building as Ford Motor Company, really did make it seem like it belonged to us, "The Marty Stuart Fan Club"!

Sherry, Mario, Debby Dimino (who is a lonnnng time fan and was at the first Pizza Hut party way back when) arrived and of course we all arrived early and had our own "special thoughts" about the price of parking during these events, but we got to the front of this beautiful building and quickly became anxious for it all to begin. The line we learned had started to the left of the building (in the sun) so we stood in the only shade available for a while. We got to see and say "hi" to Marty's momma, Hilda, and after visiting for a while we were all asked to move since they were setting up a stage at the front of the HOF for entertainers the next day.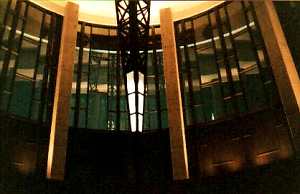 You know, I'm not a good name dropper, so I hesitate to even try to remember all the Martypals and fans I saw. But Beth walked up and was the first Martypal I saw. Everyone waiting in line was finally asked to move the line in the opposite direction since they needed the sidewalk area where the line had formed. That is when I began seeing all the Martypals and fellow fans we all know. Evelyn and Judy were sitting in a waiting area with chairs, Cindy and Lisa came up and then we decided to find places in the line, which was migrating north instead of south on the sidewalk.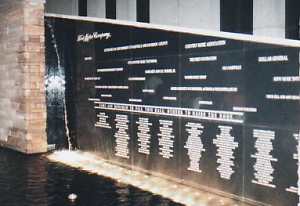 There we saw the Shirleys (Lori, Nick & Kevin), Bev & Laura, Sheila, Margie B. and Margie S. and Ellie. The former president of the fan club and her family were there this year, Judy Allston, up from Florida. Saw June, LaDonna, Serena Wimmer and these were before we got inside.

Jodee and Rachel came by taking up tickets and giving out the lapel pins for the party. Those were really nice, commemorating the party with the date, place and Marty Stuart Fan Club on it. Jodee was also selling 8x10 B&W photos of Marty. I peeked around just as Sheila was getting her ticket to hand Rachel mine, and Rachel gave me a little wave as she was handing someone a pin. Jodee has the sweetest kids.



As we were waiting and it was pretty much on the 7:00 mark, the black Cadillac goes by and turns the corner. So in a few more minutes the line started moving. They had some gentlemen there to show our ticket stubs to, and we entered the large Conservatory. If it hadn't been so crowded I can imagine the first thing that would catch your eye would be the contributors wall. It has a fountain in front of it and is black with gold lettering. Since there wasn't near enough seating many were sitting along the small wall in front of the fountain and wall. There we saw Brenda Metz (Knoxville girl) and she really looked like she was feeling much better, and I was so glad to see her feeling so chipper. Melanie Renfro (who works at the HOF), was standing there dressed in a beautiful outfit of black and red, and suited for leading the way through the HOF as Marty wanted a guide. Also spotted Leslie Anne and spoke to Sandy Shelton. There were lots of Travis Tritt fans (who got invitations too). So some faces weren't familiar.

Marty and Connie arrived shortly after that. Maria-Elena took Connie somewhere, so we didn't see her for a while but Marty then walked among us to stand near the Harley truck and motorcycle to talk to us. The acoustics weren't all that good but the applause was loud when Jodee gave Marty the mike.

He let us know that we were as much a part of the building as the corporate sponsors and to enjoy it! He was going to lead us in the tour but since he hadn't done the tour himself yet, asked who was going to guide us through it. Melanie Renfro works there and made her way to the front and then we started off. 350 people waiting on two elevators. But it didn't take near as long as I thought it would and we got to see more folks on the way in. I saw Glenda and Clarence and I finally got to see and say hello to Denise! It's so nice to meet the folks you know from the list.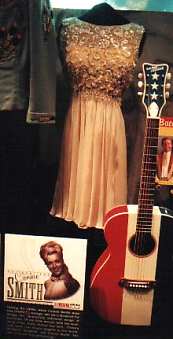 We all loaded the elevator and then when the door opened I thought I heard a familiar voice, and lo, there he was, hugging and greeting everyone getting off the elevator. I told him how glad I was to see him and he said it was good to see me too, and he saw my Martypals shirt and said "Hey, I like your shirt!" I said "well, thank you". Always catches me off guard when he speaks to me...now why is that...anybody? So, I headed on and Sherry and I especially liked stopping in the little cylinders set up with a classic song playing. We still don't know if they come on at increments or if walking in sets them off. Should have seen us trying to figure it out, waving my hands, on second thought no, you shouldn't have seen me. Saw one of Connie's tiny dresses on display and since no one at that point had told me I actually couldn't, I took a picture without the flash. There were video screens going constantly with different entertainers sharing thoughts and such. Wow, I'd like to have spent a lot more time there, and I will go back!

We saw all the gold and platinum albums, and I wish Marty had told us where his were. We finally gave up looking because they were everywhere! The mini-concert area was nice and had closed caption for the hearing impaired. That impressed me. There was a table with coloring pens and pictures of jackets for you to decorate. I stopped and did that, then I got behind and lost Sherry. So I went backwards and went almost back to the elevator and there was Marty all by himself looking around at everything. I smiled and turned back since I couldn't find Sherry. Then I passed Travis, Jodee's son, and said hi. I finally realized I was supposed to head down the stairs and Sherry was standing there waiting for me.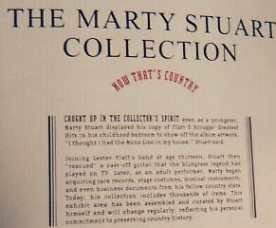 That is where we found Marty's display of items. It was wonderful. I didn't see the binder but that's probably because there were so many people around it. That is when we were told "no pictures". Hmph! I'm glad the one guy let Mario go ahead and take a few for the website. They are excellent! I especially enjoyed the video of Marty talking about how he started collecting, and sharing a few of the ways he got some of the "treasures" he'd found.

We went into the plaque area of the HOF which is the big dome area you see from outside. All the plaques are placed on black lines that look like bar staffs for music. The plagues themselves represent notes on the bars and are placed there to represent the song "Will The Circle Be Unbroken". I hope that made sense.



When you leave this area you come back down a flight of stairs and the wall alongside the stairs is the back of the Conservatory area. Water runs down from a pool of water at the top along the top of the wall, to the bottom where it runs into the pool in front of the contributors wall. Very nice. We were then treated to desserts of cookies and an ice cream cake bar, tea or water. Of course Marty had to have tea served, that would be expected!

Everyone started lining up to meet with Marty. Connie and Hilda were out amongst the crowd. Someone gave Connie a beautiful hand crocheted blanket with crocheted hearts all connected to each other. It was beautiful. I had her autograph a card to Angie, who'd met her at LAX airport last month and wished she'd gotten her autograph.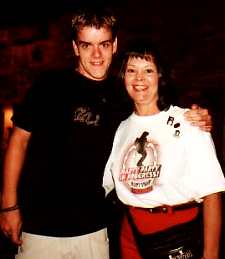 Sherry, Mario, Debby and I found a table to enjoy our treats. Pat Johnson, Glenda and Clarence were sitting at a table next to us. While we waited to get in line, I doodled on the paper table clothes. Yes, there was paper on top of the linen ones. Jodee and Rachel came by and I bought a B&W glossy to get autographed along with my "All the Pretty Horses" DVD. Rachel got in on the doodling and we initialed them before I got up to get in line. I asked Bev if I had any potential (ha!), before she left. Travis (Jodee's son) and his friend Chris came by and talked for a good while. I got my "annual" picture made with him. (Bev's) Jarred, (My) Dustin and Travis are all 18 year olds born in October, and he feels like a son to me. He is the nicest guy and will have lots of friends and business potential because he relates to people so well. (Put that on a resume, Travis :) And if he ever becomes famous, I have one of his early autographs from 1999. :) It was so much fun getting to see all the folks I've seen over the past ten years. This was my 10th consecutive party since my first one in 1992. I hope I never have to miss a one.

We finally got in line for the meet/greet and when we got there I had my picture and my DVD signed and got my picture made. Marty and Connie were beside themselves cutting up for pictures as we were getting ready to leave. Marty was so comfortable and relaxed. I enjoyed it all so much. We walked to the car, and I said "I can't believe another fan club party is over". Another year to wait!

Review and photos by Mary Runyan, Dayton, Tennessee