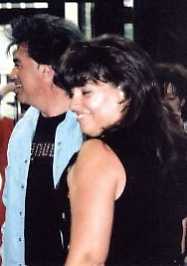 Well, here goes my review for the FAN CLUB PARTY at the Country Music Hall of Fame.

I got home from work around noon. Judy and her friend, Bill picked me up and left my house at 2:00 p.m. We arrived in Nashville at around 3:45 p.m. See, I am not far from Nashville. We ate lunch at a Waffle House there off Murfreesboro Road, I believe. Then we headed for the Hall of Fame at 5 p.m. Bill let us out in front. Judy and I sat on the steps for a bit.

Then, I decided I would find out what time the fan club members would be getting in for the party. lady told me around 6:30 p.m. the door would be open for that. So, we decided to sit in some chairs outside, for a little longer. Saw Glenda and Clarence. The first time she has talked me in a long time. She is really nice. Ran into Margie, Ellie, Brenda M, Bev and her family. Met LaDonna and her husband.

Man it was hot scorching hot outside, but we suffered the heat for Marty of course!

Around 6 p.m. I decided we better get in line. Judy sat on the steps out in front of the doors. I looked down and saw the long line and went down to get in line with Cindy Allred and her friend Lisa. Saw SherryM. and Mario in the line. Others too, that I hadn't met. Some unfamiliar faces as well! I met several fan club members and on the list too.

Met and talked with Brenda M. and her family, LoriS, and Nick, LaDonna, and her husband, was with June and Jay, ran into Cindy Allred and Lisa, SherryM. and Mario, MaryR. Met Bev, and her family. Met Denise. Talked to Tami Krato and also saw and talked to Pat Johnson. Saw Margie Sullivan and Margie Brodmerkle, too, Ellie, and some unfamiliar faces that I hadn't seen before. Talked to Gary Renfro outside afterwards. Of course saw them all there. Melanie had on a beautiful black suit.

I was sure there were people there that were not members because of the awards show going on across the street at the Gaylord Entertainment Center.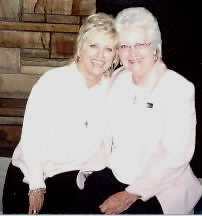 There was a guy there that had on a jacket -- kind of like one Marty wears. [Sherry's Note: That was Danny Meadows, who found the jacket and pants in a second-hand store. He paid $75 for the outfit. Manuel told him the suit was over 50 years old. Danny decided to wear the jacket to the party.]

Jodee Stocki was taking ticket stubs and gave everyone a pin. So was her daughter Rachel. Jodee is wonderful with us fan club members, and the best president Marty could have!

Well, 7:00 p.m. arrived -- time for it to start and, guess what? The door wasn't open yet. It finally opened after 7:00 p.m. Guess they had to wait for Marty to arrive. I heard some one in the line say, "There goes that black caddy." And would you believe it was Marty and Connie? Ratz, I didn't have my camera out. Oh well!

When we went it, I ran into June and Jay. We had intended to grab a table by the benches, and Mario told Judy she could sit there by him. But some other fan club members ran us off from the table -- all four of us. All the other tables and seats were full. I was upset for Judy as she needed to sit, not stand, so June asked one of the ladies at the Hall of Fame about a seat, and they got her a wheelchair. We thanked them so much. They even brought Judy a glass of water. So, we stood at the right place by the wall where the donations were and looked up behind where we were. Here comes in Mr. Stuart and Connie.

I spoke up, "Well, looka there; there he is and pointed." He said, "Hi Evelyn." I said, "Hi Marty." Judy had a Marty doll that her and some friends helped make. She intended to give it to him when he did the autograph session, but I told her to go ahead and give it to him then. I took it out of a bag she had on the back of the chair and, sure enough, she gave it to him. Marty said, "I love it, Judy, did you make that?" And she told him that she did. Connie said, "Isn't that cute." Marty told Jodee to keep it and carry it to the office for him today to have.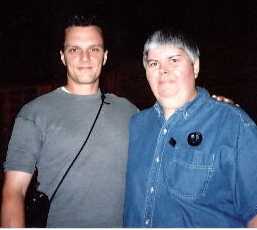 Everyone begin taking pictures of Marty and Connie, including me, but I only got one good shot. So many were rushing to get there, I got one side version of him and Jodee. I saw Gregg, and got a hug! I saw Connie and Hilda and asked Connie if I could get a picture of her and Mama together. She said, "sure," so she poked Mama in the butt and said, "Okay Mammy, let's get our picture taken together." They let me, and I thanked them, and told them I loved them. Marty's sis was there too.

Then every one walked up closer to the truck and motorcycle where Marty spoke over the microphone about the tour of the Hall of Fame. He mentioned something about Smiley Hollow. Couldn't hardly hear what was mentioned. I am sure SherryM. knows what he said though.

Marilyn Jennings was asked to come up to Marty and tell him something about the Hall of Fame. She happens to be a new Marty fan club member and, also, an Alan Jackson and Brad Paisley fan club member. I had talked to her when she arrived, and I told her she would love Marty, and she said she did!

Then Marty asked who was gonna be the tour guide, and everyone yelled out "You Marty." He said, "ME," and something else. Then Melanie Renfro talked to Marty about the Hall of Fame and Marty said, "There you go. Melanie will be the tour guide."

Marty mentioned that there would be desserts waiting on the first floor after the tour and he would be back down to sign autographs and take pictures. June, Jay, Judy, and I finally decided to grab a table and chairs while lots of others took the tour.

Then June and I went to the tour. The elevator guide reminded people there was no photography nor video cameras. As we were getting off the elevator on the 3rd floor, guess who was standing there waiting to greet us? Yep, MARTY. He grabbed me and gave me the biggest hug! I mean bear hug! And I almost knocked him over the wall there. I said,"I almost knocked you over. Sorry." Someone else told him I did, and he replied, "That's okay, she is in love with me." I replied, "Yes I am!" June and I ran into Glenda at the Marty Stuart Collection and she talked to us lots then.

June and I saw so many wonderful things: Webb Pierce's car, Elvis Presley's car. And then we took steps and went downstairs, and saw Marty's collectables. Wow! So many beautiful things MARTY has. Then we checked out the albums on the wall. You can open some and hear music. We listened to George Strait. Then we took the elevator back to the first floor.

June and Jay didn't stay long, they had dessert then decided to leave. Steve was there, and he was talking to some fans, so I decided to walk to him and talk to him for a bit and got a big hug from him as well and got my picture taken with him too. So did Judy. After finishing dessert. Everyone started lining up for the autographs.

Marty finally came out. He signed autographs and took his time with every one.

When it was our time, Judy went first. She had a guitar Marty signed it for her, and he asked her again about the doll! I think she is still on Cloud 9 from knowing how much that doll meant to Marty. I took several pictures of Marty and Judy together with her camera. Then he hugged Judy for another picture, and said, "Go ahead Evelyn, get it." I first said, "Oh, I will use my camera." I used my camera for that.

When it was my time, I walked to him and he said, "Hi Evelyn." I had my picture taken with Marty two times. He signed two old calendar pictures and a picture I had bought from Jodee. And a thing that had his name on it along with LOVE AND LUCK. He asked me where I got that, and I told him at the very first party I attended in 1996 at the Opryland Hotel. And I asked him about the blanket. I told him, "I brought the blanket." He replied, "You brought it again." I said, "What?" He replied, "You bring it lots, but haven't gotten me to sign it yet." So, I said, "Do you think you can sign it somehow?" He replied, "I can try." I told him the tags were still on it, just use the tags if needed. He signed where the white is on his shirt, "MARTY STUART," but he printed it in big letters. He hugged me two times. I told him I loved him, and he told me he loved me too, and I kissed him on his left cheek. Then Judy and I left to go outside to wait for her friend to pick us up.

What a great night! Marty Stuart Fan Club Party, June 13th, 2001! It was no Smiley Hollow, but at least we got to see Marty and talk to him! And there were was no concert, so not too many pictures, only of us with Marty in the meet ' n' greet. Something to do with the sound is why there wasn't a concert.

It was great meeting all of the ones on the list I hadn't met before, and seeing some I hadn't seen in a year.

Well, another year has gone, hope to see you and MARTY next year, Fan Club Party 2002.

Review and photos by Evelyn Totty, Mayfield, Kentucky