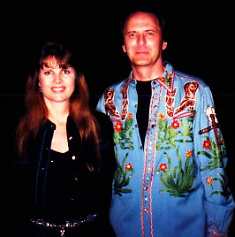 The Hall of Fame Marty Party was a lot of fun. It was a great idea to have it there and very special to have been part of the fund raising for it. I thought it would be a great opportunity to wear my 1950's Nathan Turk Suit that I rescued from a second-hand store. When I first saw it, they were calling it a Nudie Suit, but the label said "N. TURK" . I knew that sounded familiar so, with a little reseach, I found the "story". You see when Manuel first arrived in California he worked and learned embroidery at Turk's and, of course, he then went on to work at Nudie's.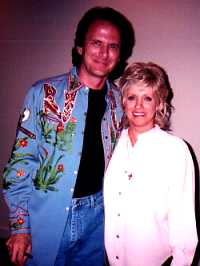 Well, when Turk fell ill, he decided to close his shop and Manuel wanted to buy everything--fabrics, machinery etc. Manuel gave him a blank check and told him to add it all up...Mr. Turk never cashed the check. So learning this I took the suit to Manuel for authentication and he looked over every inch of it and dated it early 1950's. I told him I wanted to show it to Marty. He said I could probably sell it to Marty but not to--"he has enough of that stuff"..... just wear it and have fun with it.
So, I did. I only wore the shirt though the pants are just as elaborate. Well, back to the Hall of Fame ...as soon as Kathy and I stepped off the elevator, Marty did a double take and said "you've got on a Turk!" and I told him the story behind it. Kathy had on a Manuel shirt with a cowgirl embroidered on the back. She proudly showed it to Marty and said Manuel told her it was "one of a kind"...Marty laughed and said "he lied. I've got one almost just like it."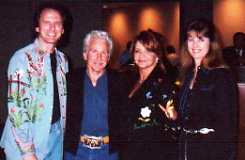 Hmmm, Manuel is a great artist and a better salesman! I noticed another gal in a beautiful jacket and it turned out to be a Manuel and that was Carolyn and Carl Thumann from Texas. We also met another guy from New Jersey ( I think) who was having a suit made while in Nashville.....three more Manuel and Marty Fans! Well, when Marty said dress up a little we did and it was fun. I hope some of the others in the club enjoyed seeing the clothes as much as we had wearing them. Thanks to Jodee and everyone who put the party together it was great.
By Danny Meadows, Charleston, South Carolina