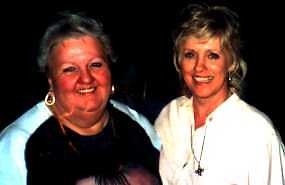 The party was great. Sure, it was no Smiley Hollow, but it was great to see all of you Martypals and, of course, Marty himself.

It was a little warm but, when we got inside, it was cooler, even with the crowd in there. The air was filled with excitement as we waited for Marty. You could feel it. We all have missed seeing him so much.

When he came out, he had that big beautiful smile on and you could tell he was happy to see everyone. He said "hi" to several and he looked over and saw me and waved. Of course, I waved back. As he walked by, he gave me a hug and said "Hello Darlin'." Of course, I said "Hello" back and it couldn't have been any better if Conway had said it himself!!!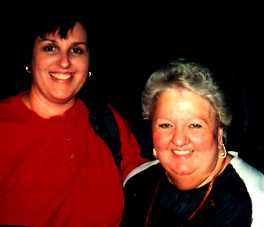 Marty made his way up front and talked a while and we couldn't understand what he was saying. It was sure a good thing they didn't sing. It would have sounded awful. I'm sure that would have made Marty feel bad, so I think it was best that he didn't give a concert. The tour started and, like the others said, Marty was greeting us as we came off the elevator. Great chance for another hug and kiss!!!! WOW.

Marty said, "Did you know that you are going to Sarasota, Florida?" I said, "I am? Am I going to have a good time?" He said, "You sure are!!" He said he is having a group of his photos displayed in an art gallery there at the Ringling Brothers Museum. I think that is the place, anyway. He said my picture is on display there with some others. I was surprised!! After the hugs, I said, "Boy, that is something," and we continued on the tour.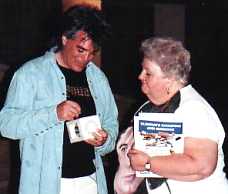 The Hall of Fame is awesome. I had been to the other one and this one is soooooo much better. It is just beautiful. All the information is unreal. The beautiful things on display bring back lots of memories of when I was a little girl listening to the radio shows (The Grand Ole Opry) and watching the older country shows on TV.

Marty's exhibit is worth the tour, if nothing else. Beautiful things. I loved his Boy Scout uniform, his boots and jackets, Connie's dress when she started, and I bet she can still fit into it.

After the tour came the best part. More hugs and pictures. I had an older Christmas ornament that his Fan Club used to sell. The white one with Marty's face on it, and I had him sign it. I also had him sign "Today's Chiropractic" magazine for my chiropractor. My doctor and Marty's doctor are brothers. I thought I would surprise my doctor with it.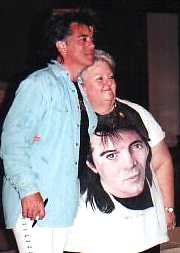 I talked with Connie and Hilda and so many other Martypals. I don't want to leave any one out but, to all of you I talked with and got a hug from, well your hugs made me feel as good as Marty's did. All of you have been so nice and sweet. Your hugs just charged my batteries. It was like a good shot of medicine. Thanks to you all. You are great friends.

Wish all the Martypals could have been there. To those that couldn't, we hope.....maybe next year.

Review by Brenda Metz, Knoxville, Tennessee
Marty calls Brenda his "Knoxville Girl." and a picture Marty took of Brenda and her daughter Diane appear in Marty's Book, "Pilgrims: sinners, saints and prophets."

Photos: Brenda and Connie Smith, Maria-Elena Orbea and Brenda. Photos of Marty and Brenda taken by Mary Runyan