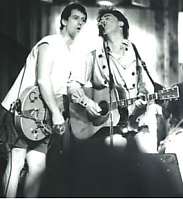 Just now finding time to tell you all a the Marty Party 2000!! It was truly a wonderful time but it was definitely smothering hot, hot, hot!!!!!
I talked with a bunch of Martypals and enjoyed meeting all of them, you guys should see Bev Kerr's life size drawing of Marty. Amazing!!!!!! Jodee had an auction of some of Marty's things, even a guitar that went for $2,600.00, never did figure out where all that money is going!! Way to expensive for my blood!!! Marty came out and mentioned that all he knew was that Gary had beat him to Heaven and he would always be playing the steel guitar beside him on stage. Very moving moment! Song new songs, some old songs, 2 fan club members did there thing (SherryM can fill you guys in on names) and then went outside under a shade tree to do photos and autographs.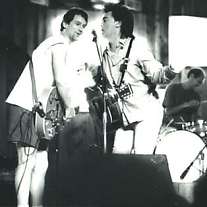 My husband Gary went and couldn't believe that Marty just wondered around without a bodyguard or anything and he really enjoyed it to. We were sitting outside at a table with Sheila Walters, Deanna, Heather and another of one of their friends and Steve Arnold walked out and started talking with them.Sheila introduced me and Gary to him, he is very nice shook my hand and gave me a hug!! He saw my name badge and that I live in Johnson City and said his brother and sister-in-law live here and work at the university!! I asked if he had ever visited here and he said no but they really like if here!!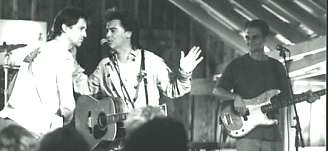 I asked what his future plans were and he said he was going to be recording some stuff with Marty in the next 2 weeks and had turned down a job for a couple months with Travis Tritt, said he just didn't want to go that route, and he was mostly waiting on Marty to call!! He also has a blues band that plays around Nashville and is doing landscaping with Gregg, said they had more work than they could keep up with!! He has been remodeling his kitchen, doing honey-do's, and just got a new puppy!!!! He also talked about life on the bus and said it was like a rolling locker room most of the time!!!! So of course we talked about dogs and training and then he mentioned riding his bike and that opened Gary up to talk awhile a biking. That was the first time I have spoken with him and never realized what a nice down to earth guy he is!! We probably talked with him the 30 minutes!!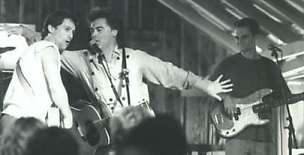 We then got in line to see Marty, Gary was taking photos and Marty told him he really had a serious camera!!! I had a couple of sheet music papers for him to sign and he asked where I had got them (e-bay) and asked if I ever saw anymore to get them for him and I said, "Don't you have copies of your own sheet music?" and he said "no," that he collects everyone else's and does not have his own!!! So, I told him I would get them if I saw anymore, that they were hard to find!!!!
We then visited with some more folks and headed home.It was a great trip, show, visiting, meeting new people, seeing Marty, good time that was had by all!!!!
Lester Flatt's cousin, Leamon (l) and Jeremy Edge (r)
entertains the crowd

Martypal Beverly Kerr gets Marty to sign his book and she presents him with one of her beautiful drawings.
Click here for more pictures from LaDonna
Review by LaDonna Cable, Johnson City, TN
Photos by Gary Cable